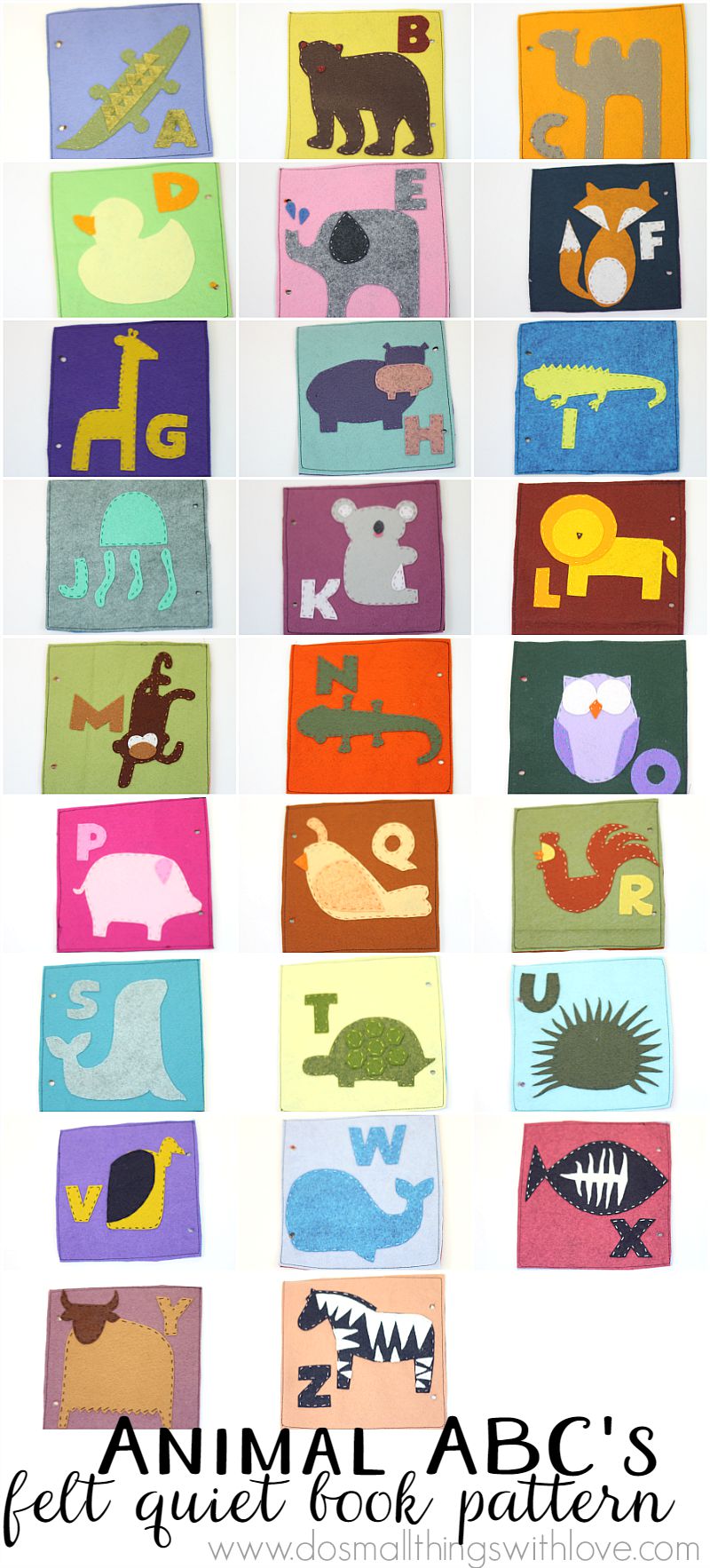 Hello wonderful blog friends!
Today I am so happy to release a new pattern–my 3rd Felt Quiet Book Pattern and this one is animal themed.  I think I might like it the best.  It was so fun to make since the good Lord has gifted us with so many cute and wonderful animals in this world.
And, just like with all of my other felt quiet book patterns, I am happy to be offering this complete pattern, all 26 templates and instructions, for just $5 this week, that is August 7th-August 14th.  After that the price will go to $7.50.  So, don't wait.  Get it now!
Since Bernadette already has her MY PRETTY ABC book and Gus has his ABC ADVENTURE book, this Animal Themed ABC book was for little Dominic.  He liked it.  It's bright and colorful and hug-able.  And chew-able!
Like I said, this book is animal themed.  For each letter of the alphabet there is an animal.  Fun, right?
I worked hard to make the templates for this book very simple.  In fact, I would say that this is the easiest of all of my books to put together.  Although the templates include eye pieces, I made my book without them, preferring instead to have just a simple almost-sillhouette look for each page.  I really love how it turned out.  Once again, the book is colorful and fun since I used my favorite felt, which I continue to get from Benzie Design.
Here is an example of one of the pages:
This felt quiet book is similar to the others in that it is basically all felt applique and hand stitching.  I also bond the book in much the same way, with eyelets and metal rings.  All of this is explained in detail in the instructions included in the pattern.
I love making my felt ABC books this way.  The pages are baby safe in that there is nothing they can pull off and choke on, but they are still slightly raised and have a sensory quality that my kids love.  In fact, my 4 year old keeps his ABC ADVENTURE book with all of his special things and looks at it regularly, picking out the letters he knows and the objects he loves best.
He does a crafty mommy proud!
Like I said, this book will be sold at a reduced price of only $5 for this week only.  Make sure to subscribe to my newsletter so that you can stay on top of all the deals as they come and go.  I have a feeling there might be a few more deals headed your way as we ramp up for the holiday season!!!  SUBSCRIBE HERE.
Also, since I have 3 quiet book patterns now I am offering them on etsy as groups for a discount.  At the regular price each pattern cost $7.50 but you can buy 2 for $12 or all 3 for just $17.  Check out the following listings:
Boy, Girl and Animal Quiet Book Patterns ($17)
Boy and Girl ABC Quiet Book Patterns ($12)
Boy and Animal Quiet Book Patterns ($12)
Girl and Animal Quiet Book Patterns ($12)
Or, if you'd like to get just this animal abc pattern for $5, get it here:
As you can see, although this book was made for Dominic, it was a hit with all of the kids!
Thanks so much for your continued support and have a very happy weekend!