Over the past few days, I've been spending time with 2019 Nancy, laughing at her and feeling a bit envious.
One year ago today…
I didn't own a single face mask, and I was exhausted from back-to-back-to-back Christmas gatherings and concerts; I looked to the future without even a glimmer of a thought that life might change.
For months now we have all been clawing our way to 2021, hopeful that when the calendar flips things will be better, different, back to normal even.
But, I want to challenge you to think about this differently.
2020 was hard, but we are Catholics, and so we know that hard times and suffering serve a purpose. We know that God isn't just there with us in the suffering, He is working.
And so, in these final days of 2020, I want you to join me in reflecting on the purpose of 2020.
Through the shutdown and isolation, amid the fear and illness and changes, through all of the things we shared this year, what was God doing in your heart? What was He doing in your family?
How has God used this time to equip you to be better?
I firmly believe that the Lord has been preparing us as Catholic Parents all year.
He has strengthened our desire to build and lead our Domestic Church. He has shown us the wounds in our families, and in the silence of our hearts, He has been equipping us to welcome His healing.
And He has big plans for your family.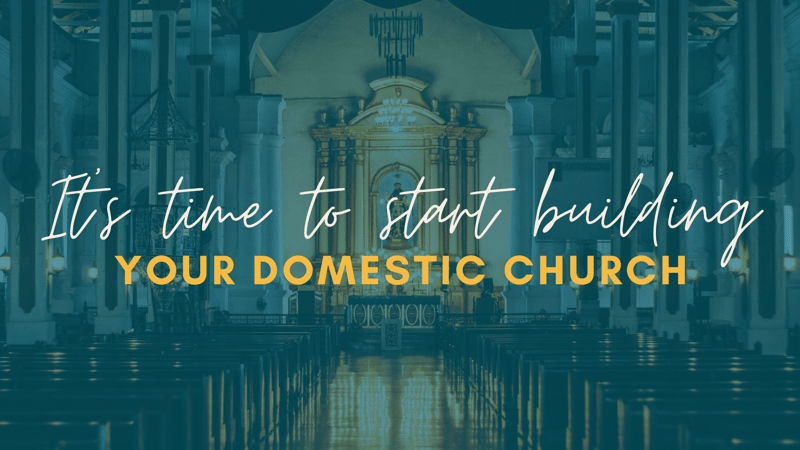 Perhaps you've heard about the Domestic Church before – the idea that the Family Home is the 'little church', the place where the Faith is lived and saints are raised.
But, the idea that YOUR FAMILY can be a Domestic Church might seem…unrealistic.
It's not.
YOU are called to build and lead a Domestic Church.
Yes, your imperfect, loud, wounded family is called to be a Domestic Church.
No matter what objections might be creeping into your mind right now, (but I'm too busy! I don't know the Faith well enough! My husband isn't Catholic! I'm divorced! I'm a sinner!) this is what God has spent the last year preparing you to do.
Build your Domestic Church.
It's time, my friend. Let's make 2021 the year of the Domestic Church in your home.
And…..we have been working on a tool to help you do just that.
More on this soon.
Praise to you Lord Jesus Christ,
Nancy and Bill
Unsubscribe | Update your profile | 801 Watertown Ave, Delano, MN 55328