Friends!  I have been dreaming and thinking about this JESUS TREE for about 2 years now–and today is finally the day I share it with you! <<happy dance!!>>  There are few things I love more than dreaming something up, making it a reality and then, finally, sharing it with the people I love right here.  I have joyfully toiled for nearly three months and the JESUS TREE is now ready for you in 2 forms, each costing only $7.  All of the patterns and printables listed here are for the Gospel of Matthew. To find ornaments for the Gospel of John, head HERE.
Gospel of MATTHEW:
Ornaments for the Gospel of MATTHEW and JOHN (total of 62 ornaments)
But first, what is a Jesus Tree?
A JESUS TREE is very similar to a Jesse Tree, only instead of walking you through the ancestors of Jesus, the JESUS TREE walks you through all of the events of Jesus's life.  Also, while a Jesse Tree is used during Advent, a JESUS TREE is intended to be used during Lent.  I didn't come up with the JESUS TREE concept, but, although I have searched high and low, I was unable to find a really special set of ornaments for a JESUS TREE.  I also struggled to find a comprehensive list of verses or events for the JESUS TREE, so I prayerfully figured it out and decided to base this JESUS TREE on the Gospel of Matthew.
I decided to make a Jesus Tree for a couple of reasons.  First off, I love the Jesse Tree Advent activity.  We've been doing it for a couple years and not only has my children's Biblical knowledge and faith grown–mine has as well.  I love the practice of reading the verses each night, holding and looking at the symbol, discussing them and hanging the ornament on the tree, and I longed for something like this during Lenten season.
As I mentioned, this JESUS TREE is based on the Gospel of Matthew and although I was unable to include every parable and moment of His life, if you do the entire JESUS TREE, at the end of Lent you will have read the majority of that Gospel.
In the end I made two different JESUS TREE Packages: The JESUS TREE Felt Ornament Pattern and The JESUS TREE Printable Bundle.  Because I think it will appeal to more people, let's start with the printable bundle.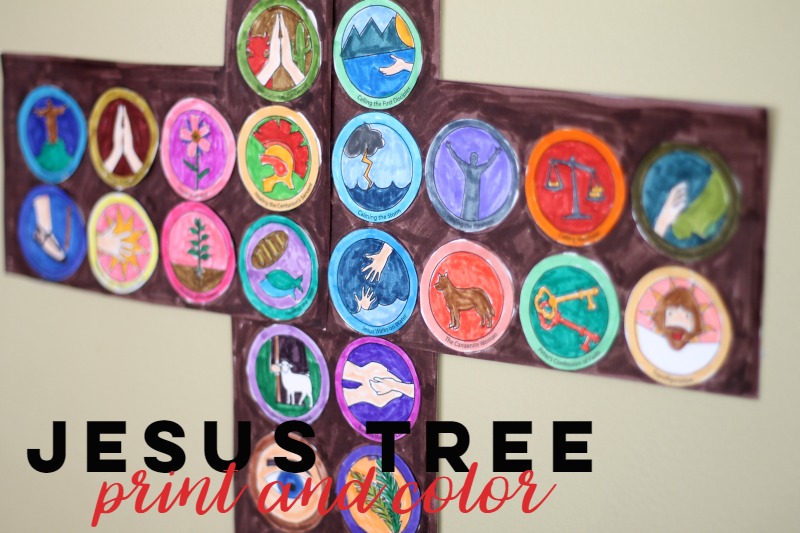 The JESUS TREE printable bundle comes with the following:
41 Large Ornaments to color (3.5″ in diameter)
41 Mini Ornaments to color (1.75″ in diameter)
41 Mini Ornaments, full color
Count-Down Cross (one to color and one in full color)
Calendar of Verse to Read with Each Ornament, each day of Lent.
Above is an image of the print and color ornaments.  Below is an image of the full color ornaments.
Yup, this set includes 3 different versions of the same ornaments: large, mini and mini full color.  I made the mini set of ornaments because I was really thinking about what we might use as a "tree" for this project.  I mean, I generally don't have a tree up in my house during the spring!  But then it occurred to me–the REAL tree of life–THE CROSS!  Of course!
So, included in this set is a printable cross with 41 circles, where an ornament can be glued on each day of Lent thus making it, in effect, a Lenten countdown cross.  The cross comes on 4 different pieces of paper that can easily be cut out and pasted together.  I also thought that this version of the JESUS TREE might be an awesome addition to any classroom, laminated perhaps.
You can see all of the ornaments included for the 40 days of Lent below, or you can scroll down and see the ornaments made up in felt with the descriptions listed below.
Finally, I included the full color ornaments because I thought some people might just be over having to color everything!
You can get this entire bundle for just $5
I also made a JESUS TREE felt ornament pattern.
Constructing these ornaments is IDENTICAL to constructing my Jesse Tree Ornaments.  Admittedly, making these ornaments out of felt is labor intensive.  I love cutting and stitching and stitching again, so I enjoyed it.  And, there are 10 more ornaments in this set that the Jesse Tree, but don't worry!  If you'd like to make these ornaments for your family to use this Lent, you only need to have the first one done on Ash Wednesday!!
The felt ornaments are bigger than either of the print and color ornaments.  The felt ornaments measure a little over 5″ in diameter.
And, here is a look at each ornament in the set.  The same ornaments are included in the printable pack.  Scroll down below the image to see what story each ornament depicts.  I have the titles listed by rows.
Birth—Visit of the Magi—Flee to Egypt
Baptism—Temptation in the Desert—Calling the First Disciples
Sermon on the Mt—Jesus Teaches His Disciples to Pray—The Lilies of the Field
Jesus Heals the Centurion's Servant—Calming the Storm—Heals the Paralytic
Calling Matthew—Heals the Woman with Hemorrhages—Sending Forth the Twelve
Heals the Man with the Withered Hand—Parable of the Sower—Feeding the 5,000
Walks on Water—The Canaanite Woman—Peter's Confession
Transfiguration—Parable of the Lost Sheep—Blesses the Children
Heals the Blind Man—Enter Jerusalem—Cleanses the Temple
The Greatest Commandment—Anointing at Bethany—Judas Plans to Betray
The Last Supper—Agony in the Garden—Jesus is Arrested
Before the Sanhedrin–Peter Denies–Before Pilate
Mockery of the Soldiers—Carries the Cross—Death on the Cross
Jesus's Body is Laid in the Tomb—The Resurrection
Can you imagine working through the entire life of Jesus with your kids in such a systematic way?  I, honestly, can't wait to get started on this project this Lent.
Now, clearly a printable cross will not work for displaying these large felt ornaments, or the large print and color ornaments.  My husband and I are currently "discussing" what we will do in our home, but I have two ideas:
#1–I would like to use a branch from a tree in our front yard.  We have a tree that over-hangs our sidewalk and needs to be trimmed anyway so I would like to take a big branch, set it upright in our living room and use that as our JESUS TREE.  There is a good chance that the leaves will sprout while it is indoors and I think that will be awesome.  My husband isn't sold on this idea and thinks it will likely just be a mess.  He's probably right.
#2–Instead, Bill would like to order this 5′ foot tree on Amazon.  Find it HERE.
And, although I favor the real tree branch, I think this is also a fun idea.  Without leaves it does have a "Lenten" feel to it.  And, I do miss the little lights from Christmas!
The Jesus Tree Felt Ornament Pattern is also now available for $5
Gospel of MATTHEW:
Ornaments for the Gospel of MATTHEW and JOHN (total of 62 ornaments)
And finally, no matter what activity you choose for your family this Lent, I just encourage you to choose something, and to choose soon.  Lent is a wonderful opportunity to grow in faith and get back to what is important.  Find something that will do that for your family.  It's worth it.
Thank, once again, for your unfailing support.
Your sister in Christ,