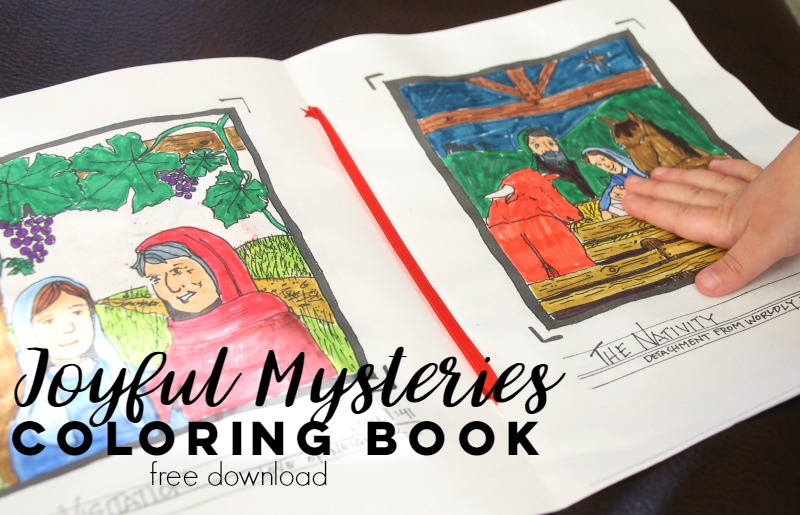 Today I'm thrilled to be sharing another one of my Uncle Dan's hand-drawn creations: The Joyful Mysteries of the Rosary Coloring Pages.  Just like the Pop-Up Baby Jesus Activity I shared from him before Christmas, he is allowing me to share this meaningful coloring book with you totally free.  Just download, print, color and (hopefully) pray!
All 6 pages of this coloring book can be found right here:
JOYFUL MYSTERIES OF THE ROSARY COLORING BOOK.
The PDF is set up to print out the coloring pages as a booklet.  If printed on 8.5″x11″ paper you will have a 1/2 sheet sized book.  For a full paged size book, print on larger paper.
Here is a peak at all of the pages in the book, one for each decade of the Rosary.  In the images below the pages are colored in.  The free download has the pages blank and ready to be colored.
Not only did my Uncle Dan draw such wonderful, meaningful images, but he also took the time to include the virtue paired with each decade.  The kids and I worked on coloring up a booklet yesterday and the simple inclusion of these virtue brought about all sorts of productive and virtue-building conversation.
Once again, the Joyful Mysteries of the Rosary Coloring Book is completely free.  Head HERE to download, print and pray.
If you are looking for more wonderful ways to get your kids excited about the rosary, check out these ideas:
Rosary Quiet Book.  Find the pattern and directions for making these meaningful felt quiet books HERE.
Printable Rosary Quiet Book.  Get the PDF download and full instructions HERE.
Patron Saint Rosary Case.  Pattern and Directions HERE.
Once again, a big thank you to my Uncle Dan for sharing his talent with all of us.  If you do decide to download and use this free coloring book the only "payment" I ask is that you share with post with others so that they too might benefit from it as well.
Thanks, as always, for being here!  And God Bless.