Last week, in mid-October, we got a THICK blanket of snow. Like enough snow for snow forts and sledding.
WHAT?!?
Most years this would have been noteworthy and incredible, but this year it's….typical. Well, of course, 2020 would bring a snowstorm in mid-October.
Why am I even surprised?
It's almost hilarious, isn't it? It's like God decided we all needed to be more flexible, so He's using 2020 to just heap on the lessons!
Flexibility, the one virtue we've all developed this year (whether we like it or not!).
And so, in the spirit of flexibility, I started to reflect on Advent for my family this year.
Maybe, since everything is already different, I thought, it might be fun to do something other than the Jesse Tree this year.
Our family has done the Jesse Tree (imperfectly) for the past five Advents. And we love the Jesse Tree.
I think each year we do the Jesse Tree we love it a bit more.
Each year we are a little bit more familiar with these people from the Old Testament and their stories.
Each year we have a bit more to discuss as we trace God's plan of love and forgiveness from the beginning of time.
But I honestly just couldn't picture us doing the Jesse Tree this year.
Maybe, I thought, we needed a simpler Advent this year, one spent with Jesus, Mary, and Joseph as they lived their ordinary lives.
Ordinary and simple sounded really good.
For weeks before I started writing the new Advent study for families, Nativity Trail, I quietly reflected on what life was like for Mary, Joseph, Elizabeth, and Zechariah during the weeks leading up to Jesus' birth.
And I didn't just think about the big important moments these people lived through. I felt drawn to the quiet, hidden moments. The moments when these people lived their ordinary lives as part of God's perfect plan.
I thought about…
Mary cooking meals and walking to her cousin's house.
About Joseph standing at his workbench and struggling to fall asleep at night.
About Mary and Joseph on that long journey to Bethlehem: the nights they spent outdoors, the towns they traveled through, and the people they passed along the way. The small things. The ordinary things.
In each of these small, ordinary moments, I wondered how Mary and Joseph prayed or worked to understand the BIG THING God had asked them to do. And each time I wondered, I was brought back to the Psalms: The Jewish Prayer Book.
It was only this past Lent that I fully realized how important the Psalms would have been for Jesus, Mary, and Joseph. We can see this is true from the cross when Jesus, in His final agony, quotes a Psalm in prayer. The Psalms would have been a daily part of Jesus, Mary, and Joseph's life.
We might not know much about the way that Jesus, Mary, and Joseph prayed, but we do know that they used the Psalms.
The Psalms, of course, are an important part of the way that we pray as a Church. The Liturgy of the Hours, often called the "Prayer of the Church" asks priests, religious and other faithful to pray the Psalms every day.
And so, our new Advent study, Nativity Trail, unites these two beautiful concepts. The ordinary lives of Jesus, Mary, and Joseph, and their beautiful prayer book, the Psalms.
Enter into the Journey to Bethlehem in a new and beautiful way this Advent by praying the Psalms with Mary and Joseph. These are the prayers they used, and in saying them, you and your family are joining the entire Church in prayer.
Want to take a peek at one day of the study? This will give you a good idea of what the study will ask you to do each day, and about how long it will take your family.
Here is the content from the second Sunday of Advent:
We worked hard to create a study that required zero parent prep! Here is how we suggest you use the study each day of Advent in your home.
1. Gather your family and light the Advent Candles
2. Together sing the first verse of "O Come O Come Emmanuel"
3. Read the Psalm. Each day's Psalm was selected from the Psalms included in that day's Liturgy of the Hours. We encourage you to take turns reading stanzas of the Psalms if you have other readers in your family.
4. Read the Imagination-Based Reflection. Notice that we employed imagination to take you into a small, hidden moment leading up to Jesus's birth. In this reflection we imagined Mary feeling Jesus kick for the first time. Join her in joy and wonder!
5. Read the prayer, and have all of your non-readers join in on the last line–it is the same each day.
6. Mark off the corresponding circle on the Nativity Trail Map!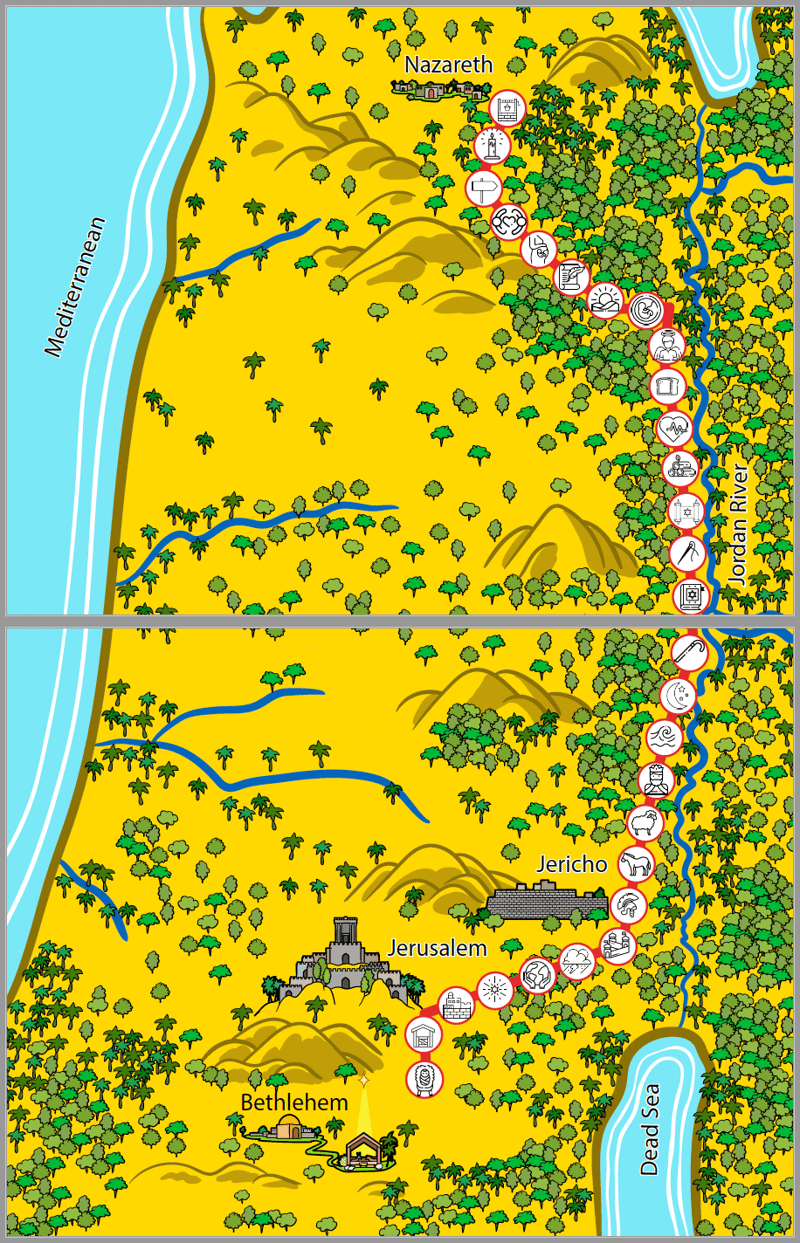 All in, each day will take you 10 minutes or less, and come Christmas, you will have REALLY journeyed with Jesus, Mary, and Joseph all the way to the Manger.
So that is a little bit about why we created The Nativity Trail, and what we hope that it can do for your family this Advent.
Of course, anything devotional you pick up and do as a family this Advent will be beautiful! If you are excited to dig into the Jesse Tree for the first time this year, awesome! I hope you love it!
But if you, like me, are looking for something simpler and more grounded in the ordinary lives of Mary and Joseph, then I hope you will try The Nativity Trail.
The Nativity Trail Advent Devotional for Families is on sale right now. We are offering it as a booklet with a printable map, or you can purchase the digital version of the booklet. We also have an option for parishes and bigger groups.
In Christ,
Nancy and Bill