​I'm terrified about the upcoming launch of the Domestic Church Project.
Like, up at night, weeping in adoration, heart palpitations, terrified. I've been trying very hard to keep my fear a secret, but I just can't anymore.
I'm not worried about the reasons you might think. If no one signs up and the entire project is a flop because it wasn't actually directed by the Holy Spirit, I'm fine with that.
God's will be done.
I'm worried that God has asked us to do this…and that we will mess it up.
I'm worried that our own issues and imperfections will get in the way of building Domestic Churches.
Honestly, I'm worried that God asked the wrong people to take on this work.
After all, who are we? Our prayer lives are a struggle, our kids have issues with lying and disrespect and laziness…and so do we.
It doesn't make any sense that WE should be the ones doing this work. There has to be someone better than us!
I find it especially crippling when I am reminded of just how important this work is.
Catholic Parents (you) are the key to renewing our Church.
If we fail to embrace the work of building our Domestic Churches, if we fail to teach the Faith in our homes, then our Church will suffer.
Friend, the stakes are very high. Nothing matters more than what happens in your home and what takes place between you and your children.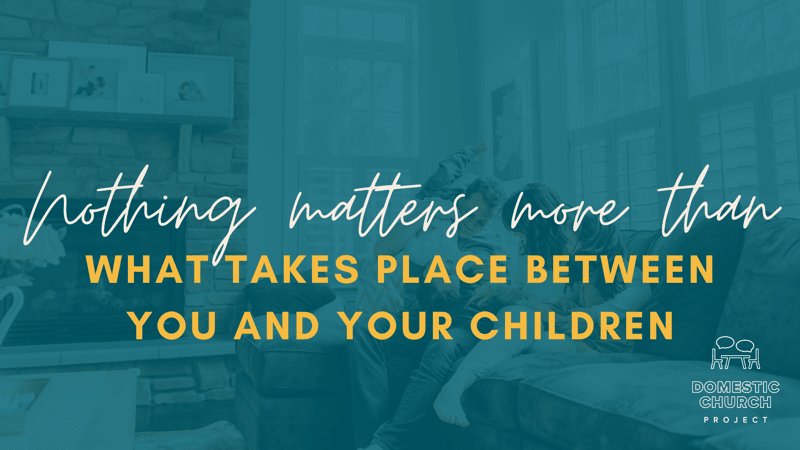 Up until today, I have been trying to deal with this fear by dressing up with The Domestic Church Project offering.
We have been obsessing over the details and working ourselves ragged adding cool features to the app, brainstorming guest speakers, adding more resources…but this morning in adoration God pushed all of that aside.
He took away everything that I had been hiding behind and spoke plainly to my heart.
Catholic Families need a program that…
shows them HOW to teach the Faith at home.
trains them in their own homes and with their own kids.
requires zero prep and walks them through the entire process of building a Domestic Church.
Catholic Families needed a Domestic Church Project Bootcamp.
Through the grace of God, we created this Bootcamp this summer. We tested the Bootcamp with over 100 families this fall. We verified that the Bootcamp worked and that it was able to utterly transform families.
Now, after reworking based on the feedback from our beta test, the Bootcamp is ready for you and your family.
YES…
the DCP Bootcamp lives inside of our beautiful new app.
you will have the support of a community of Catholic Parents as you go through the Bootcamp.
we have created lots of other resources to support you after the Bootcamp, including liturgical studies and saint stories.
But all of that is extra.
This is about your home and your family, not an app.
My friend, I don't know why God has put us here or why He is offering this through us. Perhaps it is simply to prove that He really can use even His lowliest servants.
But please, as you consider being part of the Domestic Church Project in 2021, forget us, and forget the app.
Think about your family.
Are you living out your call to be the primary educator of your children's faith? Is your home a school of love? Are you living the sacramental life at home?
…or, are you like us, and you need a little help with all of these things?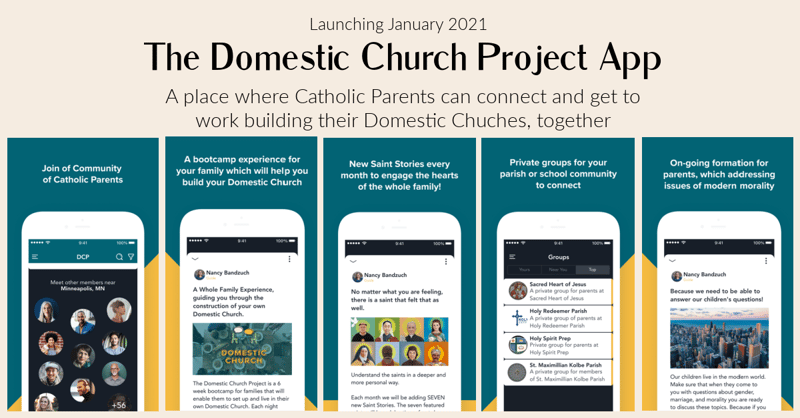 If so, then I invite you to join us in the Domestic Church Project app on January 1.
Building a Domestic Church is our calling, and it is a big responsibility, but, we don't have to do it alone.
Thank you for your continued prayers as we attempt to leave ourselves behind and embrace the work God has given us.
In Christ,
Bill and Nancy