It's been a while since I shared a cross stitch pattern around here.
So that is exactly what I am going to do today. No wait, I'm going to share 2, both of which are FREE!
Here are 2 Thailand Inspired Elephant Cross Stitch Patterns. Which I am happy to offer you for FREE, now and forever.  
YAY!
Who doesn't love elephants–and things that are free?
These elephant cross stitch patterns are modeled after the beautiful mosaic work my husband saw in Thailand when he was there for business earlier this year.
I was only a little bit bitter that he went to Thailand without me.
I should note, I have never been to Thailand.
But even from the pictures, the designs in these mosaics are simply captivating and I really wanted to celebrate them.
As you can see in the collages below, each of the Thailand Inspired Elephant Cross Stitch Patterns is based on a specific mosaic.
Here is the first elephant cross stitch pattern.
It's just a wee little elephant with its trunk up in the air. The mosaic I based it on is one my husband saw in Bangkok.
Here is the pattern for this little elephant.
You can, of course, use any colors that you'd like to stitch up, or the exact ones that I used.
You can find all of that information and a legend on the PDF pattern all ready to be printed and stitched HERE.  
The second Thailand Inspired Elephant Cross Stitch Pattern is based on a simpler mosaic pattern and is of a bigger, older elephant. 

I am happy to also offer this pattern for free (because I love you so much!).
I used a yellowish color for the white sections of this elephant, but that is simply because I was stitching on white Aida cloth.
If you'd like to add a custom color to your Aida cloth make sure to check out THIS TUTORIAL.
Once again, there is a legend included with the PDF pattern, but feel free to use whatever colors you'd like for this cross stitch pattern.
In fact, I plan on stitching it up again soon only this time using green hues.
Please find the free cross stitch pattern HERE.
I stitched up these geometric, fun little elephants while on an epic family road trip in April.
Stitching up geometric designs like this is really enjoyable–and relaxing.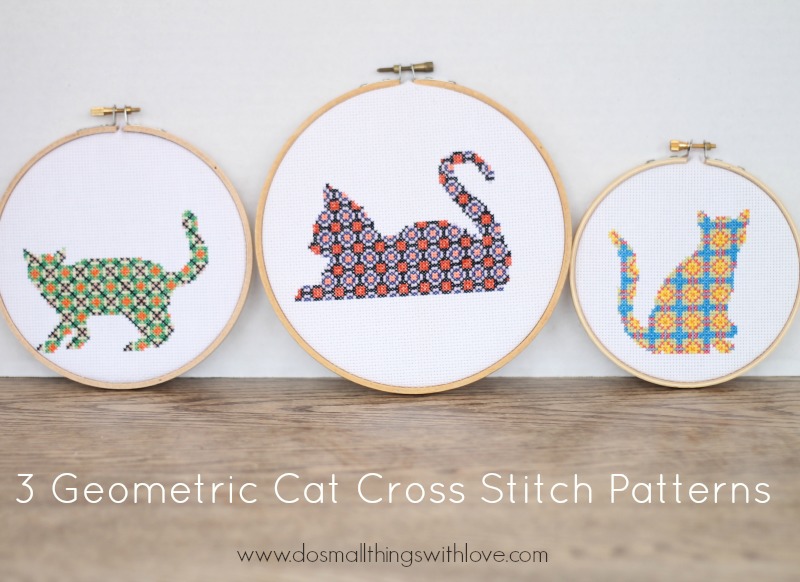 One last thing–if this is your first dive into the world of cross stitch, make sure to stop HERE to learn how.
Thanks for being here and happy stitching!