Hey there!
So, I'm not the type of person that picks a word or starts some crazy diet at the start of the year.
I've also learned the hard way that setting too many goals during this phase of life (babies and littles) is just not very realistic.
Most of my day I have zero control over what happens… and what doesn't.
But this year I did feel called to set one big whopper of a goal. And here it is:
Help more families get to Adoration.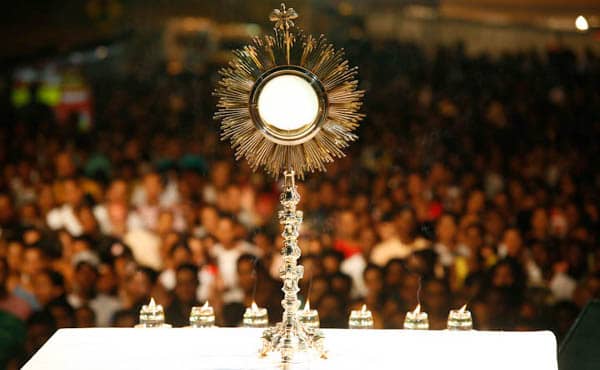 That's it. That is my 2020 goal.
Help more families get to Eucharistic Adoration.
Families of all types.
Even families with little kids, and families with busy big kids, and families where both parents work, and families where the parents are new to the faith, and families where the marriage is less than perfect or even non-existent.
All families. Even your family.
Because Jesus, truly present in the Eucharist, is there for everyone. Children, parents, sinners. Everyone.
This year I plan to commit myself to help families get to adoration.
I tell you this knowing full well just how hard it is to get to Eucharistic Adoration with the kids.
I have been keeping a weekly Holy Hour with the kids for over 3 years now.
You would think that after 3 years my kids would be little angels walking into Eucharistic Adoration each week. You might think that…but you'd be wrong. SO WRONG!
My oldest 2 are getting used to Adoration and even look forward to it, but that's where the good behavior ends.
I am an impatient, crabby mom most days.
My three-year-old, JoJo, is a typical 3-year-old, swinging between sugar-sweet and viper. Dominic, now 5, is outspokenly against
Adoration screaming as we walk in each week, "I don't want to go in! No!" He walks in, reluctantly, after I give him the eye…
And Georgie spends the hour either nursing nonstop or working really hard to get trapped under a pew.
It can be rough, but you know what? It's so worth it, and not just because of what happens during that hour.
Keeping a weekly adoration hour has radically transformed my life!
Here is just a shortlist of what that weekly Holy Hour has helped me realize and live out:
Jesus is real and present, waiting for me (literally!) to stop by and see Him. If I make an appointment with Him, nothing should keep me from getting there!
My children are a gift from Him, and I need to bring them back to Him. There is no better way to pray directly for their needs than with them in Adoration.
Children can be quiet and prayerful if given the opportunity (maybe not for a whole hour, but for a little while!).
If I really believe that this is Jesus, truly present in the Eucharist, then, OF COURSE, I would bring my children to Him!
Other adorers (generally) love when children come into the chapel. And if they don't love it, they should!
Jesus made a point of welcoming children when He was on Earth. So obviously, He wants them in Adoration.
There is so much more I could say here. I honestly trace all good things in my life back to time spent in Eucharistic Adoration.
It has played that key of a role for our family, in this ministry…in everything.
I can trace it ALL back to adoration.
Okay, let's just pause here and take a breath.
The last thing I want to do is make you feel bad about not going to adoration more often.
Shame is not a step on the path to holiness. I also don't want to make it seem like the only way to adore is to spend a full hour each week in Adoration.
First of all, you don't have to go for a full hour.
A 10-minute stop-by is a great place to start. And if your parish doesn't offer Adoration, pray in front of the tabernacle.
He is inside! And then when you are done, bug your priest to start Adoration 😉
ANNNNNDDD…HERE IS MY BIG SECRET…
I am SO EXCITED to share a few projects I have been working on to help children understand the amazing experience of going to Adoration. These books were created to be used either IN Adoration or BEFORE Adoration to help prepare children for what they will experience.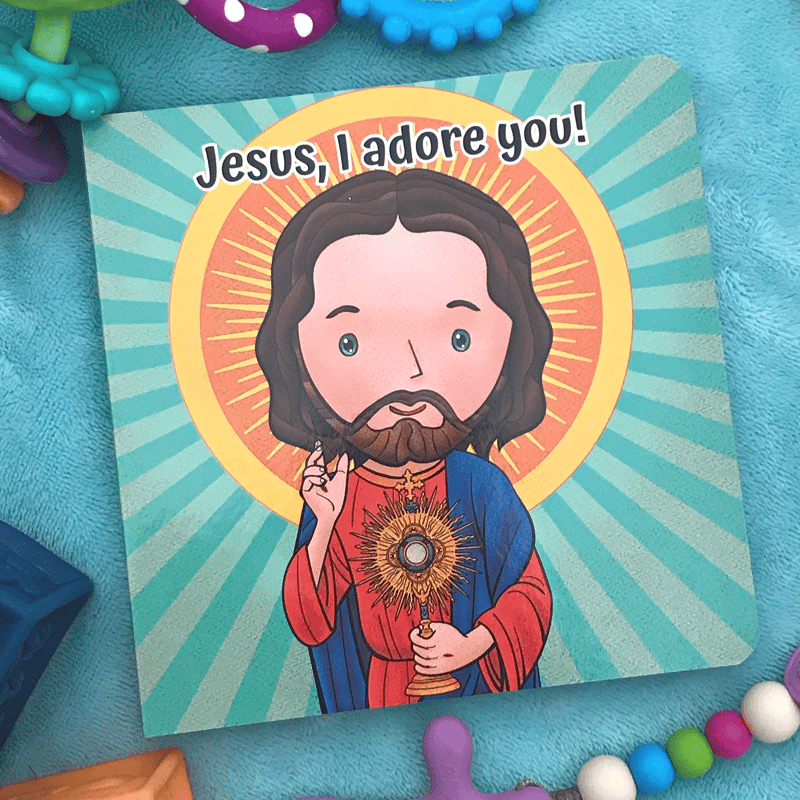 A sturdy board book that will help children connect Jesus in the monstrance to Jesus they know from the Bible.
I am also excited to offer…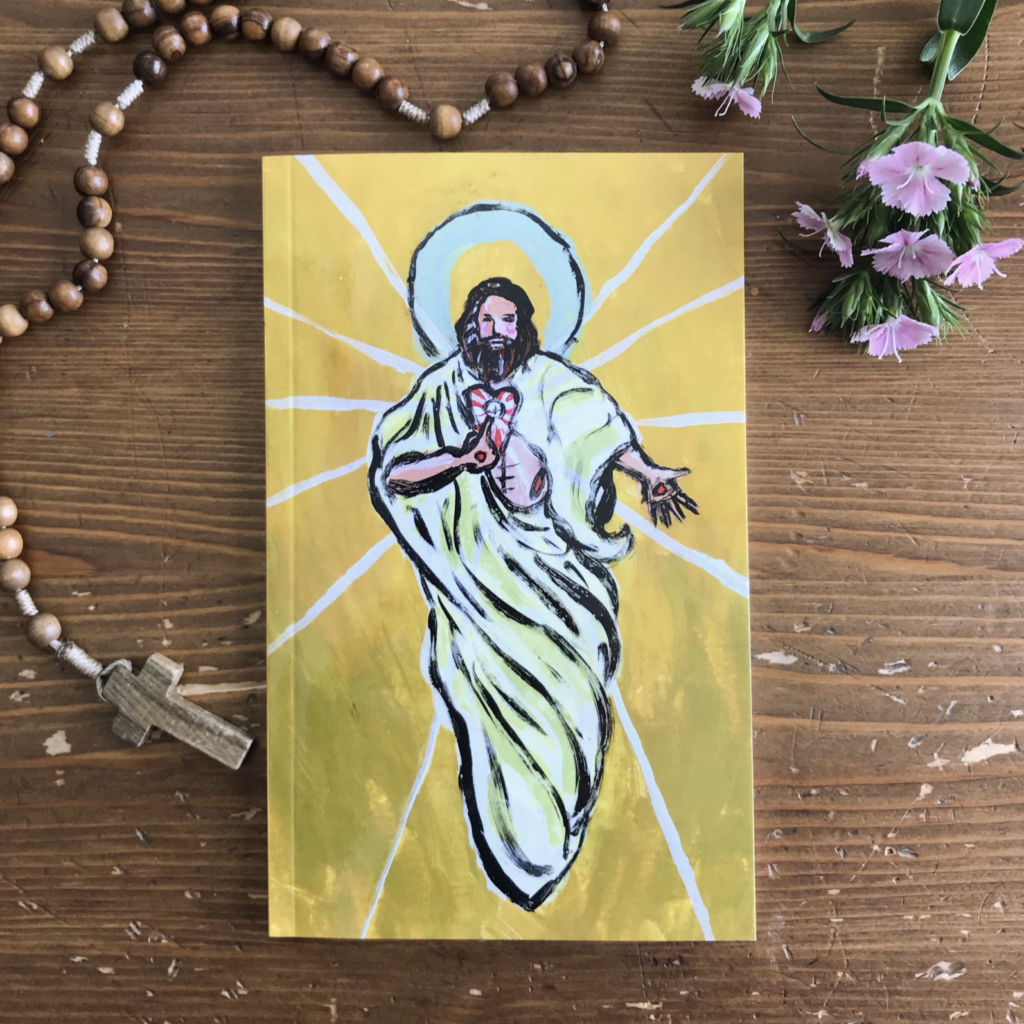 That's right–there is something for EVERYONE in the family. Something that will help them go deeper and love Jesus better while in Eucharistic Adoration.
My own children have been "product testing" these books this last month (meaning we took them with us to our Holy Hour) and it has been a joy to see their little minds grasp just a little bit more completely the incredible thing that we are doing when we go to Adoration.
In fact, last week my 8-year-old read the board book to the little ones in Adoration and I heard an audible "oh!" at one point, as a child put together the stories of Jesus they know and love with Jesus in the monstrance.
And then my heart burst. Literally.
Now, I encourage you to do just one thing: pull out your planner and find 15 minutes for your family to visit Jesus.
Maybe right after school pickup? In the morning before drop-off? Maybe Saturday morning on your way out of town?
Find that time, make an appointment with Jesus, and remain determined not to stand Him up, no matter what.
You remain in my daily prayers.
Your sister in the small things,
Nancy