Usually, jewelry is not included in my DIY projects simply because I always wear one of two necklaces.
However, I came across this idea and made an exception.
I love how it turned out, and I can wear it with one of the necklaces that I usually wear!
I have only been a mother for just over a year now, but being a mother has been so transformative that I want to celebrate this vocation whenever possible.
My photo-pendant necklace is truly a celebration of my life as a wife and a mother.
The center photo is a recent picture of my son, on the left is a picture from my wedding day, and on the right is an early ultrasound picture of the baby that will be joining us in November.
The ultrasound picture is from a couple of months ago now, but I love my little gummy bear baby!
And, the wonderful thing is that the pendants were inexpensive so it will be easy to add or change pendants as my family grows and changes.
Supplies:
Blank pendants and chain (you can get these at a craft store)
Photos printed to size
Packing tape
Modge Podge
How To:
Cover photos with clear packing tape to protect them
Adhere Photos to blank pendant using dry glue (I used scrap-booking adhesive)
Cover with a few coats of modge podge and allow to dry.
This was an easy craft and I'm very pleased with how it turned out.
As you can see, my one-year-old really likes this necklace too! I wear it often and when I do he finds his picture and gives it a chew!
But, no problem, another coat of modge podge will take care of that!
Thanks for stopping by,
Nancy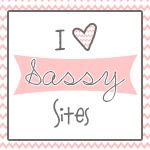 If it's your first time visiting Small Things, I'd love for you to connect with me in some way!