I am giving pinterest full credit for the idea behind this project. How many of us pinned this project when you came across it on pinterest? Obviously I did too. And so, I just had to try it.
Please go to the linked blog for how-to, I am not going to claim this method as my own.
As you can see, this didn't turn out perfect, and it was a lot of work, but none-the-less I like the look of it. Here are a few tips I have:
1. Use a magazine with thin pages. I used Better Home and Gardens because the pages are super thin. Thin pages make the rolling easier and neater.
2. When folding, select pages (or sides of pages) that have vibrant color right down the middle of the page. The rest doesn't matter since it will be inside the fold.
3. The trickiest part is attaching the outside strips. If I do this project again I will use a thicker magazine page and not fold it so many times…I had a hard time making it look neat.
4. I used regular elmer's glue, since I didn't want to mess with the mess of a hot glue gun. In order for elmers to work, however, this gluing needs to be done in stages. I did a little here and there other the course of a few days.
Here is what I came up with. If you too pinned this project and attempted it, I'd love to see what you came up with. Post a comment with a link to the project, please!
Have a wonderful Tuesday!
Nancy
Happy to be part of: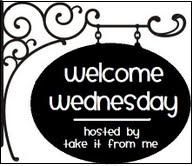 If it's your first time visiting Small Things, I'd love for you to connect with me in some way!