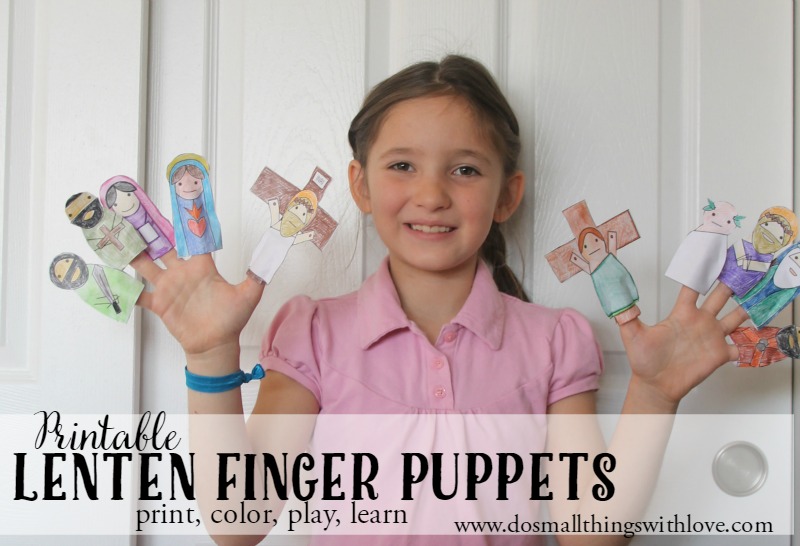 Hello there, friends!
I hope your Lent has been wonderfully restful and fruitful.
Mine, thus far, has fallen a little bit short of expectations, but that, of course, is 100% my doing.
It is hard for me to embrace quiet, even though I REALLY need to!
In these next weeks, and especially during Holy Week, I plan to really get back on track, find more time for prayer, and set aside some time for really meaningful faith discussions with my kids.
Something we have done the last few Lents is using Finger Puppets to act out, understand and commemorate the events of Jesus's Passion, Death, and Resurrection.
I know, finger puppets are a little cheesy, but they are a fun way to help children learn and engage with all the characters in this story.
Our finger puppet play is pretty free and easy.
Often times the kids want to put on the finger puppets and act out, in part, what we just read or discussed. Sometimes we just set the puppets out on the table and discuss who did way.
Either way, the puppets have been a fun faith tool for us.
And guess what, I am happy to offer you 2 versions of Lenten Finger Puppets–totally FREE! Just enter your email address right here and I will email the PDFs directly to your inbox.
You can find the materials for this project, and MANY other Catholic projects in the Catholic Family Digital Resource Library. To get instant access, and join a thriving community of over 10,000 Catholic Parents, just enter your email address.
The first set of finger puppets are ones that you can easily print, color, cut, and glue together. My only word of advice: make sure to either place a really thin line of glue around the edges, or use clear tape…or else the finger puppets will be too narrow to fit your finger into!
The second set of finger puppets are made of felt. The downloadable PDF for these puppets will supply you with all the patterns for the 13 Lenten Finger puppets pictured below, and don't worry! These puppets are GLUED together, not stitched:
The characters included in both sets are:
Jesus at the Last Supper
Peter, the High Priest
Judas
Suffering Jesus
Simon of Cyrene
Mary
Pilate
Christ on the Cross
The Good Thief
Veronica
Roman Solider
And the Risen Christ.
Which puppets do we use around here? BOTH!
Yup, a few years ago I made all of the Felt Finger Puppets, but my kids are at a stage where they really love creating their own things.
So, while I still use the felt puppets, I have a strong feeling that we will be making a new paper set this year–and maybe a couple of paper sets!
I really love making the paper sets, actually, because the kids always ask SO many great questions as we are coloring.
Questions like, why is Judas holding money? Who is this other guy on the cross and why is Mary's heart like that? So many great moments for Catholic instruction!
So, if these finger puppets would be helpful, I encourage you to download and use them!
Once again, you can find the materials for this project, and MANY other Catholic projects in the Catholic Family Digital Resource Library.
I hope you children love these puppets and learn as much from them as mine have.
Your sister in Christ,
Nancy