As promised, it is felt week here, and here is the first of the felt projects: a hand-sewn name book for a baby.
It is simple, I enjoyed making it, and my 10-month-old son has read it so many times I will soon have to replace the binding!
There is no tutorial here, but I will offer some simple tips.
Supplies:
Colorful felt
Embroidery Thread
Buttons
Interfacing
Directions:
Grab a board book of your child's bookcase. Use this as a guide for how big to cut the pages of your book. Cut one page for each letter of your child's name, plus one for the cover.
Next, cut out the letters of your child's name and brainstorm an object that starts with that letter. I free-handed all of my letters and objects because I like the "hand-made look", and I'm not lucky enough to have a fancy cutter! I used both whip stitches and a simple running stitch to sew on the various letters and objects.
Then I added buttons in certain places to dress it up a bit.
When I was done, I ironed on interfacing onto the back of each page just to make sure the baby didn't pull the strings out and get a button loose.
Then I did a blanket stitch for a binding and added a black rectangle of fabric to cover the binding.
Here is a look at the pages I created for my little Augustine:
A-angels
U-umbrella
G-God
U-universe
S-snails
T-tractor
I-ice cream
N-Nun
E-egg
This took some time, but it was worth it. It makes me think, however, if I will give my next baby a little bit shorter name!
Thanks for stopping by,
Nancy
notjustahosewife.net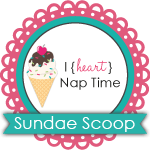 If it's your first time visiting Small Things, I'd love for you to connect with me in some way!