And all of a sudden its mid-November.
WHAT!?!
Perhaps it's the beautiful weather here in Kansas, or the fact that I have been busy lauching my planner, but this fall is flying by.
Advent is right around the corner, and I really want to do a good job with Advent this year.
To be honest, our family prayer life was slipped a bit recently.
There are a million reasons–nursing baby, traveling husband, difficult toddler–but we need to regroup and refocus around here. So that is the plan for Advent.
We will once again be doing the Jesse Tree and setting up a Nativity Set, but this year we are also going to be using a Names of Jesus Advent Countdown.
I put it together a few days ago, and I wanted to offer it to you as well.
You can find the materials for this project, and MANY other Catholic projects in the Catholic Family Digital Resource Library. To get instant access, and join a thriving community of over 10,000 Catholic Parents, just enter your in your email address.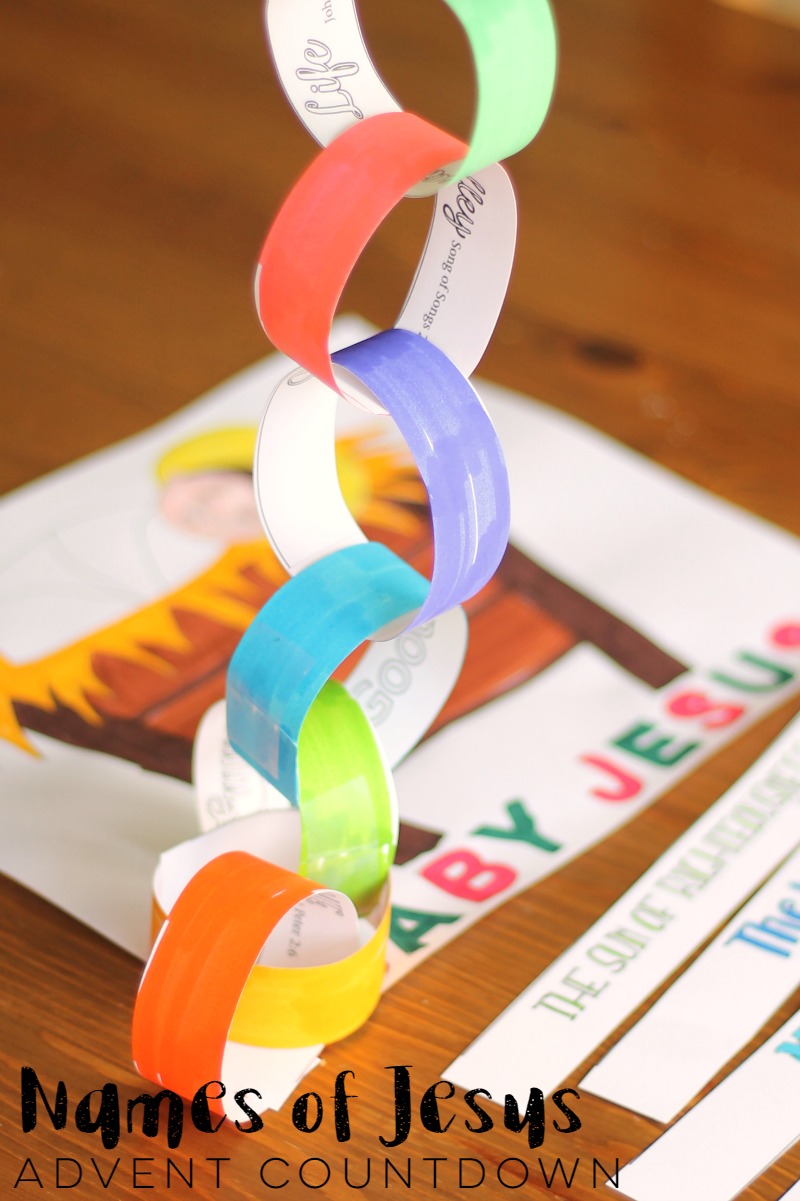 Full disclaimer, I didn't come up with this idea.
I only put it into a spiffy little PDF. I found this idea over on Surviving Our Blessings, and I love it for a couple of reasons.
As I kid we did countdown chains for anything and everything we were looking forward to: Christmas, vacation, etc.
It is an easy way to praise and get to know Jesus, simply by getting to know all of his various titles.
And this Names of Jesus Advent Countdown is an easy way to read scripture as a family, which we need to do more of.
Here's how it works.
First off, download and print the PDF.
I designed this for children to color.
Have them color the image of Baby Jesus, as well as the titles of Christ.
Once everything is colored, hang the image of Baby Jesus on the wall and cut apart the titles of Christ.
Add color to the backside of the titles, if you want to have a colorful countdown chain.
As a final step to up this countdown, create loops out of the paper titles, in any order, and create a chain as you go.
Once Advent begins, remove one link from the chain each day.
Read the title of Christ, as well as the verse it comes from. The verse is noted beneath each title. You can stop there or you can memorize the verse, sing it, hang the title beneath the image of baby Jesus, whatever feels right to your family.
But the ultimate goal is that at the end of Advent you have the image of Baby Jesus surrounded by all of his titles and this will hit home the fact that God, the King of the Universe, humbled himself and to be born as a little, defenseless baby, in a stable.
And that miracle never gets old.
Your sister in Christ,
Nancy
PS–if you are looking for other faith-building activities to use in your home or classroom this Advent, consider these: