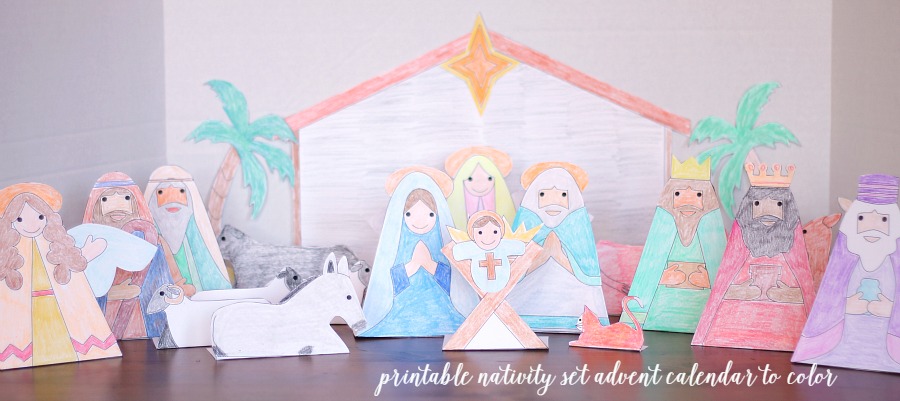 Advent is literally right around the corner and I am so thrilled to be sharing with you a little project I have been working on lately: a Printable Nativity Set Advent Calendar to Color.
And best of all, it's totally FREE!
Just sign up and I will send it directly to your inbox!
Here are the Characters included in the Printable Nativity Set:
The Holy Family
The 3 Kings, with their 3 Trusty Camels.
2 Hansom Shepherds with 3 lovable sheep
2 Rejoicing Angels
The Holy Family's donkey, 2 sweet cows, and a kitty cat. Of course, there was a kitty there.
Along with the stable, 2 trees, and a star that makes 25 characters. The PDF comes with full instructions and a guide for using this as an advent calendar and what character to set out each day of December.
Once again, totally free. Just sign up here:
Here's a closer look at the coloring pages. I designed this Nativity Set Advent Calendar to be both easy to color and easy to cut out so that a young child can have fun coloring it…or even an adult.
Come on, adult coloring is totally a thing now! Since my kids are still more scribblers than colors I colored this version…and I may have enjoyed myself very much!
Here is what the Mary and Jesus page looks like.
As you can see from the printable, I designed these characters to stand up, but they have to be printed on sturdy cardstock. The steps are pretty simple, but I took pictures of them anyway.
Just print and color
Cut and fold
And add some tape.
And then bingo, you have an adorable nativity set that not only your kids helped make, but one that they can play with all advent long without the worry of losing or breaking something. We already have ours set up and it has been played with quite a bit.
Bernadette is most interested in Mary and Jesus…and the kitty.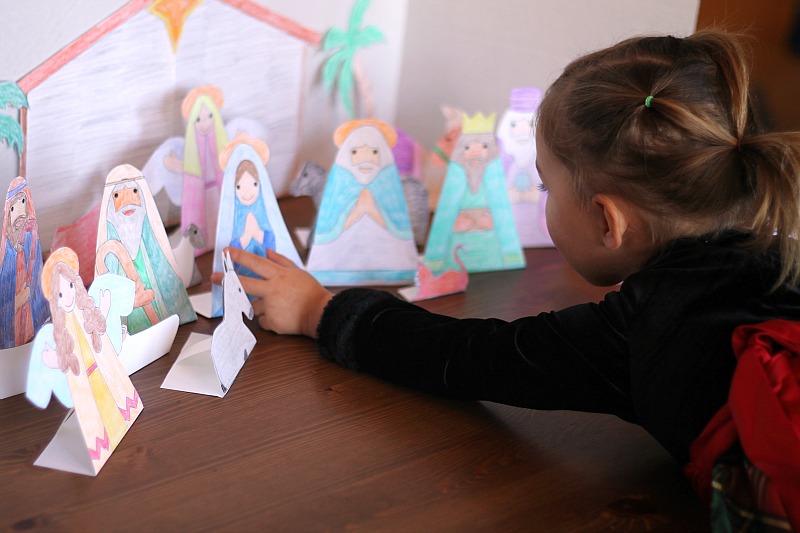 So, there you have it. It's simple, it's sweet and you can have it all set up and ready for Adven! Without hours of tedious work.
Print it out, set out the box of crayons, cut them out and you are set.
Thank you for all of your support in the past! And I really hope that this nativity set advent calendar brings some joy and fun into your homes this season.
All the best,