It's a bight, beautiful (and oh so pretty) day!
It's the day that I send the little project I've been toiling away at out into the world, and hope for the best.
Today is the day I launch My Pretty ABC's eBook, the complete pattern for making the pretty little girl in your life a beautiful, handmade alphabet book.
And, seriously, what little girl is not in need of a pretty ABC book?
My little Bernadette certainly needed one!
While designing this pattern I really embraced my inner girly-girl.
Here are all of the pages from the My Pretty ABC's book: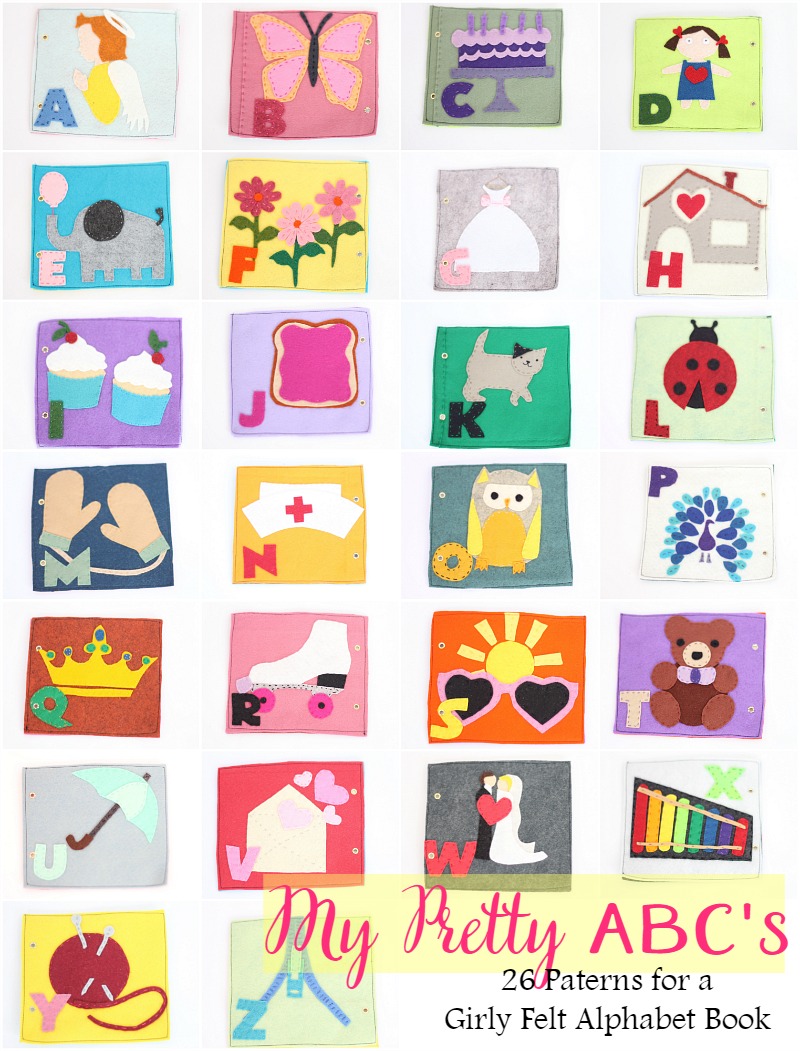 Along with to-scale templates for each and every letter, I also included detailed instructions with this pattern for acquiring supplies, making the pages, and binding the book.
If you would like a sneak peek–and a free template or 2 from the book–head over to some of my favorite blogs.
The sweet bloggers behind those blogs have agreed to hand their blog over to me for the day to share about this new pattern.
I'm sharing the following pages (with the free pattern for that page) on these blogs:
"C is for Cake" at Cutesy Crafts
"Y is for Yarn" at Petal to Picots
These ladies were nice enough to help me promote today–and they are all so wonderful.
If you have a minute, please head over there and give their blogs a little love!
Now, I know that typically when a person launches an eBook they gather all sorts of testimonials from people who have read and loved the book.
And so, although only one little girl has gotten her hands on this book so far. I think these pictures serve as a pretty good testimonial.
My pretty Bernadette.
She loves it and there is nothing more satisfying as a crafty mom than pouring time and love into a project.
And then watching your loved one cherish the final product.
It doesn't get any better than that!
If you are thinking–gee, I could never make something like that–I want to talk to you for a minute.
Yes, I am only selling the pattern, requiring you to do that actual making, but there is nothing overly complicated about making this book.
Nothing!
This project calls for only simple supplies (felt and embroidery thread).
And it's basically just a lot of cutting and stitching, and simple stitching at that!
Check out THIS POST for a full rundown of how easy putting this book together actually is.
Now, I said easy, not quick.
But, all good things take time, right?
Seriously, you can do this!
And, if there are any bumps along the way, email me, message me! I would be over the moon to help you!
Thanks for your support–both now and always!