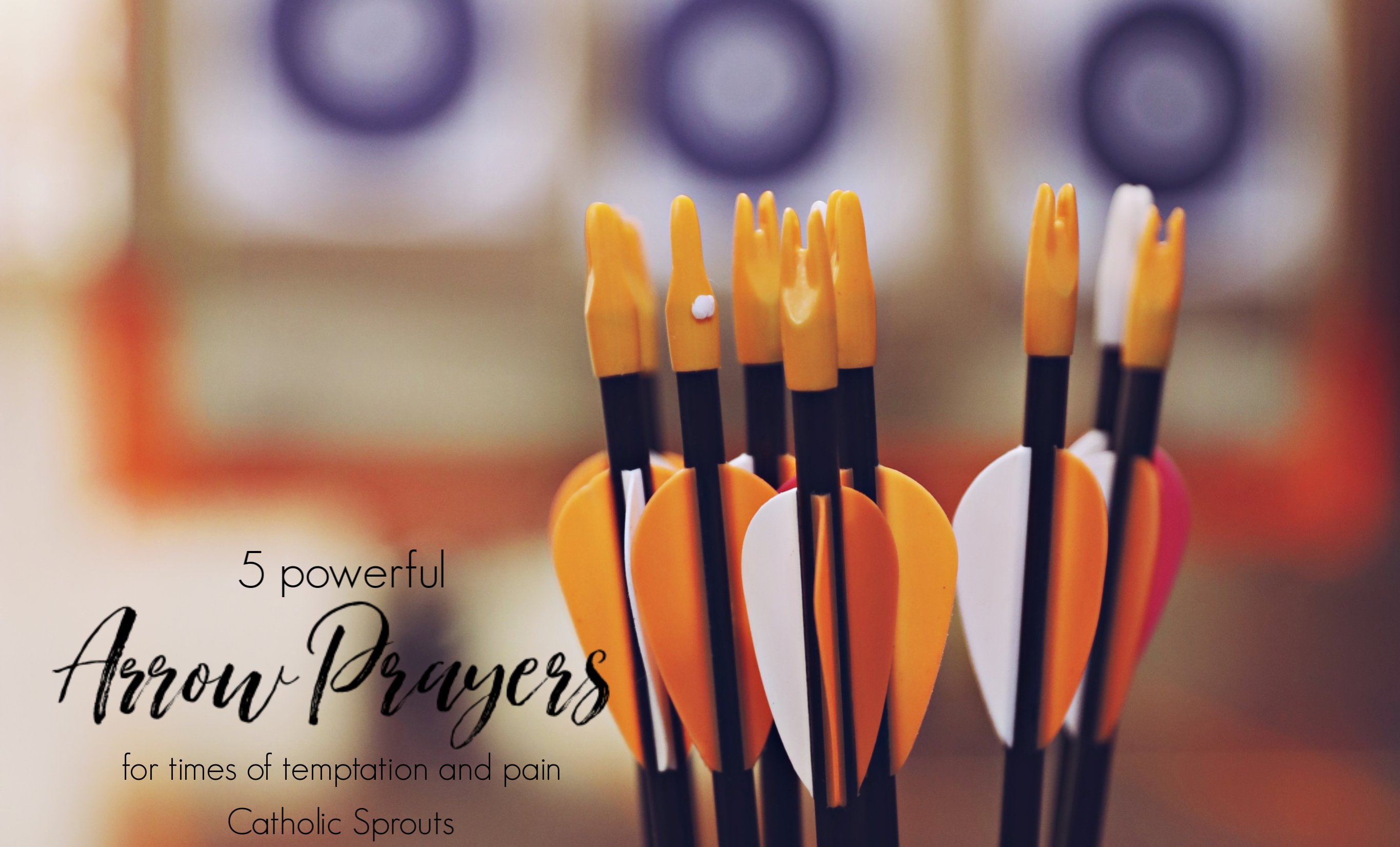 Arrow prayers.
Have you heard of these? Maybe not. But even if you haven't, I bet you have used an Arrow Prayer before, maybe without even knowing it.
An Arrow Prayer is a simple, short prayer that brings us right into the presence of God. Very often Arrow Prayers are just a couple of words, a sentence or less. They can be short passages of scripture, a cry for help, or just the name of Jesus.
Without any deliberate thought, I have gotten into the habit of using Arrow Prayers many times a day. I repeat "Jesus, I trust in You!" over and over again before jumping on a Facebook Live (because I still get so nervous), I repeat "My Lord and my God", when I remember, while debating if I should make a nasty comment to my husband (with the help of this prayer, I usually control myself from saying it), and while in adoration I often spend at least 10 full minutes gazing at the monstrance repeating the name of Jesus, in rhythm with my breathing.
Learning about Arrow Prayers was, honestly, a huge relief. As the mother of 5 little ones I am not very often in control of my time, and I rarely get 15 uninterrupted minutes to prayer. My first years as a mother I had such a narrow view of prayer, that I went to bed most night feeling like a failure. Nothing replaces time spent with Scripture, and I am lost without my daily Rosary, but I am so grateful for Arrow Prayers! Arrow Prayers have allowed me to step closer toward our calling to pray without ceasing! I can recite Arrow Prayers as I do the dishes, as I drive to Aldi or as I comfort a child in the middle of the night. They are always there, ready to be used.
An Arrow Prayer is a short little shot to heaven. They are particularly powerful during times of temptation or moments of pain. Easy to memorize, most Arrow Prayers are best prayed by slowly repeating the words over and over. I find that the more I repeat the words of an Arrow Prayer, the more they will penetrate my heart, and the more I will be brought into the presence of God. Arrow Prayers that are repeated and repeated also have the ability to melt my heart.
And so, today I want to not only tell you about Arrow Prayers but give you a little something so that you might draw on the strength and the power of these prayers more often.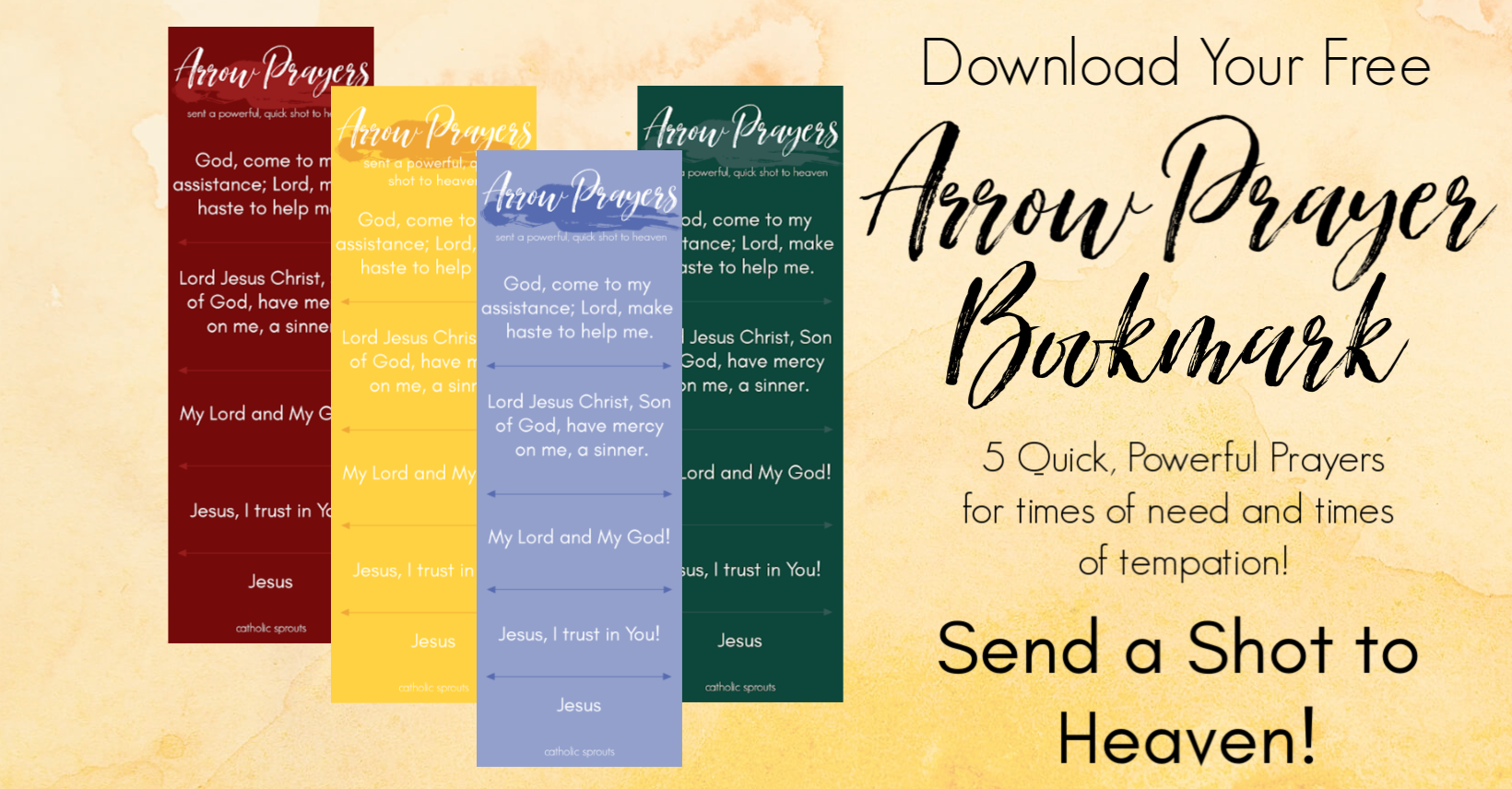 Here are my 5 favorite Arrow Prayers, and I encourage you to grab the bookmark below and stick it in your Bible, planner, or Journal so that these Arrow Prayers can fill up your Spiritual Quiver (was the metaphor too much ;))
My 5 Favorite Arrow Prayers
"God, come to my assistance; Lord, make haste to help me."
These words come from Psalm 69. They are also the words that are recited at the beginning of the Daily Office. I, admittedly, am not in the practice of saying the Daily Office, but I do find myself using this Arrow Prayer often. I like to say this prayer before I begin any sort of Ministry Work, whether that work is here for Catholic Sprouts or in my local parish. So often ministry work can get clouded with ego and emotion. Calling God into the situation, before I even get started, is the best thing I can do for anyone that I am called to minister to.
"Lord Jesus Christ, Son of God, have mercy on me, a sinner."
Often referred to as the "Jesus Prayer", this Arrow Prayer comes from the parable of the Pharisee and the Tax Collector. Jesus spoke of two men in the temple. The Pharisee stood with his head up, bragging about all the good he did, and thanking God that he was not like this terrible Tax Collector. The Tax Collector, in contrast, stood with his head bowed, pounding his chest praying simply, "Lord, have mercy on me, a sinner."
I am so very far from perfect and I am sometimes mortified at my own sinful nature. As a melancholic, I can get so down on myself and I slip easily into shame and self-hatred (any other melancholics out there?!?). This prayer helps me get out of my own mind and instead look to Jesus. There is no shame with Jesus, only mercy. Admitting that I am a sinner is powerful, and freeing. This is such a powerful prayer.
Also taken from a Gospel, these are the words of St. Thomas the Apostle in the Gospel of John as he places his hands inside of the wounds of Christ. They are the words of profound faith reached after moments of doubt.
I find this arrow prayer particularly helpful when I am facing a challenge that seems (wrongly) bigger than God. When I am brought face to face with a terrible evil and I wonder, how could God allow this? I fall back on these words. Praying this Arrow Prayer is admitting that I don't know everything, and yet I am willing to believe.
This Arrow Prayer is important enough that Jesus directed St. Faustina to have it immortalized beneath a portrait of Him. "Jesus, I trust in You!" is the entire message of Divine Mercy. It is the way we are called to live every moment, with complete trust in Jesus Christ.
I use this Arrow Prayer daily, often when I am failing or scared. I say it when I am crabby with my kids, when I am overbooked, when I am doing something scary like launching a new product or talking about the Eucharist on the podcast, or even when I am walking into a social event without my husband (he is the Sanguine, I am the Melancholic). Saying this Arrow Prayer reminds me that Jesus is with me. Declaring "Jesus, I trust in you!" is like placing my hand in His and knowing that we are doing this scary/hard thing together.
This is my favorite Arrow Prayer, easily.
I was introduced to this Arrow Prayer when I was in high school, long before I knew what an Arrow Prayer was. While on retreat a nun explained Eucharistic Adoration to us. I remember close to nothing of what she told us, but I do remember her saying that if we find ourselves in adoration, and we didn't know what to say, we can just recite the name of Jesus, over and over again, in tune with our breathing.
And, you know what? I often find myself in adoration not knowing what to say!
In Peter Kreeft's book, Prayer for Beginners (highly recommend), he digs into why simply saying the name of Jesus is, in itself, such a powerful prayer. There are many reasons, but this name is the name of God, a God that loved us enough to become man, take a name, and die for us. We also hear in Scripture that at the name of Jesus every knee shall bow, on Earth, under the Earth, and above the Earth. That is the power of this name! A name we can say and call on in times of need. What an incredible weapon when we face temptation!
I call Jesus into my moments all of the time. I find myself saying his name in my mind without even deliberately choosing to do so. I struggle with anxiety, and I often use the name of Jesus to calm myself down and enter back into this moment.
So there they are, my five favorite Arrow Prayers.
I would love to hear any Arrow Prayers that you love. I'm always looking for more arrows to fill my Spiritual Quiver (oops, I did it again!)
And, to help you get these little shots to heaven into your brain, I made a simple little bookmark for you. Simply enter your email address below and it will be sent directly to your inbox. Just save, print and use.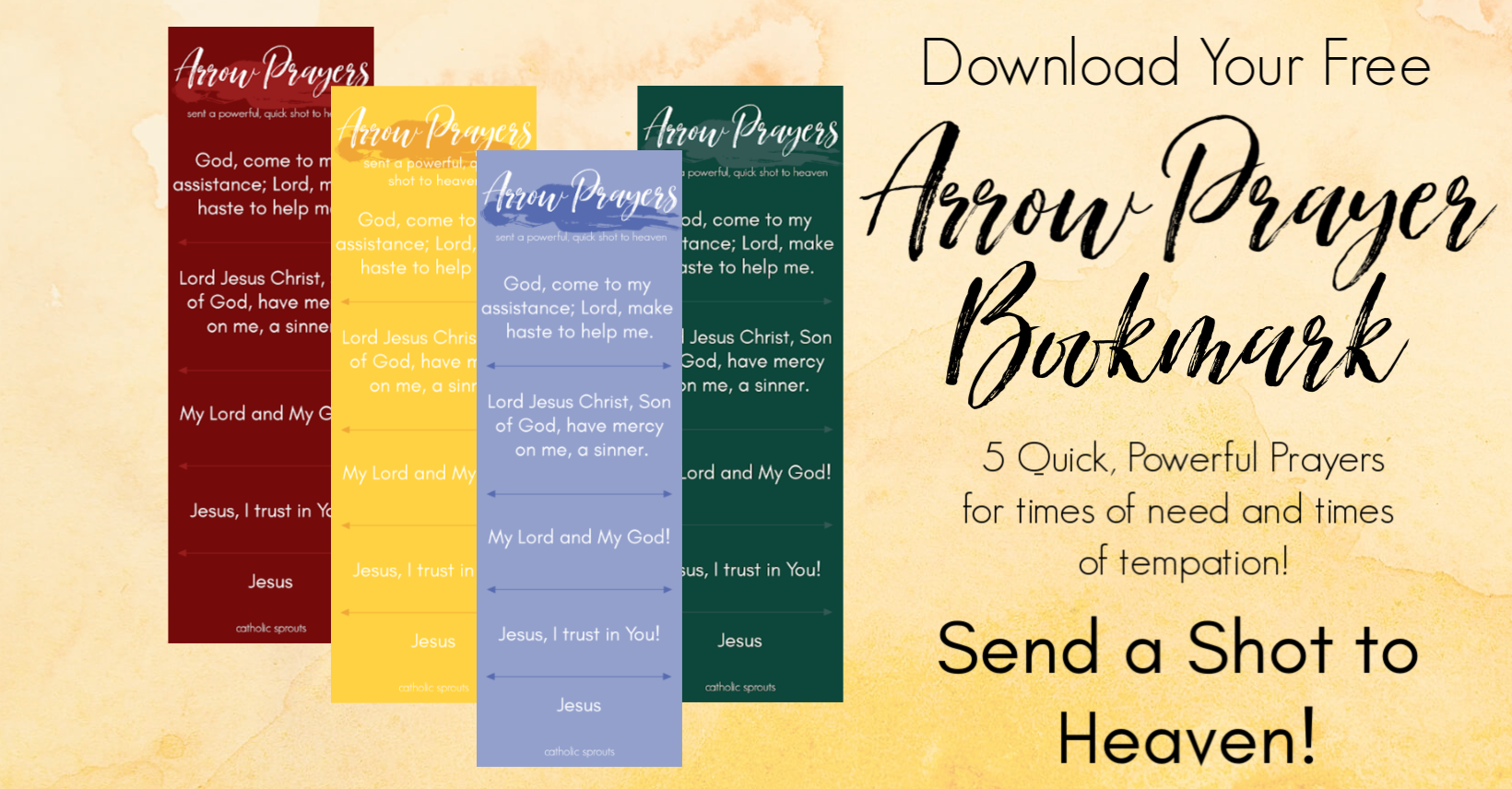 Thank you, as always for being here–and I pray that these Arrow Prayers can be as life-giving for you as they have been for me!