"You cannot be half a saint. You must be a whole saint or no saint at all."
Saint Thérèse of Lisieux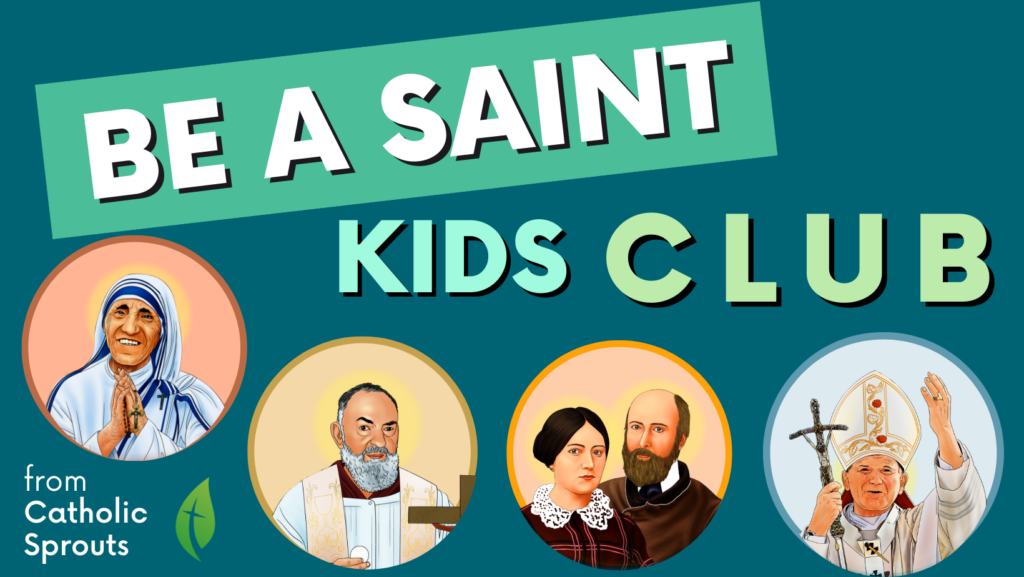 Welcome PARISH, and SCHOOL groups!
At this time we are pre-enrolling Large Groups ONLY for the '23-'24 session of the BE A SAINT KIDS CLUB. If you are interested in enrolling 20+ children in the BE A SAINT KIDS CLUB, we are happy to offer you a 20% discount when you enter this code at checkout:
BEASAINT=EARLY=GROUP
Please note, this code will only work on orders of 20+
And! When you order this week, we will be sending you a FREE SET OF 12 POSTERS, one for each month of the BE A SAINT KIDS CLUB!
Keep reading for all the details, and if you run into a problem or have a question, don't hesitate to reach out to me directly: [email protected]
You, yes you, are called to be a saint.
For over four years, Catholic Sprouts has produced a daily podcast dedicated to teaching the Truths we hold as Catholics. This work has been blessed, and we are humbled to watch it grow, but as we looked to the future, we began to ponder how we can better support Catholic families and classrooms as they move from listening to doing.
After all, while listening to the podcast is good, it isn't enough. What we have learned needs to enter our hearts, set us on fire, and transform our minds, words, deeds, and plans.
Simply, we need to be saints!
And thus, the BE A SAINT KIDS CLUB was born.
The BE A SAINT KIDS CLUB is a program that offers children monthly challenges from a saint. These challenges directly relate to content covered on the podcast. The challenges also help show children exactly HOW to put their faith into action.
Challenges vary from month to month, but they include memorizing prayers and Scripture, practicings various types of prayer and charity, observing the liturgical year, better engaging with the sacraments, and more deeply exploring our Faith. Upon the completion of all four challenges of the month, a child will be rewarded with a beautiful vinyl sticker featuring that month's saint.
The BE A SAINT KIDS CLUB is open to all Catholic children. We designed it for kids K-6th, but teachers and parents are welcome to decide if it is right for their child. When a child is enrolled in the BE A SAINT KIDS CLUB, they receive the following:
1 printed booklet to guide them through 12 months of saint challenges
2 sticker sheets for marking challenges "done" inside the booklet
24 brilliantly printed cards inside a case, which children earn for completing challenges.
Monthly emails full of encouragement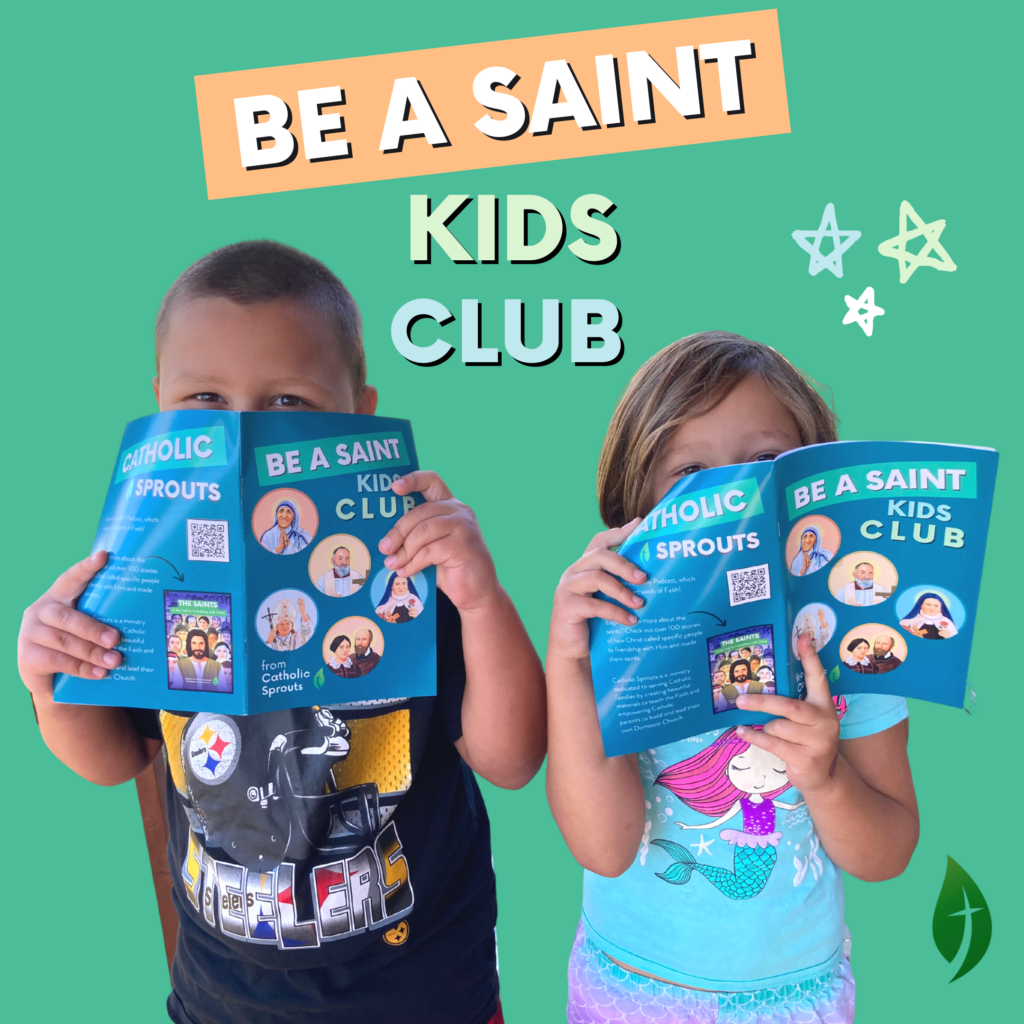 Still wondering how the BE A SAINT KIDS CLUB works? Let's take a look at September from last year inside the club.
Blessed Carlo Acutis was the patron of the BE A SAINT KIDS CLUB September '22. He offered us challenges and guidance. Here are the two pages dedicated to September inside last year's booklet: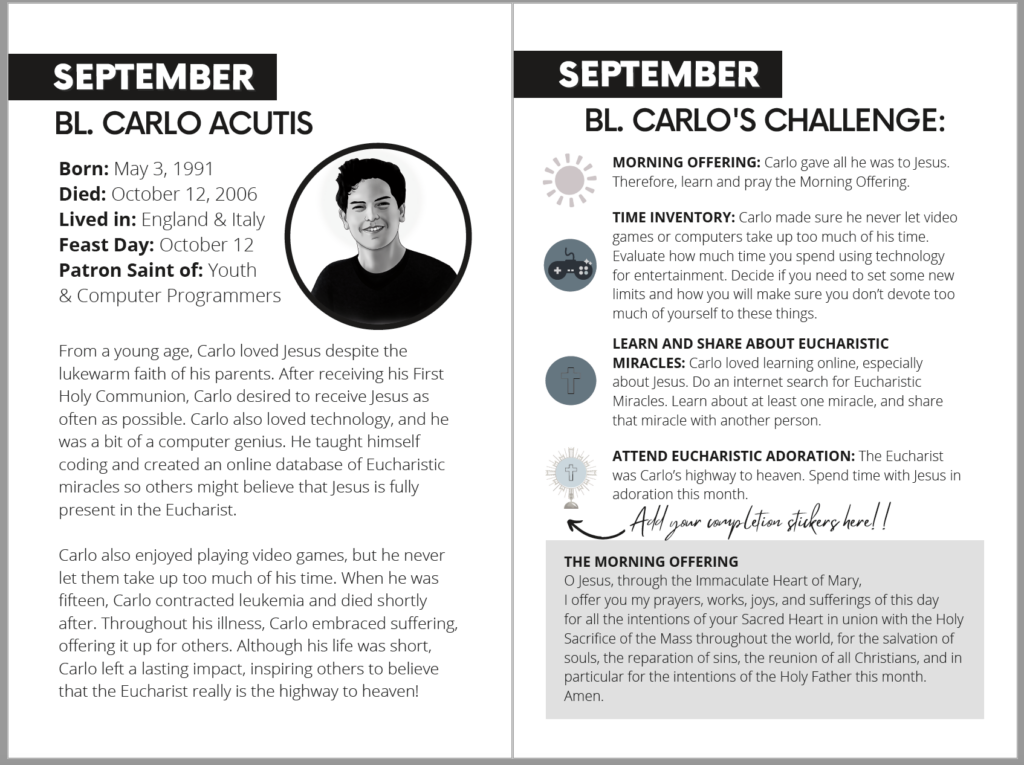 As you can see, each month offers a short biography of the saint to help you get to know them. On the opposite page, we have listed the four challenges from Blessed Carlo.
The first challenge will always be to learn and memorize a prayer. From there, kids will be challenged to learn and practice their faith in a variety of ways.
We worked hard to create challenges each month that could be accomplished on a variety of levels and thus performed by children of a wide variety of ages. For example, a Kindergartener might simply listen to a few Eucharistic Miracle stories (you can find MANY in the Catholic Sprouts Archive) while a 6th grader might be asked to research a miracle independently and teach others about it. For this reason, it is important that children are guided by an adult as they complete the challenges.
After each challenge is completed, children use the sticker sheets found in the back of the booklet to mark a challenge as complete. See below.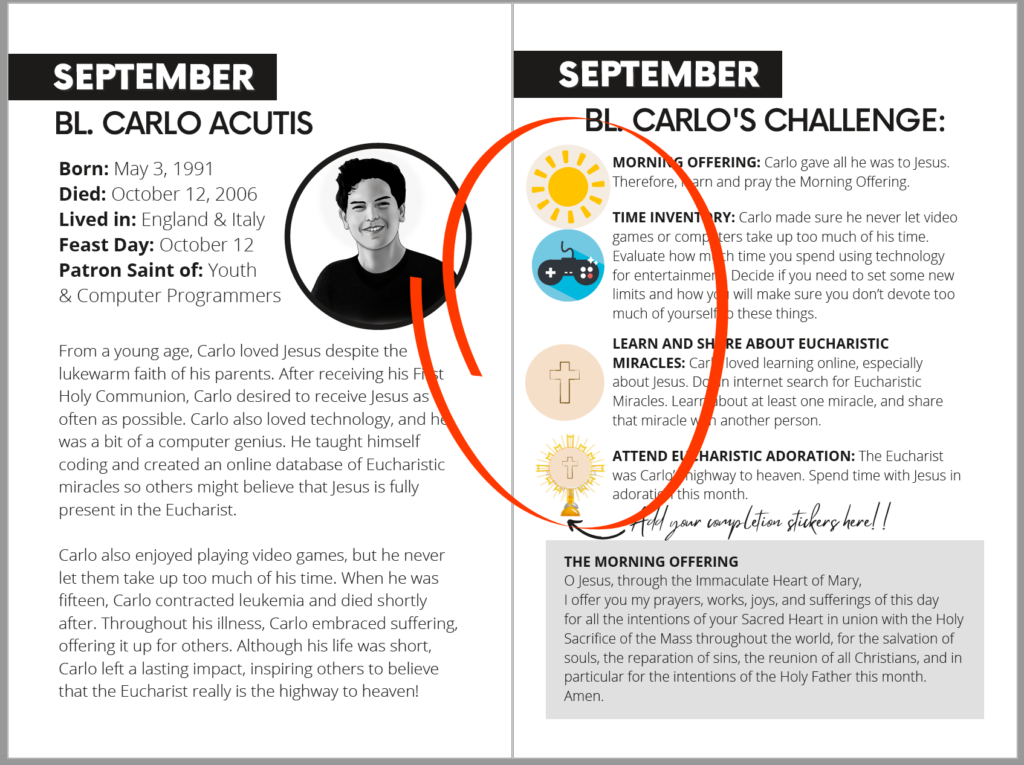 But remember, this is a CLUB! It is one of our biggest goals to unite those listening to the podcast through the BE A SAINT KIDS CLUB.
To do this, the content of the Catholic Sprouts Podcast connects with our saint Challenges. For the whole month of September, the podcast is focused on the Eucharist because, as Blessed Carlo said, "The Eucharist is my highway to heaven."
Once a child has completed all four challenges, they have earned the "reward". This year our rewards are 2 BEAUTIFULLY printed cards for each month. One features the patron of the month. The other features a portrait of Mary or Jesus, with the words for the prayer we memorized printed on the back. We hope that children will treasure these cards, collect them and even display them!
Please note that when you enroll your child you will receive all 24 cards, inside a beautiful case, for the whole year. We ask that you, as the parent or teacher, monitor your child as they complete the challenges and reward them with that month's cards when they have completed their work.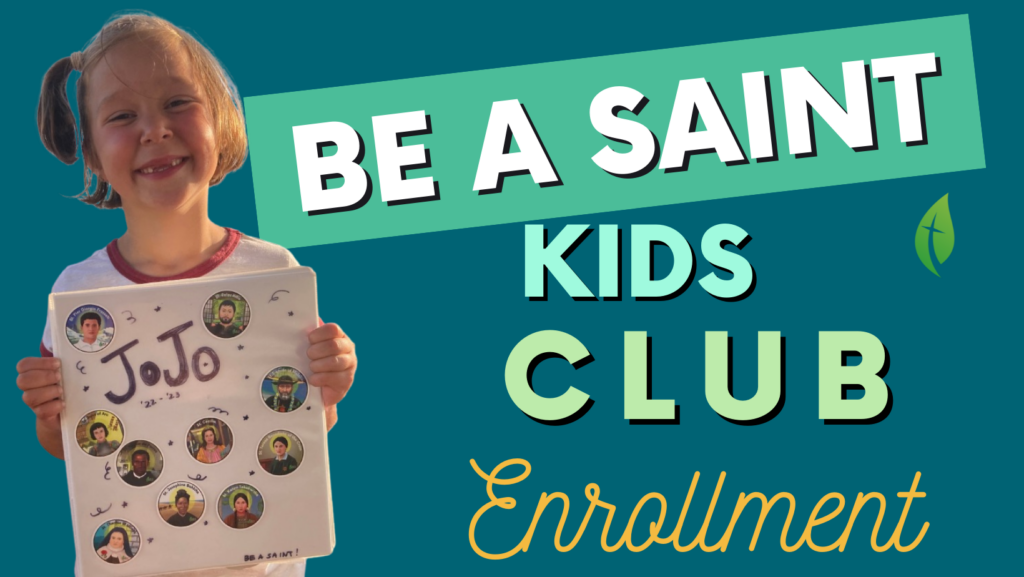 Additionally, consider gathering children together into a real-life "club" as they work through these challenges. After all, we are called to live our Faith in community.
Here are some simple and natural ways to create a real-life club for your children:
Enroll all of your grandchildren
Enroll your Religious Education Class
Encourage your Homeschool Co-op or the other children in your child's school classroom to enroll
Enroll your Little Flowers Girls Club, Troops of St. George, American Heritage Girls Group, or Blue Knights Boys Club
Encourage children enrolled in your parish or school to join, and support them when they go through the challenges.
Looking for a few more details? Click below and sign up for a 15 minute call with Nancy. You can also email Nancy directly at [email protected].
Join us, and let's get to work becoming saints!
In Christ Jesus,
Nancy