If I have learned anything while making my Saint Cross Stitch Patterns this past year and a half, it is that we have so many awesome saints in the Catholic Church.  SO MANY!  Every time I finish making yet another massive batch of patterns of beloved saints, I come across a few more saints that I can't believe I have yet to make a pattern for.  There are just so many good ones.
What a blessings our Catholic Faith is!
In the past month or so I have made two new patterns and it just doesn't seem right not to share them with you.  So, here they are.  Free patterns for St. Barbara and Blessed Oscar Romero.
The first new pattern is of St. Barbara.  I made this pattern just before Christmas so that I could stitch up a little rosary case for my mother, whose name happens to be Barbara.  My mom, who is one of the biggest supporters of this blog, and the one person I KNOW will share my new posts on Facebook, started dropping hints about St. Barbara a while back.  She picked up my Saint Cross Stitch Book and flipped through it looking for St. Barbara.  When she didn't find her in there she had to tell me all about St. Barbara, and how she is the person Rapunzel is based on (only she is WAY cooler than Rapunzel and SO MUCH more awesome).  I nodded along as she told me.  But then she brought up St. Barbara like 5 more times…and I finally got the hint.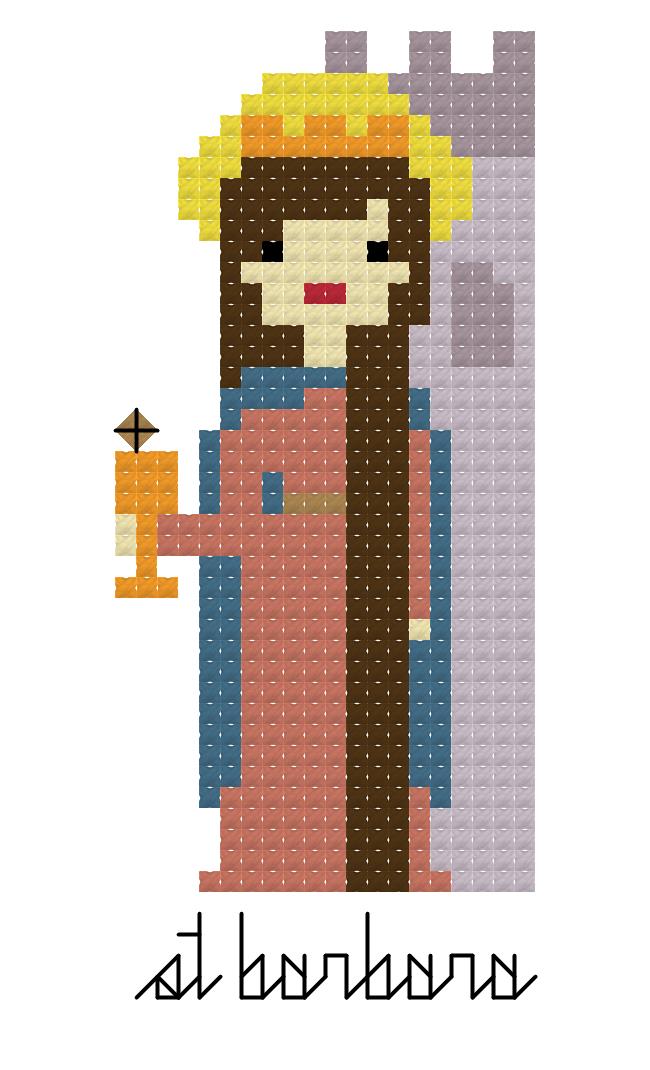 I made a pattern for this incredible saint for my mother and almost got it done in time for Christmas.  And I have to say, my mom was totally right.  St. Barbara is so awesome.  She was trapped in a tower and an angel came and brought the Eucharist to her.  Why don't they make a Disney movie about that?
The next pattern is of Blessed Oscar Romero.  He is another great, although controversial, Catholic figure.  This pattern came about when a dedicated blog reader wrote to me about a project her parish was hoping to do for their sister parish in South America, and I was so happy to help them out.  Over the years it has been such an incredible honor to play a small role in the beautiful catholic gifts and goods made with my patterns, especially those used to raise funds for good and holy work.  You guys are so good to me.
Here is how I designed Blessed Oscar Romero in cross stitch.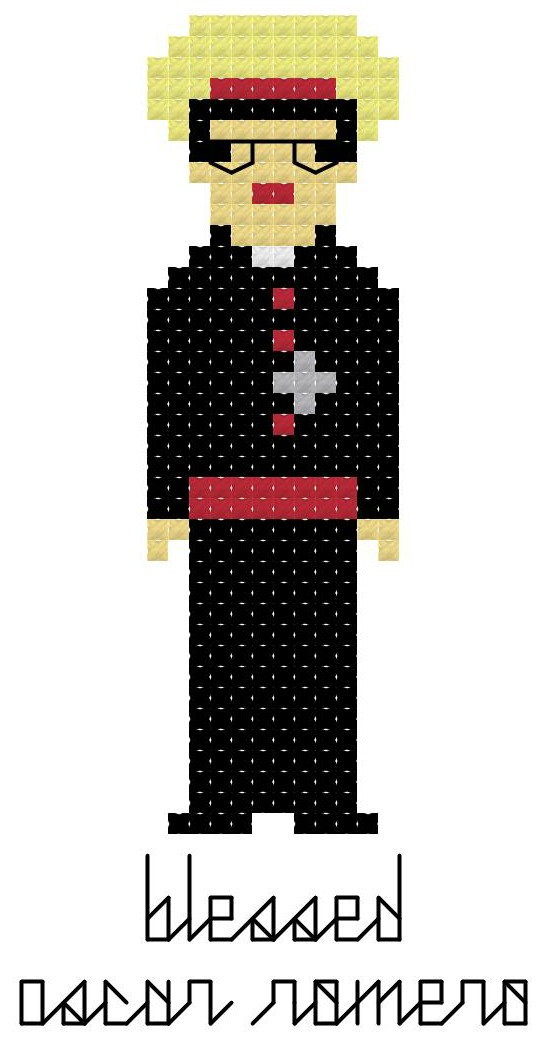 He is much more modern than St. Barbara.  If you don't know much about Blessed Oscar Romero, check out his biography.  Fascinating.
Download Blessed Oscar Romero in Cross Stitch HERE.
And that's all I've got for you today!
Your sister in Christ,