No longer just a digital download–the Catholic Saints Cross Stitch Patterns are now an actual book… which is on sale today!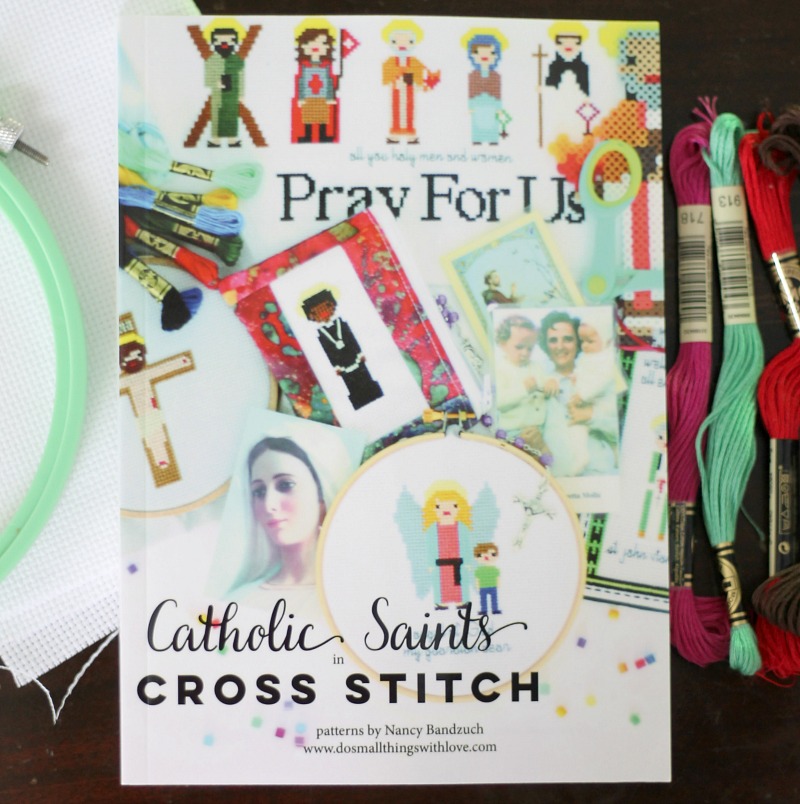 The printed book, in full color is available for $35. It includes ALL of my patterns!
The book turned out so good. It's thrilling!
Here are the details:
The book contains over 150 different patterns–30 of which I have never offered before. Just to wet your pallet, here is the entire table of contents:
Yup–I even included the characters from the Old Testament and the Nativity. They are all in here.
The book is printed in FULL COLOR.
Although this made the book a bit more expensive, I think it was worth it because now children can grab the book of the shelf, pull out the Perler beads and get creating.
That's right–the patterns can be used for both cross stitch AND Perler beads.
Also, the color makes it really fun to flip through. My kids enjoy just looking at the book and learning about the saints that way.
The book also includes 4 pages describing in detail how to cross stitch and a few never before shared patterns for Saint Quote Bible Bookmark patterns.
Here's a look at the inside of the book (and one of the new patterns):
Each Catholic saints has a 2 page spread in the book.  On the left is a color image of the pattern and on the left is the cross stitch pattern with legend.  
And, if you don't know anything about Our Lady of Czestochowa, stay tuned. She will be featured here real soon!
I also created an ABC Sampler with the saints! Check it out!!!
The ABC Saint Sampler is a Digital Pattern. The whole thing is $5. After you purchase you will be able to download the pattern right away.
Definitely, I am too excited about this one.
I put together this pattern because people had been asking for it, not really expecting it to turn out so cool.
I mean, after seeing this don't you just want to get started stitching it now? That is the way I felt. Here is my progress so far:
Yes, I have A LOT left to do, but I can't even explain how excited I am to have this done and hanging in my children's room. What better way to learn the alphabet?
And that is basically it!  Once again, here is the link if you are interested.
Thank you for your endless support!
Your sister in Christ,