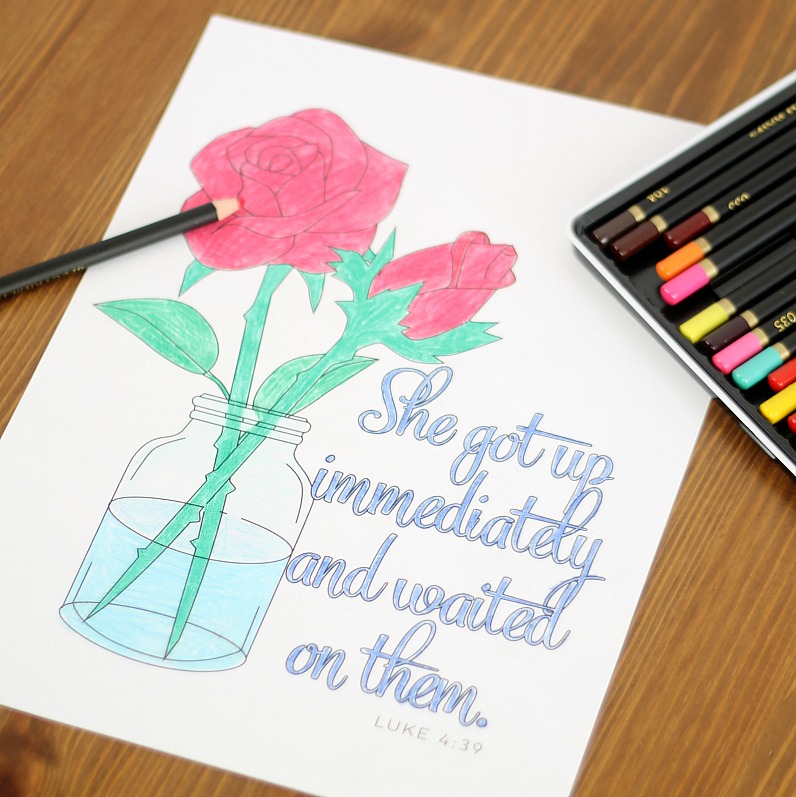 Hi friends! Today I'm starting something new–I'm sharing a COLORING PAGE FOR CATHOLIC MOMS.
Many women have written to me voicing their struggles in finding time for themselves, time to be creative, and time to pray.
I don't have the answer, but I am dying to help!
So, I've decided to draw up simple coloring pages designed to help us reflect on and grow in our vocation.
They are all free.
Print it, color it, hang it up, threw it away, and pray at every step.
Today, the Coloring Page for Catholic Moms is a simple coloring sheet begs us to embrace our role as servants.
I am not a natural servant.
In fact, there have been several times over the course of my vocation as a wife and mother that I've stood over a sink of dirty dishes/pile of laundry/baby with a dirty diaper and thrown myself an all-out pity party.
So much thankless work–and there is never an end to it!
Yes, the rewards of motherhood and marriage are great.
And yes, I am so grateful for the life we have together–but sometimes the call to constant, humble service can be difficult.
What I love about our Catholic faith, however, is the multitude of examples we have to draw from to gain perspective on our struggles, in both holy scripture and the lives of the saints.
An obvious servant we can all emulate is St. Teresa of Calcutta.
The work she did among the poorest of the poor should leave us all convicted to live simpler, holier, more giving lives.
However, the work on the streets of Calcutta can seem pretty distant from the life of diapers and dishes that I lead around here.
The humble work on a mother and wife seems, somehow, even smaller than the work Mother Teresa did among the poor.
I have spent the past week meditating on a very simple passage I came across in my daily prayer: Luke 4:39.
The Gospel passage makes a quick mention of the healing of Peter's Mother-in-law ending quickly with the phrase "She got up immediately and waited on them."
As with all of the other times I can come across this passage, I was irritated. In a way, only important passages in scripture can irritate us.
This poor woman had been quite ill.
She is miraculously healed and without even a jump for joy or moment of astonishment. She gets right to work serving Jesus and the disciples.
Come on, can't she have just a moment before the work begins again?
I am fully aware, of course, that most of these feelings come from confused feminism that I, unknowingly, have absorbed from the culture.
But even knowing that, the line continued to bother me.
"She got up immediately and waited on them."
And after much thought and prayer and a day of service to my husband and children it dawned on me: at this moment I am called to live out my thanksgiving to God through service to my family–just like Peter's Mother-in-Law.
After she is healed she doesn't leave to preach the good news or even fall at Jesus's feet in homage.
She gets to work.
She embraces the small, humble, beautiful work of cleaning, cooking, and caring for the family. And this work becomes her thanks and praise of the Lord.
And even though I might want to be like those in the Gospel that drop their nets and follow Jesus. Or at his command cast out demons and heal the sick–that is not my call.
I am called to humble service in my own home.
And we are only happy when we embrace the work the Lord is calling us to do.
The coloring pages I made of this passage can be downloaded and printed for free.
You can find the materials for this project, and MANY other Catholic projects in the Catholic Family Digital Resource Library.
As I mentioned at the beginning, I plan to share many coloring sheets in the weeks to come. All offering a simple, creative opportunity to pray and more fully enter into our vocation as wife and mother.
All the best–and happy coloring!
Nancy