I am a compulsive list maker. Compulsive.
Each morning–and then a few more times before the end of the day–I make a to-do list the old school way, with a pen on actual paper.
I put everything on these lists, including "make bed" and "take a shower". Because, yes, I am the type of person that needs to be reminded to shower.
But more than that…
I am basically addicted to the dopamine rush of taking the pen and crossing something off the list…
Continue to make lists and keep notebooks and journal because I realized long ago that there is power in writing something down–not just typing it into notes on my phone or thinking really hard about it–but actually putting it in ink on paper.
I firmly believe that simply writing things down makes me a better mother, wife, homemaker, and woman of faith.
In the survey I did of my readers (all you wonderful ladies!) a few months ago, many MANY wrote about mixed-up priorities, poor planning, and poor follow-through.
Right there with ya, sisters.
I am FAR from an expert at ANYTHING.
Especially the big matters of life/love/faith.
But, I do know that when I stop writing things down and instead rely too much on my phone or worse yet, my memory, all parts of my life suffer.
I've spent some time thinking about this writing down a concept. And here is why I am convinced writing things down is SO POWERFUL:
1- WRITING IT DOWN ALLOWS ME TO 'DUMP' AND MOVE ON
The to-do list and the schedule for the week. And all of my hopes and plans can feel like such a burden.
I keep thinking, "oh! and I can't forget to do that!" as I run around.
If I don't write things down I feel like I am actually holding them. And end up juggling them as I take care of the kids, myself, the meals, and the house.
I experience so much freedom when I simply write all the things down–and I mean ALL OF THE THINGS.
In fact, it is only after I write out a "dump list" that I feel capable of clearing my mind enough to actually pray, or sit and listen to Gus describe, in great detail, the 15th Lego creation of the day.
2- WRITING IT DOWN MAKES SOMETHING REAL
We are surrounded by language–and most of it means absolutely nothing.
I scroll Facebook and it's just words, words, words.
Instagram–pictures and words, words, words.
I read through a million articles encouraging me to DO THIS, TRY THAT, and I keep thinking, "I really should…"
But then I close my phone, and…nothing.
Not acting on all of those should's can start to make me feel like a failure.
I think, "man, I have all of these ideas and resources…why can't I ever make anything happen?"
For me, the first step is ALWAYS writing it down.
Writing is an action, a verb, that requires actually doing something.
By writing, I am deliberately stepping outside of my brain and getting ready to actually make it happen.
3-WRITING IT DOWN (AND CROSSING IT OFF) GIVES ME A SENSE OF ACHIEVEMENT
Once again, it is easy to feel like a failure when your days are overrun with kids and babies.
I look around the house and see the dust gathering, the dishes undone, the toys and papers scattered, the kid that needs a haircut or to be potty trained.
It is so hard to stay positive in this life of very few "wins".
And maybe writing out a to-do list, and religiously crossing things off after they are accomplished, is just deluding myself into thinking I've achieved something–but I don't care.
I need that sense of accomplishment, and I need it every day.
And seriously, until you have spent an entire day with my tribe of maniacs, you don't know what a big accomplishment it is to actually take a shower, get to Target (and out of Target), eat a couple of meals, laugh and few times and just plain old survive.
It's a damn miracle.
So what if we didn't get the basement picked up or do that Perler bead project I had hoped to do?
We did get a few important things done, and I have the crossed-out To-Do list to prove it.
So, writing down is good, but let's get practical. Here is how I use "writing it down" to enrich all parts of my life:
FAITH:
Every day I spend 10 minutes in prayer.
Before the kids get up I read the daily Gospel, think about it, and write a sentence or two down in my prayer journal.
AND THAT'S IT.
Taking a minute to write just a little bit down is so important because it makes me really think about the one thing I want to remember/live out from the Gospel that day.
It makes me focus and the act of writing helps me actually remember my resolution.
I also love looking back on what I've written in previous days.
MARRIAGE:
We are a family of 6, Bill's job is demanding and we don't have family anywhere near to help.
These past 6 months that we've lived in Kansas have forced Bill and me to be teammates like never before.
There is always something that needs to be done for the kids or the house or one of us.
And a lot of these little tiny tasks–like calling the insurance company (why the HELL can't they ever get it right?????)–fall on me.
And I will promptly forget all about it if I don't write it down.
Bill takes my forgetting as a personal insult.
Like I put his requests last, or I don't care about what he needs. And maybe this is something I need to work on.
But, when I take out a piece of paper and write down what he has asked me to do right there, right in front of him, it not only helps me actually remember what I need to do, but it communicates to Bill that I do value what he needs and that I will make it a priority.
MOTHERHOOD:
None of us are suffering from a lack of ideas of things to do with our kids.
In fact, I feel quite the opposite.
Want to teach the alphabet or numbers or history–here are a BILLION ideas! Good luck.
Ugh.
It's almost paralyzing. I scroll Pinterest and think–"hey, that's cute, that's a great idea, we have all the supplies for that, Gus would love that…"
And I pin a little…and then I shut off my phone and feel lost in my own thoughts.
In order to move forward, I've gotta write it down, make a plan, write out the supplies we need, figure out what time we will do or it's never gonna happen.
Sure, things happen organically sometimes, but I can't rely on that. I gotta write it down and have a plan.
And very often my plan comes to nothing, but we gotta keep trying, right?
HOMEMAKING:
As a homemaker, I do well with the small things–dishes, laundry, vacuuming–but I am TERRIBLE at the big things.
I think it's because I am easily overwhelmed and almost always juggling a baby.
As a result, there are things I just don't do, like organize or deep clean or purge, and we suffer as a result.
So, if I am actually going to tackle one of these big tasks I have got to place it in the front of my mind and give myself a few days to get the nerve up.
For example, if I need to deep clean our basement (AKA toy-land, kid mayhem) which I do need to do right now, I have to decide to do that at the beginning of the week and assign it a day.
Okay, have I written enough about writing yet?
One of the best ways that I have found to plan my day is through the use of my Daily Docket. I made it, especially for Catholic Mothers.
The Daily Docket is a simple page you fill out every morning that asks you to plan correctly and gets your day started right.
Take a look at one of the pages: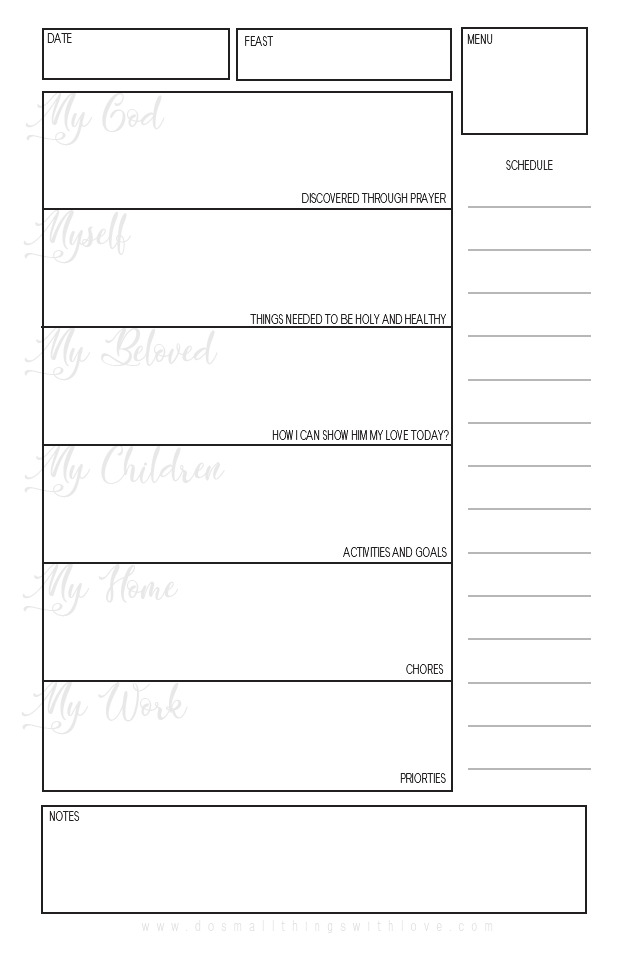 Because so many women have asked to use this Daily Docket System, I am excited to offer it as a printed book! You can grab a daily docket book for just $7, or 2 daily docket books for $10.
I use mine every day and it has been a TOTAL game changer. Finally, I feel like I am living the right way, spending the most time on the most important things.
Hope it works for you as well!
Nancy