Well, this weekend the impossible happened–I made a video tutorial.  I made 3 in fact–thanks largely to my helpful and sweet husband.  The two I'm sharing with you (and the world today) are Basic Cross Stitching and Advanced Cross Stitch Skills.  I had been intending to make these videos for a long long time and we finally found a few (mostly) quiet moments to make them.
Both videos are very basic.  They are intended for people sitting down to work on their very first cross stitch project.  Cross Stitch was the very first type of embroidery that I every did–and I started cross stitching in elementary school.  I actually had the pleasure to teaching my niece, who is in 3rd grade, to cross stitch just a few days ago.  I love cross stitching and you can ususally find me with needle in hand most evenings as I sit and relax with my husband.  If you are thinking about picking up the habit, I hope that these videos help you get started!
And, here they are:
Basic Cross Stitching:
And Advanced Cross Stitching Skills:
And, don't be intimated.  The Advanced Cross Stitch Skills video cover what are still very easy, basic skills.  Any one, and I mean ANYONE can master cross stitch with very little effort!
Thanks for your on-going support, both here and with my pattern sales.  And, speaking of patterns, if you are jumping on the cross stitch bandwagon, consider purchasing a pattern in my etsy shop!  Here are a few: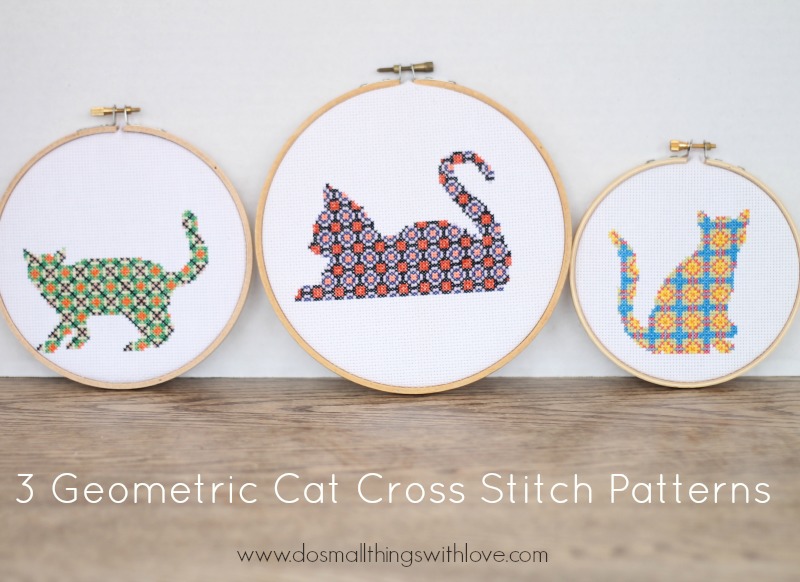 3 Geometric Cat Cross Stitch Patterns
Custom Cross Stitch Name Pattern
Ps–this is what I gave my niece as her very first cross stitch project!
Modern Christmas Tree Trio Cross Stitch Patterns
I am also working on a few more videos (can you tell one of my 2015 goals includes videos?) to show off a few other stitches, including, my favorite, the blanket stitch.
All the best, and happy stitching!