I'm back with more cat cross stitch patterns! (and everyone rejoiced, I'm sure). I just finished and listed a trio of Floral Geometric Cat Cross Stitch Patterns (pictured above).
And I'm so excited to share them with you today. They turned out pretty cute, right?
These new patterns, my trio of cat floral geometric patterns, are examples of me listening to what people want and trying very hard to give it to them.  
My patterns, which I made and listed about 6 months ago now, have been (by far) my most popular patterns.  
In fact, every time my phone notifies me that I've sold a pattern on Etsy my husband yells, "someone just bought a cat pattern!".
He's not always right, but usually.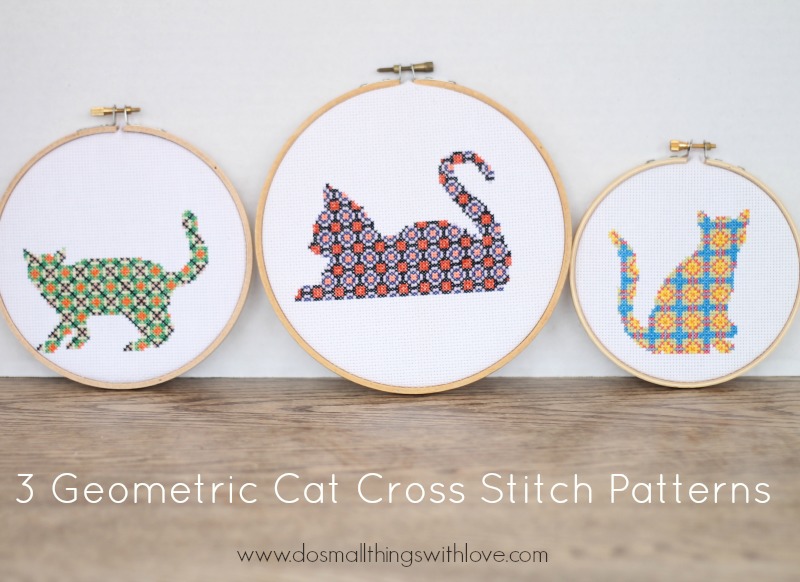 So, I decided to add 3 more patterns. This time using a floral motif for the base of the geometric pattern.
I just love this kind of cross-stitching.
It's really fun to work your way through the pattern one color at a time. Really getting into geometric shapes.
Stitching this way is colorful, relaxing, and fun to do on a road trip.
This is exactly what I did while my husband drove on our most recent trip to Pennsylvania and West Virginia.
Yes, he's very good to me.
Here's a look at each pattern. There is a link to buy the pattern beneath the image:
Sitting Floral Cat Cross Stitch Pattern
Back Profile Floral Cat Cross Stitch Pattern
Cat Stretching Floral Geometric Cross Stitch Pattern
And, because I really love bundling things, I went ahead and bundled up all 6 cross stitch patterns for just $10.  That's a pretty good deal, you know if you love cross stitch and cats.
And there you have it, friends. The world just got a little bit cuter.
A deep and sincere thank you to everyone that has purchased any of my patterns. I am so grateful.
All the best