Confession – I am not a scrapbooker. Not at all.
I upload the family pictures I take to a very simple blog to share them with family…and that is about it.
I take tons of pictures but it is pretty rare that any of those pictures ever get developed.
And yet I really wanted something small and simple to mark Gus's first year at school.
So, I created this mini scrapbook printable for my little one–and hopefully for yours too!
The free printable for these Mini School Scrapbook is laid out on 2 pages.
Total there are 8 smaller pages that will make up the Mini School Scrapbook, 7 of which include a spot for a 3″ x 3″ photo as well as a few lines for writing a short memory.
Here is an image of the pages of the Mini School Scrapbook.
You can find the materials for this project, and MANY other Catholic projects in the Catholic Family Digital Resource Library.
Once you have the PDF downloaded and printed the assembly is pretty simple and can be done in a couple of different ways.
And, I printed mine on heavy cardstock, which I think is the best way to print it.
To put mine together I used pretty tape, markers, and ribbon to bind the book.
You will also need a simple hole bunch as well as 7 pictures cropped to 3″x3″.
Here is an example of one of the pages I put together for Gus's book.
Isn't he the cutest?
I snapped this picture after his first day of preschool.
When I dropped him off he was in tears, scared.
But, when I picked him up he was thrilled and declared, "I had the greatest time of my whole entire life!"
What a wonderful gift for this overprotective mom!
These are the memories that I want to remember always and I'm so glad to have a place to record them.
So, pretty simple, which is the only way I can actually force myself to scrapbook in any way shape, or form.
From printing to handing it completed to my little Gus it took me about 10 minutes. Yes.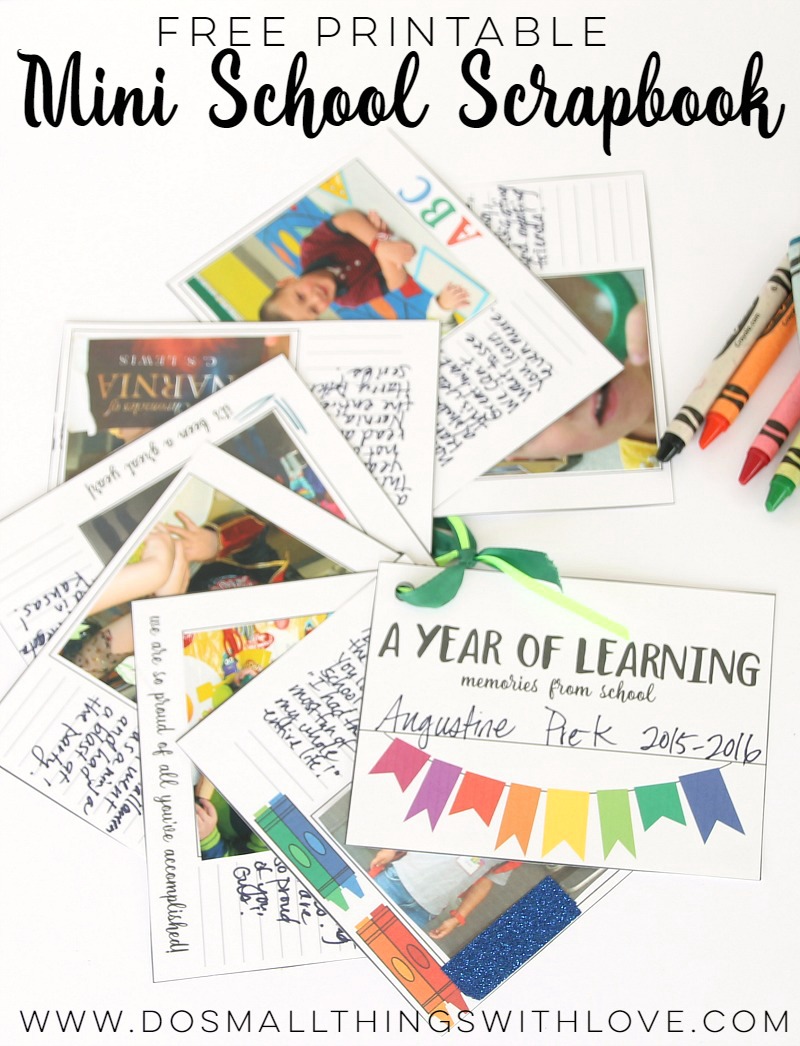 And I am so glad I got to print and use some of these cute pictures of Gus.
It would have been a shame if I hadn't.
Gus really has had a wonderful year at preschool, both here in Kansas and in Minnesota before we moved.
He has had wonderful teachers and made so many terrific friends.
And there you have it. I love this simple little mini school scrapbook I am so happy I made it for my Gus.
I hope your school year is wrapping up in a wonderful way and that you have some fun plans for summer.
My only plan–have a baby around Memorial Day.
Whatever happens after that, well, I haven't really thought that far. Just ready to have this baby on the outside.
Thanks for being here and all the best!
Nancy