Well, lately I have been missing the farm.
This year, for the 1st time ever, I didn't make it down to the farm for calving.
I griped about my husband's previous job that sent him on many long business trips, but with that job, the kids and I enjoyed a lot of time down on the farm.
His trips were often 2 full weeks and we'd head down there shortly after he flew out.
And spent 2 full weeks tromping around the barns and fields and sheds, playing with cousins and chickens and kitties and baby calves.
There is nothing that compares to time on the farm, especially when you are a kid.
And season calving is the best.
The newness of life at that time of year is just everywhere and even as an adult it's exciting.
In fact, I may have written a post about why every kid NEEDS to spend time on the farm.
If you have a chance, get them to a farm. It's important.
So, lately, I've been missing the farm and when I sat down and thought about the next saint I wanted to create in cross stitch St. Isidore the Farmer came to mind.
I love that there is a farmer saint, not only because I think that tending to animals and the land is holy work, but I also love that there is a specific saint to pray to for the protection of farmers.
And during the busy seasons, they really do need prayers and protection.
Plus, it gave me a good excuse to create a cow in cross-stitch.
It was high time, I know.
I decided to design a Hereford cow because I think they are the cutest.
And, I am tired of all cows in images being dairy cows.
Not all cows are black and white, people.
Another good reason to get out of the city and go to the farm.
As I said, this is a free pattern.
You can find the materials for this project, and MANY other Catholic projects in the Catholic Family Digital Resource Library.
Print and use this pattern as many times as you like, but please make sure it is only for personal use only.
And, if you like this little pattern, I do have a few more Saints in Cross Stitch Patterns as well.
Well, many a bit more than a few…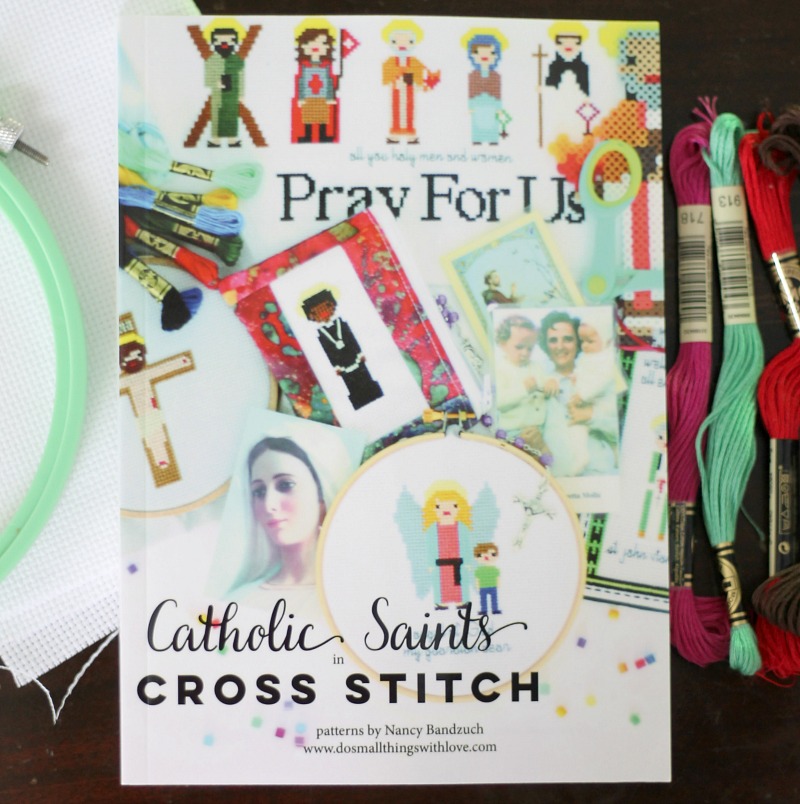 Thanks for being here, friends.
I have been very busy behind the scenes getting ready to release a new Lectio Divina Bible Study in the coming weeks and I can't wait to share it with you.
It's focused on marriage and I just know it will bear a ton of fruit–for me and any woman that invests the time. So, stay tuned for those details!
And, I am officially full-term with this baby, as of today (37 weeks, according to my midwife) so here's hoping I have a baby in arms very soon, and if I don't that God grants me patience.
Thanks for being here,
Nancy