Holy Week is one FULL week for us Christians.
Not only is there all that happened during the Triduum (Last Supper, Agony in the Garden, Way of the Cross, Crucifixion, Burial, and Resurrection), but important things are happening Sunday through Wednesday as well!
Holy Week really is THE WEEK that changed the world.
A few months ago our priest (Fr. K, if you remember him from the podcast) offered an hour of adoration between the Sunday masses.
During that time he led us through a powerful imagination-based reflection on Scripture.
That was the first time I had prayed like that, and it was amazing to sit there and feel the cold water, hear the bird and the gentle voice of Jesus, and not only for me, but for the kids loved it too! Guided imaginative prayer allows you to really dive into the events and sounds and feelings and even the smells of what is going on in that passage!
Prayer of this kind brings Jesus closer.
Jesus doesn't feel like a long-ago guy that doesn't have much to do with the life I live. He felt so present and near!
It can be a powerful and beautiful thing to enter into all of these events, and really BE with Jesus each day of Holy Week.
We do this, of course, through Scripture.
Scripture is the Word of God.
It is alive and has the power to transform our hearts and open our eyes to the TRUTH.
But, most of these stories we have heard time and time again. It can be hard to really enter into these moments of Jesus' life for adults, and even harder for children.
For this reason, we have been working hard on fun but simple way for Families and Classrooms to dive into the events of Holy Week.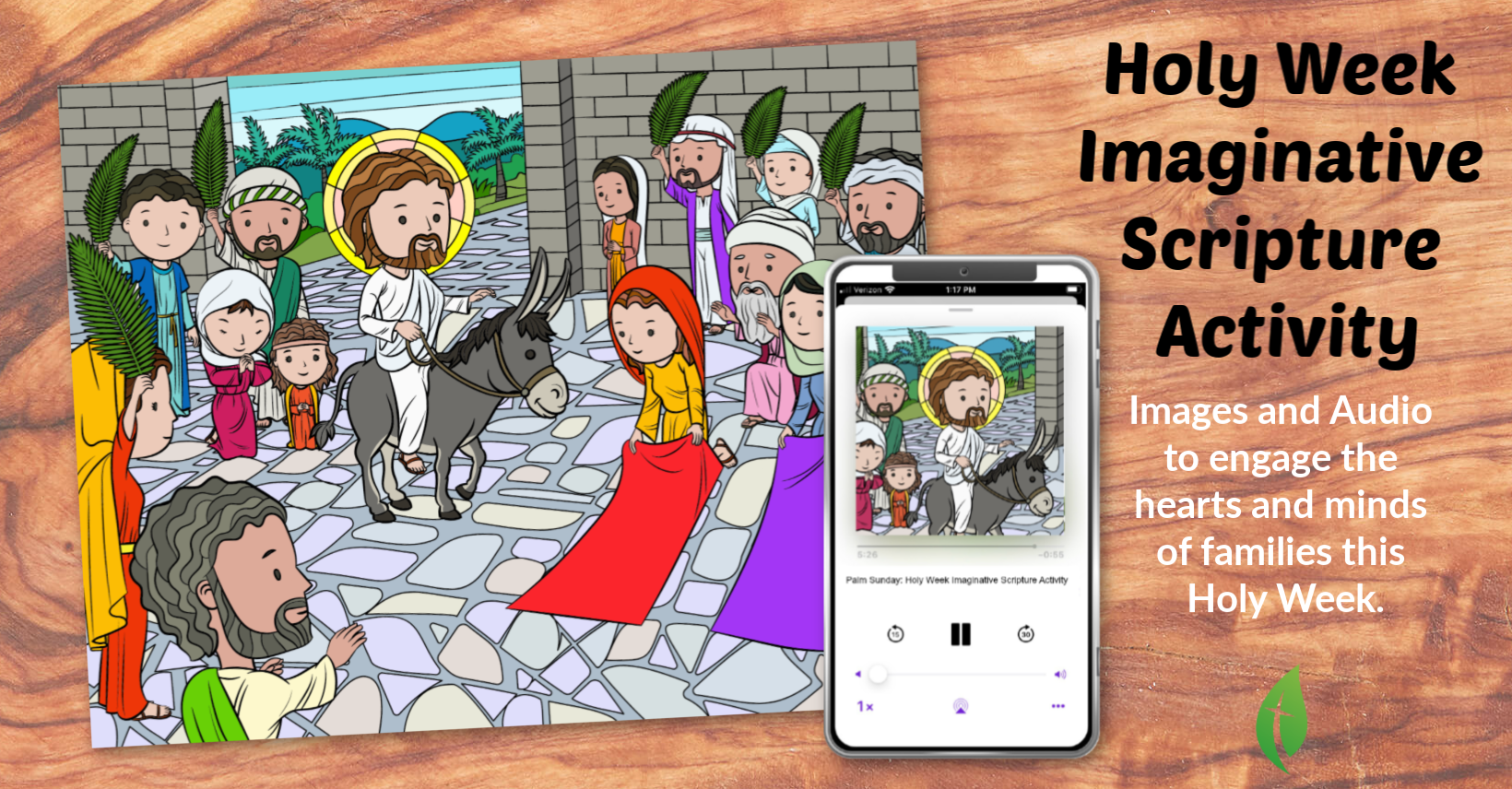 The Holy Week Imaginative Scripture Activity offers two powerful tools each day of Holy Week: an image and an audio file.
Everything is available for $8 (free for Patrons). Head here to grab your copy: https://shop.catholicsprouts.com/products/holy-week-imaginative-prayer-activity
THE IMAGE

We worked with an artist to create a beautiful, colorful, informative, and family-friendly image for each day of Holy Week. The intent of creating these images was to give children a path for entering into the event. Jesus was a real person, in a real place, in real-time. He looked a certain way and was surrounded by noises and smells and textures. Imagining all of these things is a powerful way to really enter into the scripture.
Because different families might want to use these images in different ways, even beyond Holy Week, we will send you the images both in full color and as coloring pages.
THE AUDIO
We have also created a short audio file to listen to as the family or classroom as you gaze at the image. The audio file includes a short reading of scripture (the scripture that describes the event happening that day) and then a beautiful guided mediation. The meditation will ask you to really enter into the event. Who are you in this image? What are you hearing, seeing, feeling? What do you see Jesus do, and what does that mean?
It is our hope that the guided mediation will help children enter more fully into the final days of Jesus' life.
So that they are better able to stand near Him as he walks to Calvary and gives us the most beautiful gift.
The Holy Week Imaginative Scripture Activity is available for $8.
This entire activity is free for all Catholic Sprouts PATRONS. To access your files there, head here: https://www.patreon.com/catholicsprouts.
Not a Patron? Join today and get access.
Everything will arrive as a single zipped file. Within that zipped file you will find:
8 full-color images for each day of Holy Week (Palm Sunday through Easter Sunday)
A 8 coloring sheets of the images for each day of Holy Week
8 audio files for each day of Holy Week. It includes a reading of scripture and a guided imaginative reflection, beautifully woven together with music.
Print the images and turn on the audio file whenever is best for you and your family each day of Holy Week!
This set of images and audio files is a great resource for your family this year, and for years to come! Just save the file and reprint everything next year!
Give your children the gift of walking with Jesus this Holy Week with this easy-to-use and beautiful resource.
your sister in the small things,