Lately, I've been in a bit of a cross-stitch mood, have you noticed? And here I go again with St. Kateri Tekawitha Counted Cross Stitch Pattern.
I love all types of embroidery, but I have a special place in my heart for cross stitch.
It is the first type of embroidery I ever did and it reminds me of being a kid.
Each summer my mom would set us up with a cross stitch project with the end goal of taking it as a 4-H project to the fair at the end of the summer.
I'm so glad my mom taught us to stitch and I plan on teaching my own daughter(s) to stitch someday too.
In anticipation of that day that I can sit with my daughter(s) and teach them to stitch I have been busy creating some fun, simple, catholic patterns.
The saints are great material for all sorts of lessons, stories, and inspiration.
One of the great things about cross stitch is that it is all planned out before you begin so the process is pretty relaxing and offers a good opportunity to reflect and think.
Why not stitch and think about the great saints that have shared our faith? Like Kateri Tekakwitha? St. Kateri is one of my favorites.
She lived here, on this continent.
And She was Native.
Also, she was outrageously brave and she was a woman.
For more on this amazing saint head HERE.
For the simple cross stitch pattern, keep reading!
Like all of my cross stitch projects, Kateri started out as a simple sketch on some graph paper.
I transformed that sketch into a pattern.
And then, I got stitching!
This is a very basic straight-forward cross stitch project.
The only special instructions are to use 3 threads for all of the cross stitches and 1 black thread for the lettering at the bottom.
I also used 14 count Aida cloth.
I love having the saints with me in my home, and since I can't draw I stitch them!
Also, I plan on doing several of these saint cross stitch patterns so that my daughter can work her way through them when she is old enough.
I hope there is a sweet little girl in your life that will enjoy them too!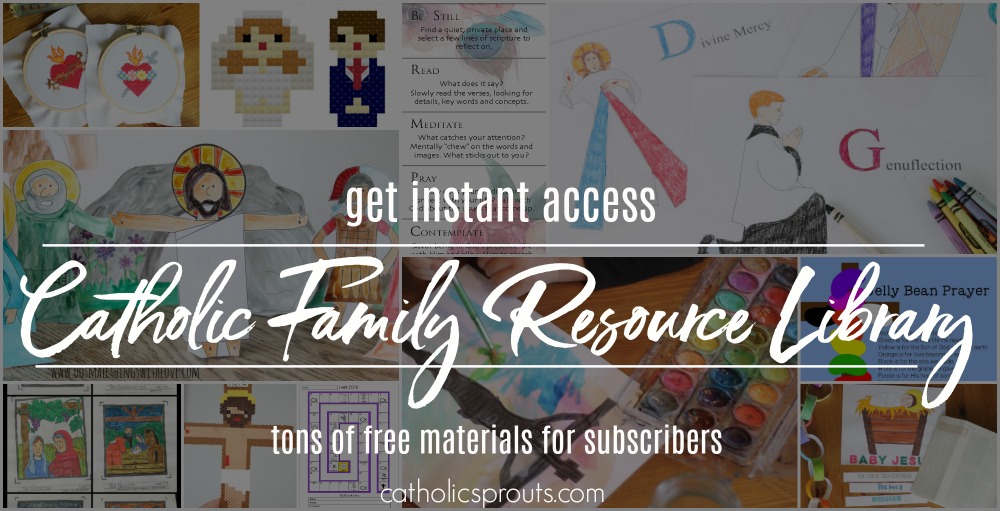 You can find the materials for this project, and MANY other Catholic projects in the Catholic Family Digital Resource Library. To get instant access, and join a thriving community of over 10,000 Catholic Parents, just enter your email address.

Nancy