The Virtues for Catholic Youth Study is live!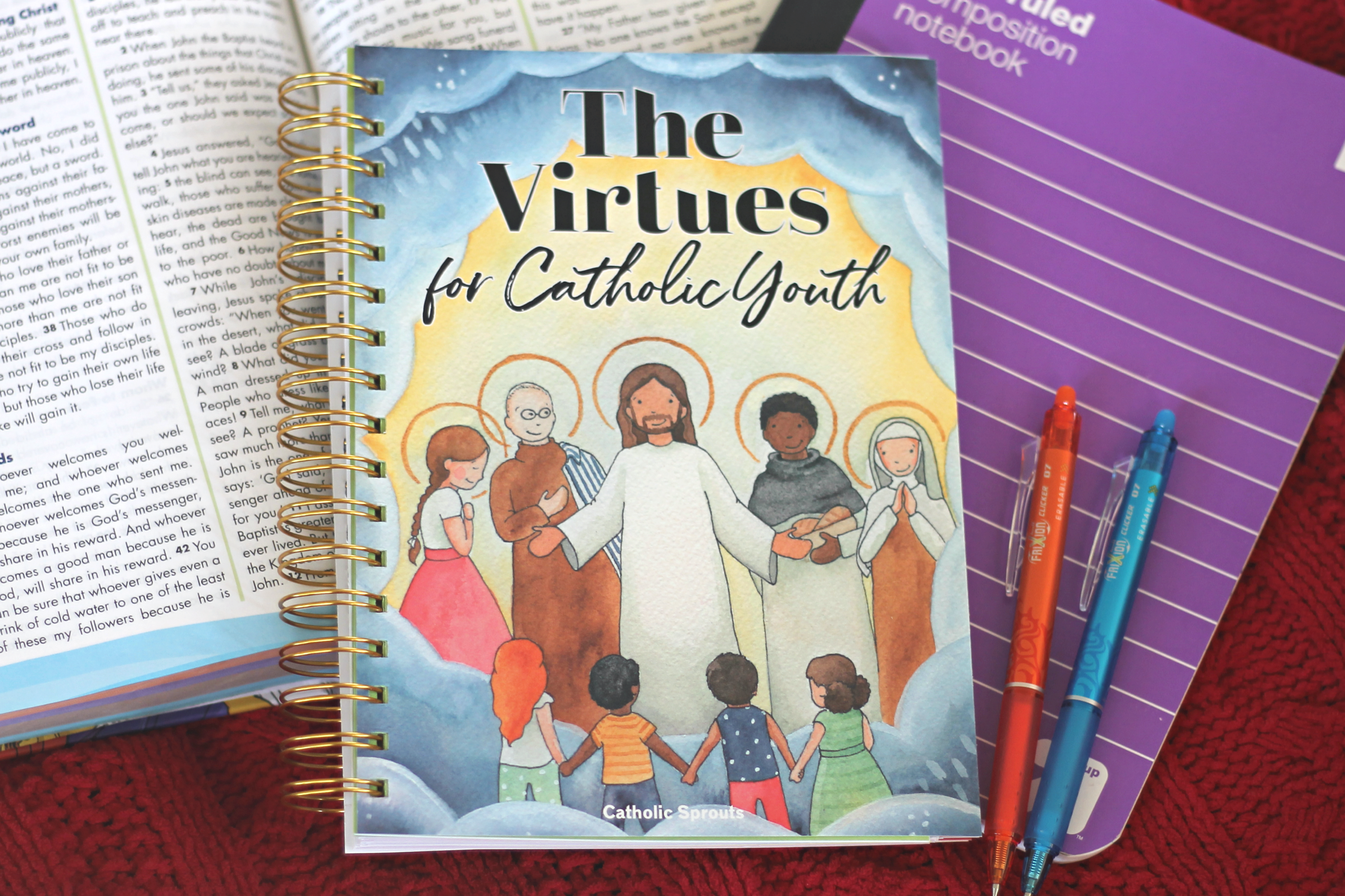 For all the details on this incredible Virtues Study, designed for children ages 9-15, please read the rest of this email. I have a special sneak peek for you!!!
But first, when I offer a new product I like to give my loyal subscribers (you!) the sweetest deal, and a little something extra.
So, between now and July 1st, we will be offering The Virtues for Catholic Youth for just $21 (the regular price will be $25).
ALSO!
We have a new set of five holy cards, featuring some of my favorite saints, and we will be including this set for FREE with every order!

Again, this launch special runs now through July 1st only.
Okay, so how do I describe this incredible study?
You know, I've been sitting here thinking and thinking about how I can help you understand how incredible this book is.
All the words and descriptions I've written just felt so flat because seriously–how do you put into words the wisdom of the Church?
How do you describe the profound example of saints or the power of a Biblical story?
What words are there to describe the genuine connection between parent and child, grounded in the fullness of Truth?
It's a struggle.
But you know what I wish? I wish you were here, at my house. I wish I could hand this beautiful book to you and together we could page through it.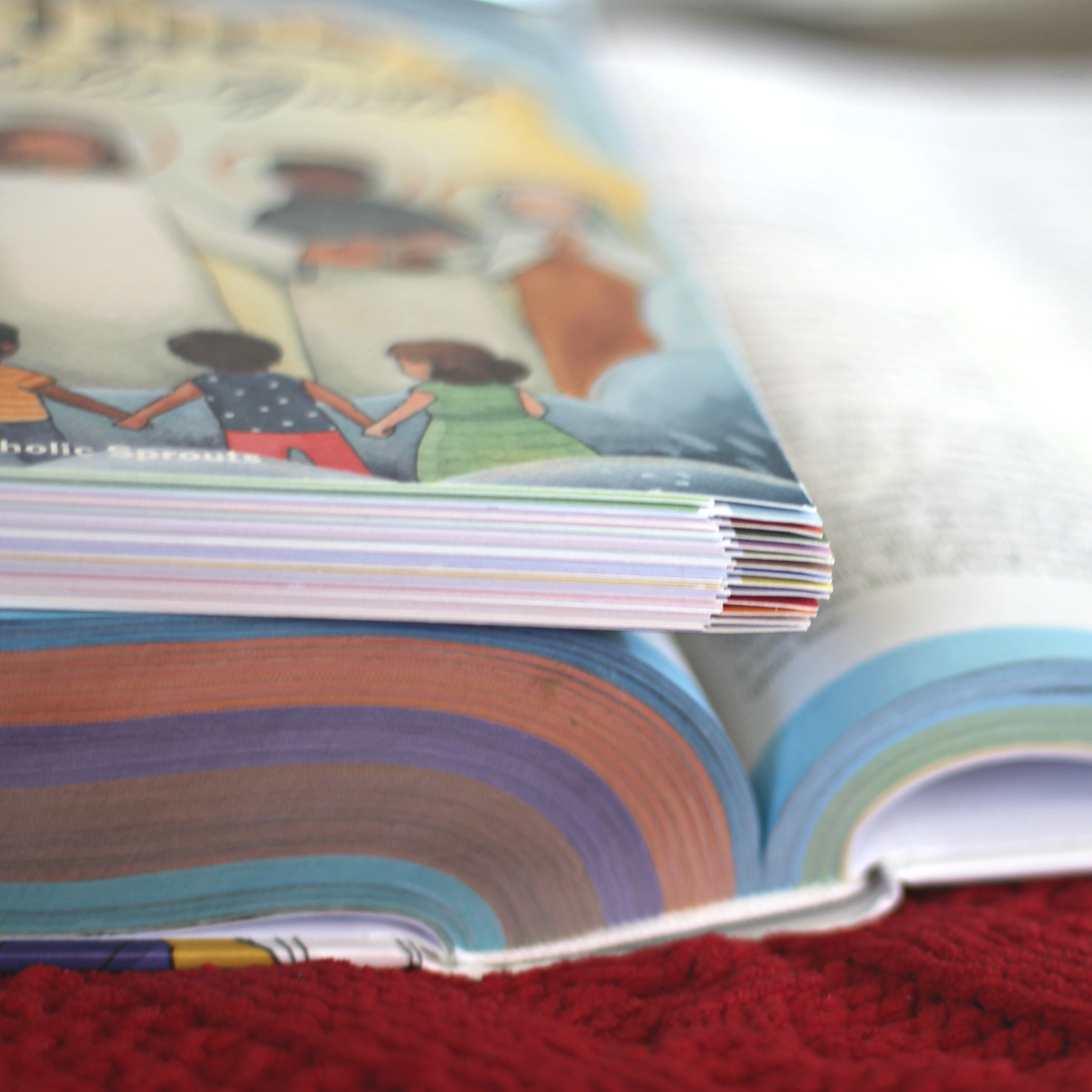 And so, even though we are miles and miles apart, let's pretend that it's just the two of us. Let's pretend our kids are off playing happily together.
I set down my coffee and hand you The Virtues for Catholic Youth.
With the book in your hands, the first thing you'll notice is that it's beautiful–stunning even. Jen Olson did the art for this entire book, including the cover.
Along with that, we took care to have the book printed and bound beautifully.
Okay, crack open the book. Stop for a second at the table of contents.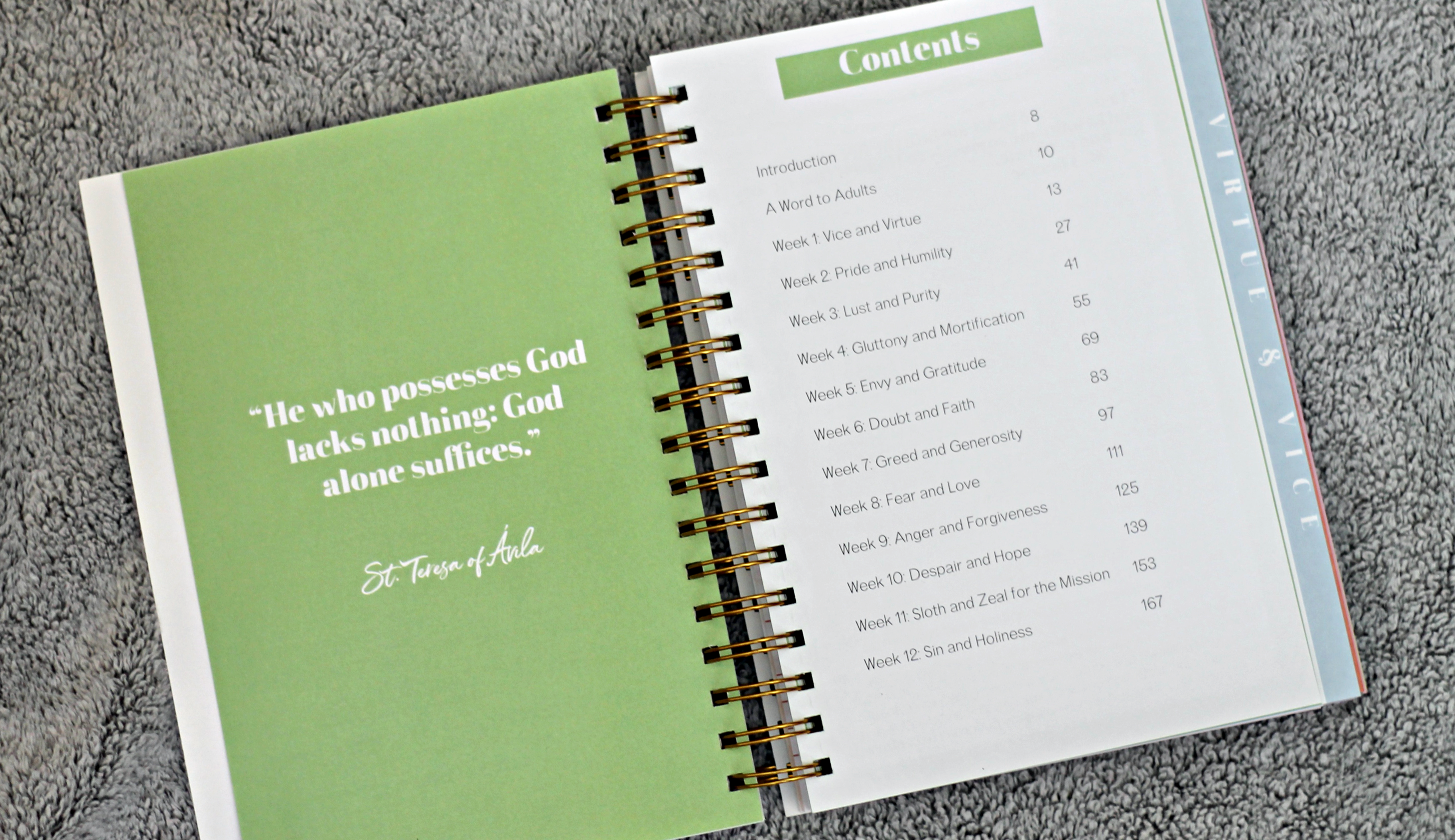 This study covers everything. Just skim that list. Every sin, every virtue. It's all here.
Okay, let's look at the first section: Vice and Virtue.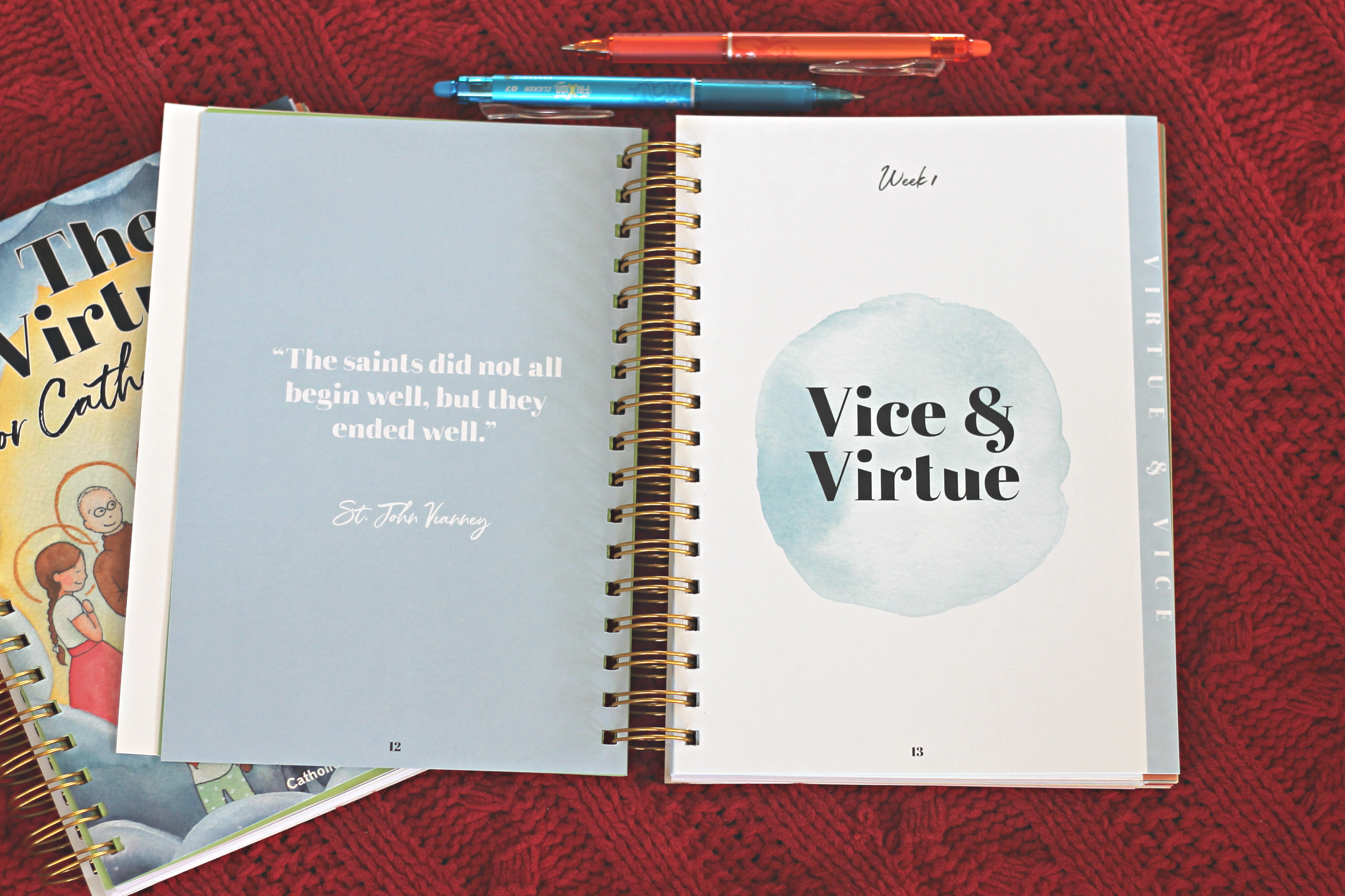 Each week in the study is set up in the same way.
We have included five days of content for each week and worked to keep each day's work very manageable.
Besides the reading discussed below, we have also included a few key discussion questions–but don't worry!
This isn't more distance learning 😂! Instead, we worked hard to give you questions that will spark conversation.
Really, we just want to help you ask your kid the right questions so that you can teach them what matters.
It is our hope that you and your child will work through this study together. You will read the stories aloud and discuss them.
That's it!
Just pick up the book, read and discuss.
Over time this study will give you and your child the language you need to talk about these big, hard topics, like envy and purity.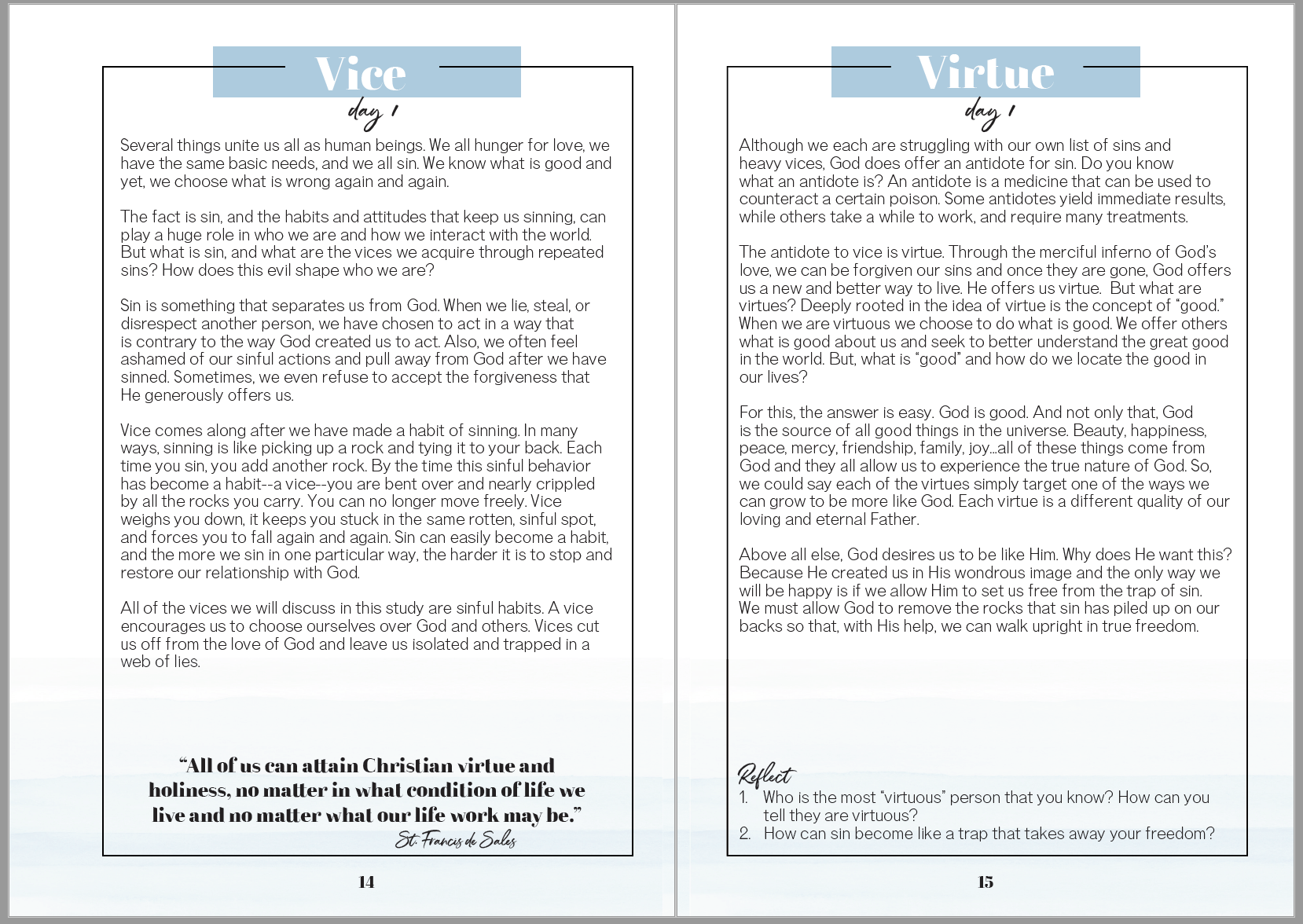 Day one explores the vice and then responds with God's antidote: virtue.
These days draw heavily from the catechism, but we were careful to keep in mind our audience (children aged 8-16).
We worked hard to explain things clearly, keep things engaging, tell stories and use powerful examples.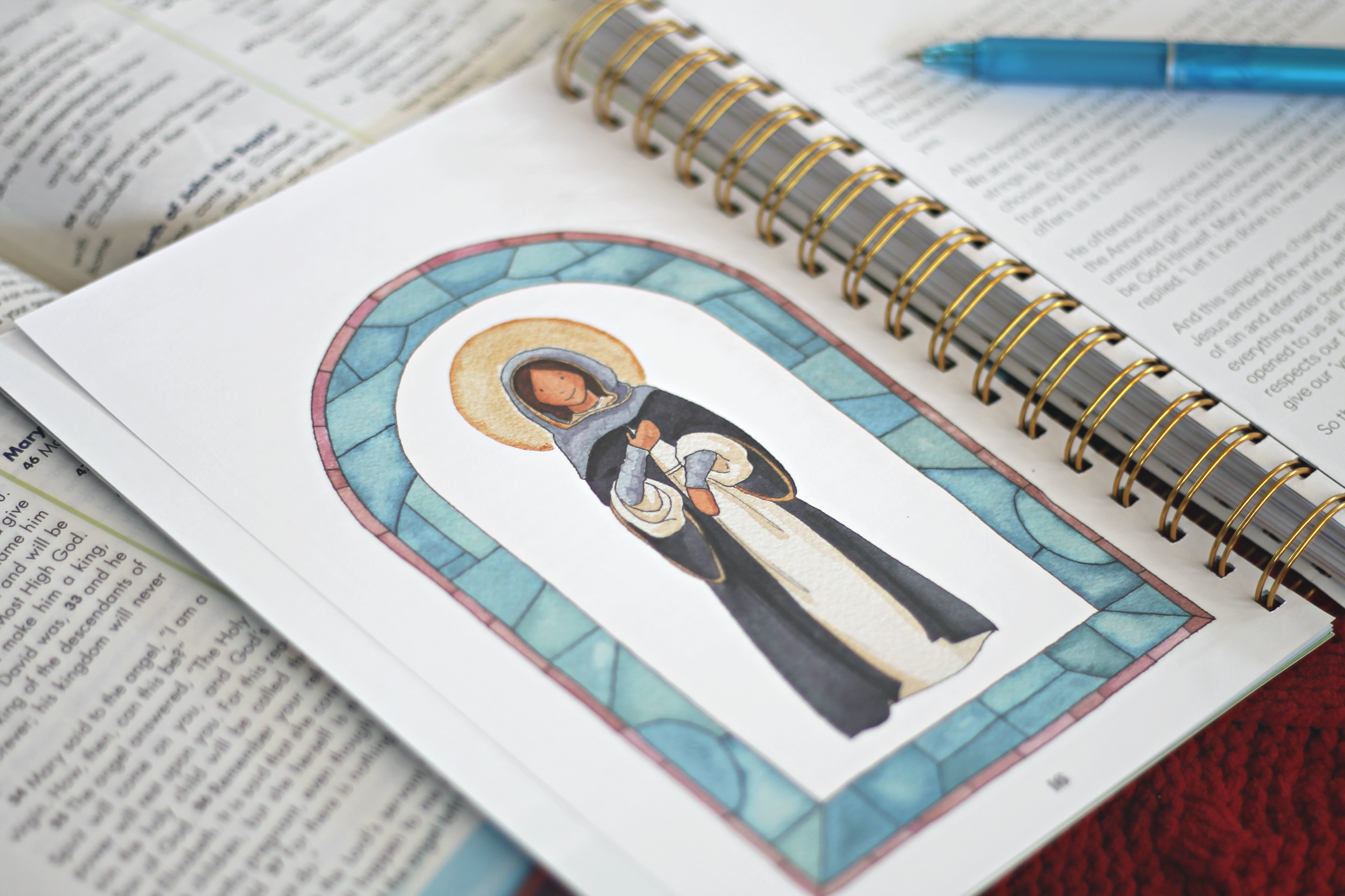 Day 2 of each week further explores the virtue discussed that week with the story of a saint that exemplified that virtue.
Week one, which discusses virtue in a general, foundational way, looks at Mary, the ultimate model of all virtue.
Along with the biography, we have included a beautiful portrait of each saint, painted by Jen Olson specifically for this study.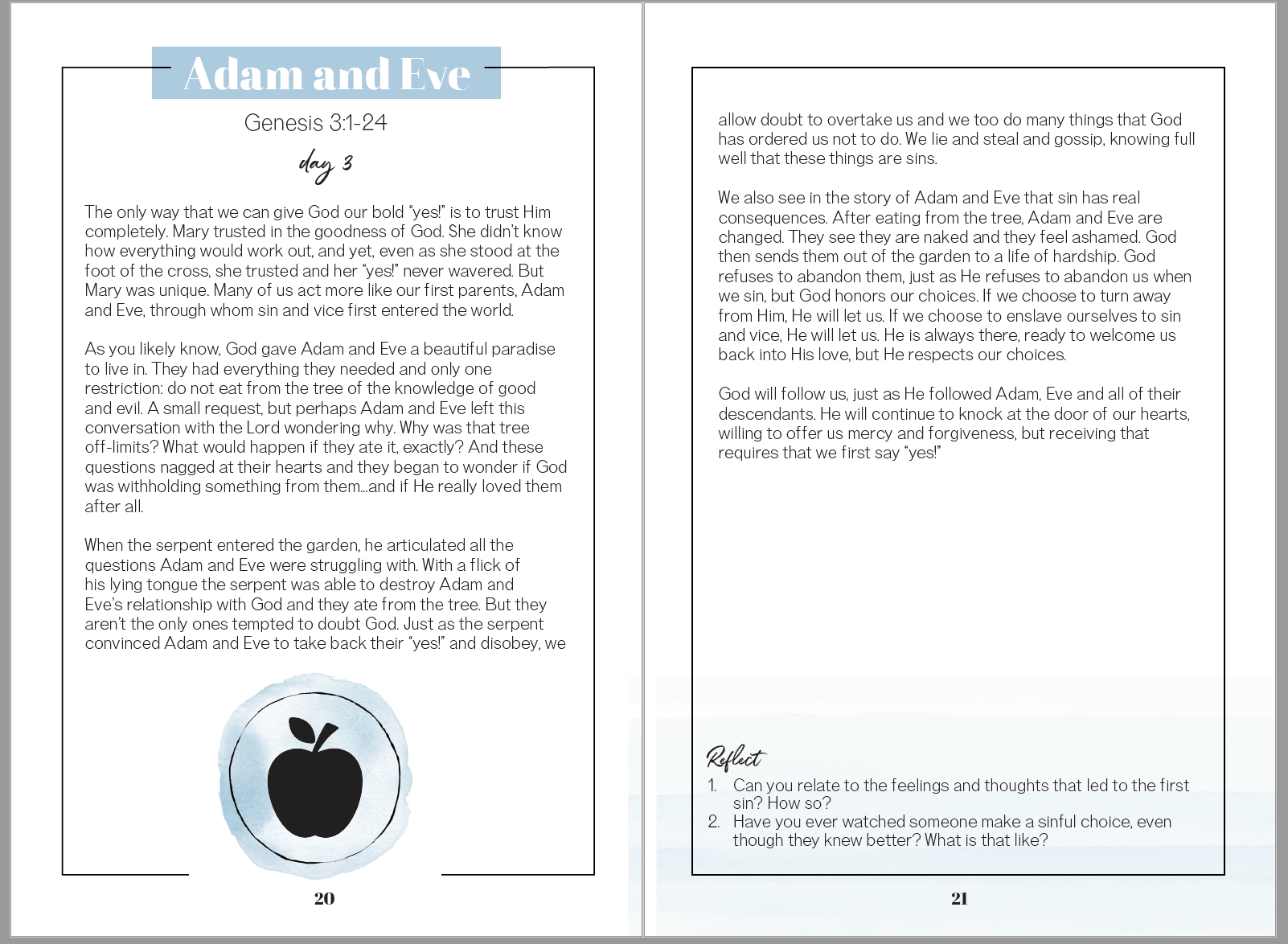 Day 3 of each week adds more to the conversation by looking at a story from the Old Testament.
Some of these stories are examples of people living out these virtues…which others show the opposite.
Week one explores the story of Adam and Eve and the first vice that entered the world.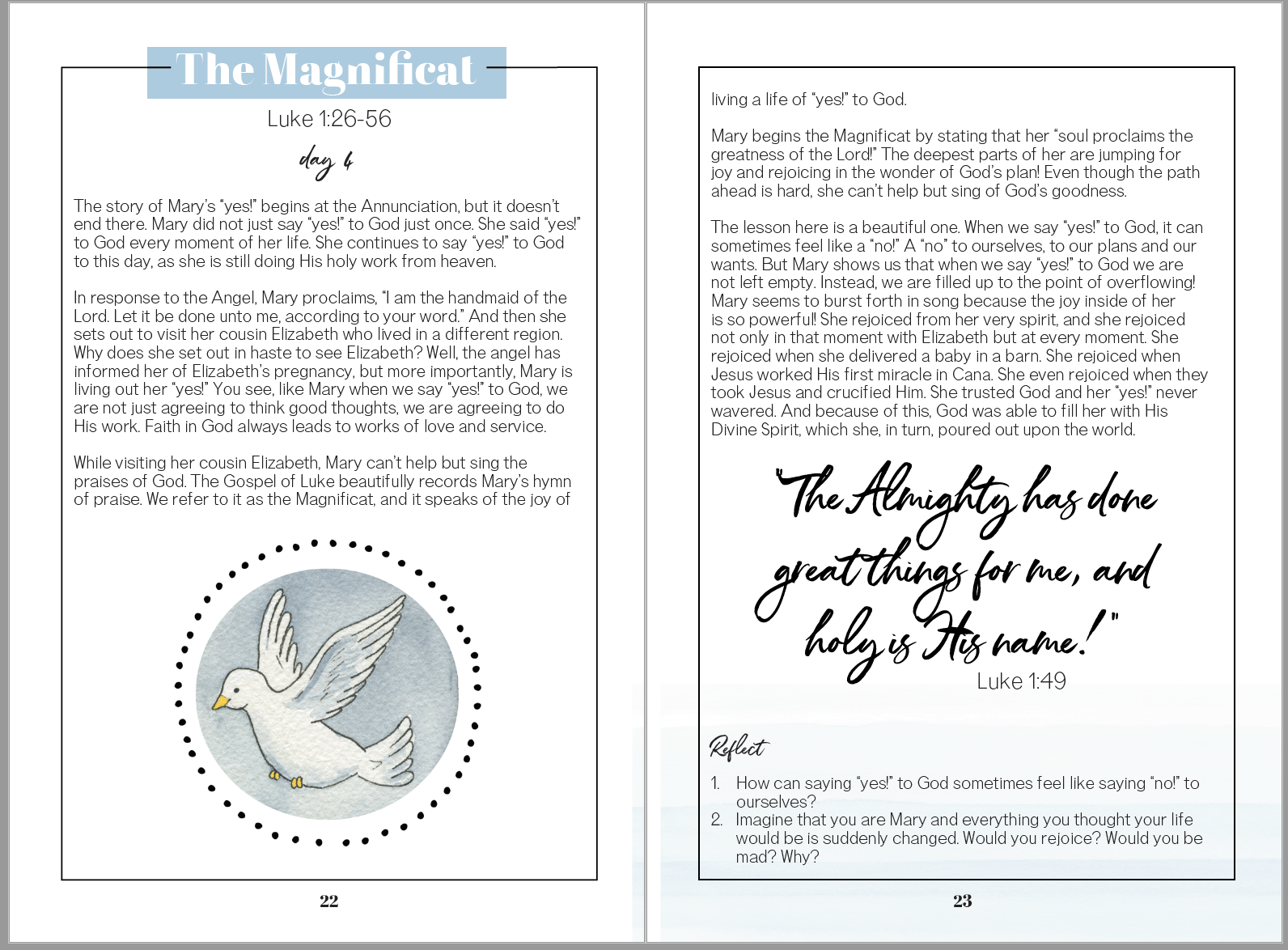 Day 4 moved into the New Testament and explores a story from the Gospel. Week one focuses on the Annunciation because ultimately, virtue is saying "yes" to God!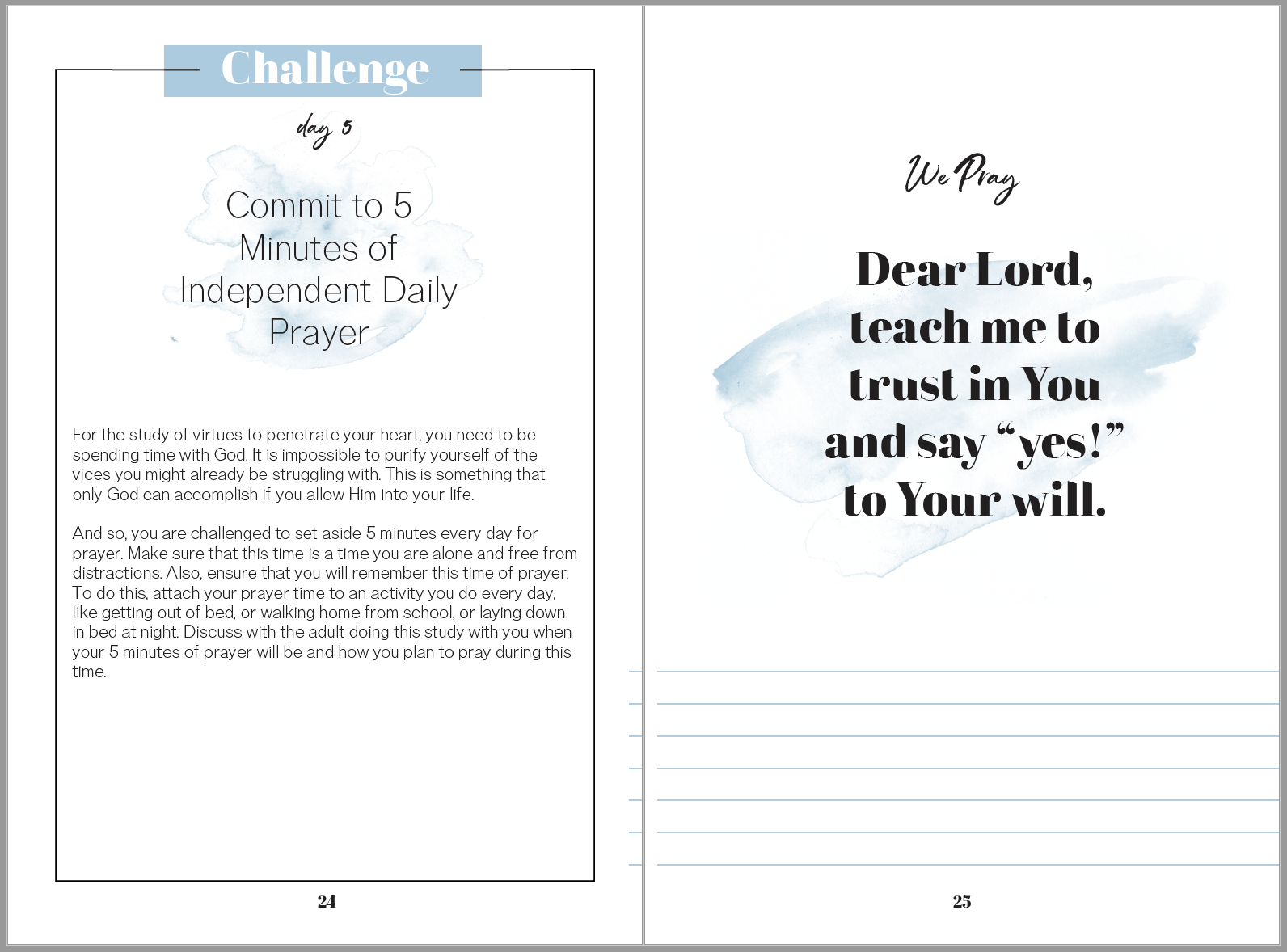 Finally, day 5 is short and sweet. Each week we include a challenge to encourage you to put what you have learned into practice.
Please do this challenge with your child! End the week with a prayer and go out and live this virtue!
As you can see, we worked hard to make this study as engaging and fruitful as possible–without feeling like homework!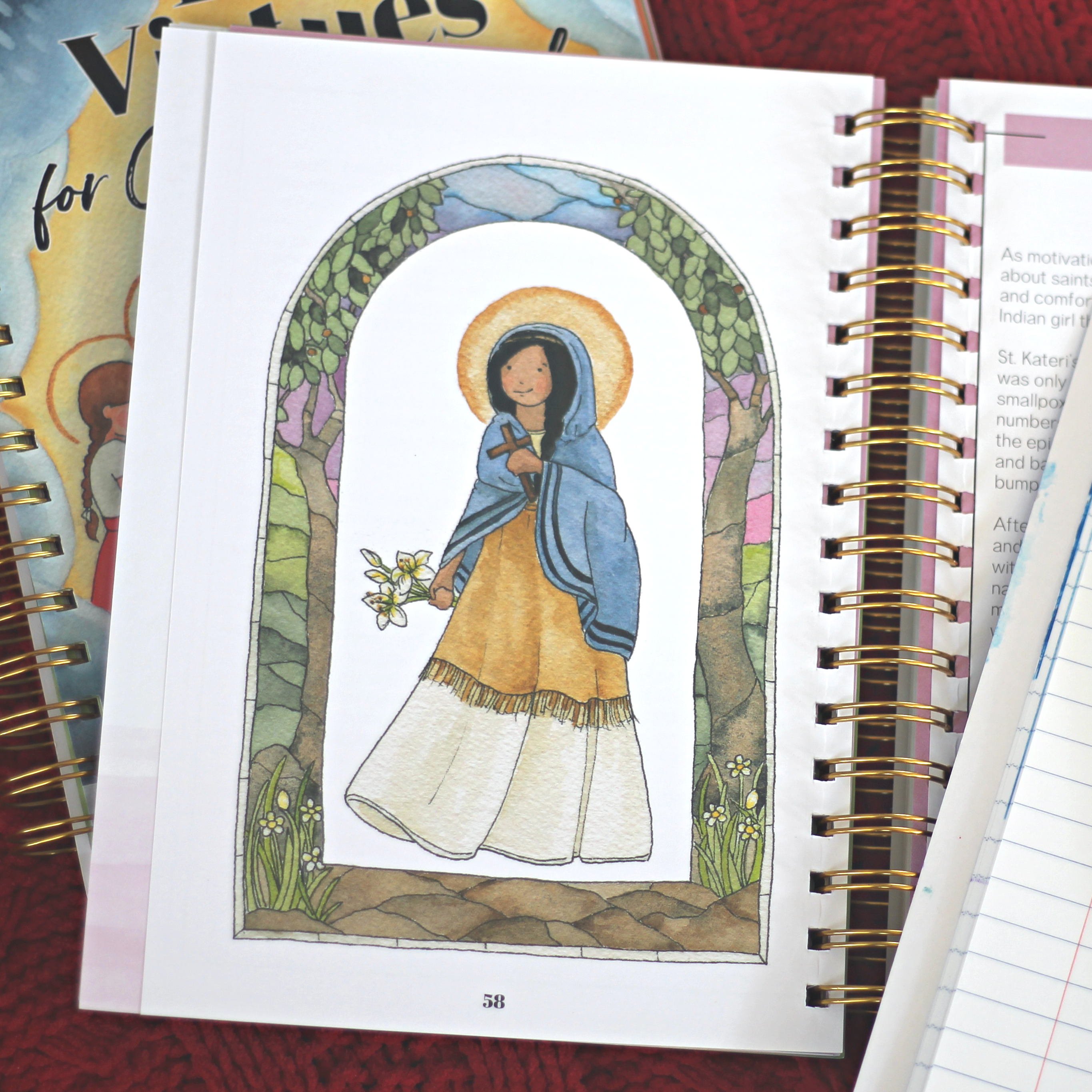 I really hope that this walk-through was helpful! We are so genuinely proud of this study and excited to see the impact it has on one family.
If you have any additional questions, please leave a message below!
Once again, you can grab it for just $21, and get a free set of Holy Cards if you grab a copy of the study before July 1st. https://shop.catholicsprouts.com/products/the-virtues-for-catholic-youth
In Christ,
Nancy