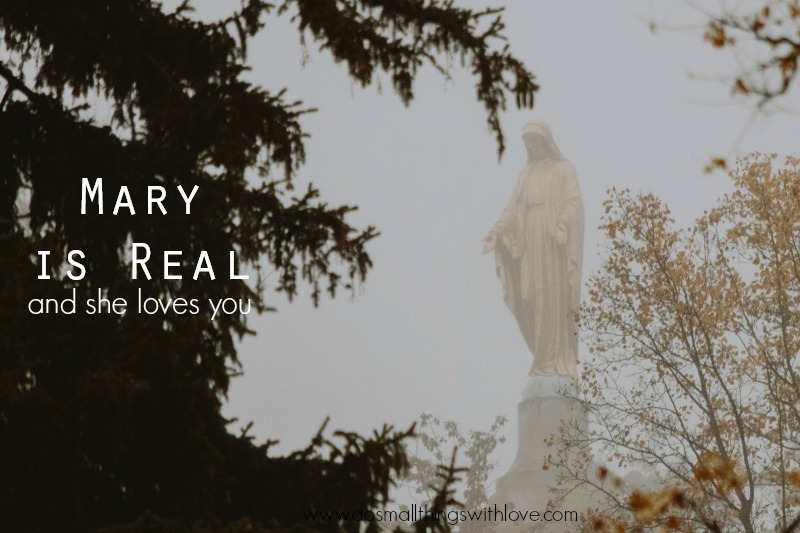 Growing up Catholic, I have always known about Mary. But, if I'm going to be totally honest, I didn't really know her.
I had gathered lots of facts and admired her as I might admire anyone from history that had done remarkable things.
And I enjoyed reading about her apparitions. I was perfectly willing to defend her doctrine and I loved seeing how beautifully she fit into the story of our salvation.
But all these facts and knowledge didn't make me feel particularly close to her.
She seemed to be little more than a distant, interesting figure. Despite the fact that at one point in particular I clearly saw Mary at work.
Back in 2009, my little brother has diagnosed with a rare and aggressive form of brain cancer. For a while, things looked pretty bleak.
He endured a biopsy with catastrophic side effects and there was much debate about how to. And if they could, treat him.
Right in the middle of the worst of it all, my youngest sister was scheduled to take her habit and officially join an order of nuns…in France.
Although it was completely crazy, my brother, mother, and I made the trip to France to watch my sister take her habit, wheelchair and all.
Watching my little sister get her habit was a beautiful, powerful thing. And a few days later, with my sister in full habit and brother supported by a walker, we journeyed to Lourdes. So that John could bathe in the miraculous waters.
(In Lourdes)
Lourdes is an incredible place.
The streets are littered with abandoned wheelchairs and crutches. But the most remarkable sight is the vast crowd of sick people that stream out of the hospital each day to use the baths, each so very hopeful and faithful.
We all had an opportunity to bathe in Lourdes that day. My brother asked that they pour water over his head as well. I felt privileged to visit Lourdes, to bathe.
But I can't say that what I felt that day went much beyond a feeling of privilege.
(headed into the baths at Lourdes)
We left Lourdes still supporting my very sick brother. He returned home to rounds of chemo and radiation.
He underwent stem cell replacement and an army of people continued to lift him up in prayer.
And in the end, praise be to God, he was healed. It wasn't instantaneous healing, but it was healing nonetheless.
Against all the odds, my brother's cancer receded and he is here today, healthy, and planning a wedding this June.
Now, I am very happy about all of this, and I can intellectually see the role Mary played. She gave John hope, she renewed his faith amid this suffering and, I really believe, she directly interceded for my brother.
After being to Lourdes, I respected Mary and admired her for all she did for those that came and bathed at Lourdes.
I was grateful, I respected her, but I continued to not really know her. And I was far from genuinely loving her.
Life continued on, as it does. I got married, welcomed 4 babies, and was preparing to welcome a 5th.
The 5th pregnancy, as I have shared, was unplanned and a bit hard to accept. And yet, as all parents do, we had fallen in love with that little one. We had thought of names and become quite attached to what we had dreamed life would be like once he was here.
But, at 20 weeks, on Thanksgiving Day, my water broke and the baby, our little Maximilian, was lost.
(20 weeks pregnant with Maximilian, just days before we lost him)
The sudden trauma of a stillborn baby is hard to describe.
While there is the shock of what has happened and the complete reordering of the future, there is also the physical reality of loss.
A reality that requires induction, labor, and delivery.
Simply, it's awful.
I was ushered up to Labor and Delivery, given a robe and a room, just as I would have if I was there to deliver a full-term, healthy baby.
The doctors and nurses were kind, but they generally just let me be. No need for monitors, there's no heartbeat anyway. No need for checks or game plans. It's just a matter of waiting and enduring.
And in that silent, dark room, the drugs started to drip in and my body started to slowly, painfully respond.
The hours ticked by and we waited, not really knowing what to expect, except that the baby inside of me was dead and that the future we had fallen in love with was never going to be.
The hours we spent waiting for Maximilian to be delivered were some of the darkest I have experienced.
I wept until I was completely dehydrated and numb, and yet, in those moments I also received one of the most profound gifts of my life.
I was allowed to experience Mary.
Thanks to all I had been taught growing up Catholic, I knew to call on Mary in my pain. I began to pray the 'Hail Mary', aloud and silently, and when that seemed too much, I fell into simply saying her name. "Mary, Mary, Mary," and as I did, I could feel her presence in that room.
She did not come gradually, but suddenly and all at once as if she had been just waiting for me to call.
Thinking back on those moments I can visualize exactly where she was standing in the room, just to the right of my bed, looking directly at me.
I never doubted that she was really there, right there. But more than anything I remember feeling a deep stillness emanating from where she stood. I knew she was there gazing at me with love.
My experience with Mary was really quite simple. There were no bright lights or premonitions or words from heaven.
Just a feeling of peace and love, and the comfort of knowing that she was there and she loved me.
The weeks and months following the loss of our little Maximilian have been difficult, and I expect more struggles as we attempt to get pregnant and once more open ourselves up to the pain of loss.
But the gift Mary gave me in that hospital room has endured. I no longer feel her presence as strongly as I did that day, but I am left with the knowledge of who she is.
And I can honestly say that I know Mary now. I tasted her love for me.
I was able to touch, for just a few minutes, her tender hand and I know now that those same hands are holding my little Maximilian up in heaven.
The knowledge that Mary is really there has changed everything. I cling to my Rosary and attempt to carry her with me everywhere.
And not just that, it has set me on a mission.
It breaks my heart to think that so many people face pain and suffering without Mary at their side, especially when she is so willing to fly to their side if only they call.
So, I am on a mission to increase Marian's devotion through the Rosary.
The mission has begun with me. I have committed to a daily Rosary for the rest of my life.
Next, I'm working to build Marian's devotion in my family. This will be a central focus for us during Lent.
And finally, I'm going to do my part of bringing the whole world to Mary (aim high, right?!?). This has been one of my top prayer intentions and, as a first step, I created a book to help the faithful go a bit deeper while meditating on the Rosary.
Our Lady of the Rosary, Pray for us!
Your sister in Christ,
Nancy