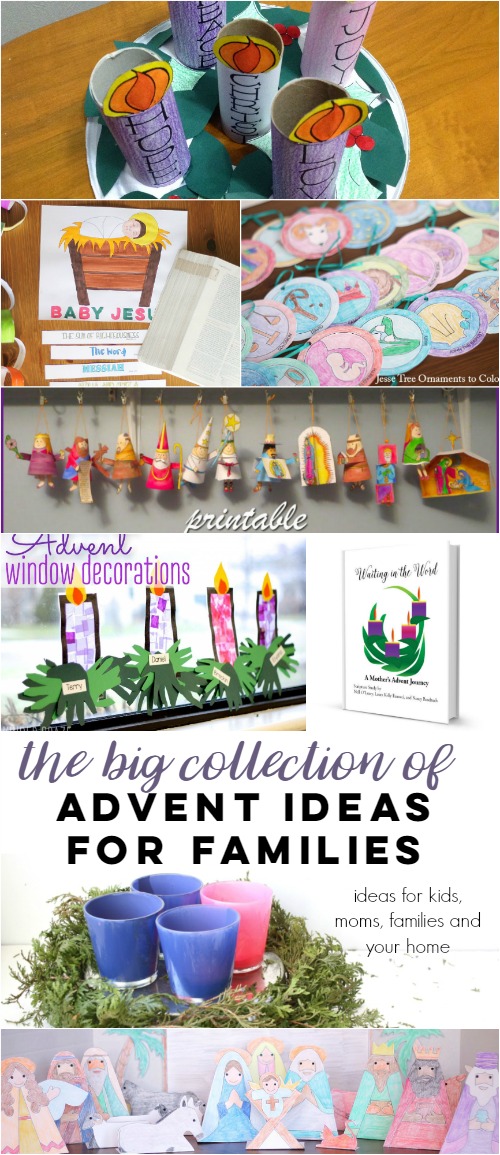 Ready to make Advent awesome?!? At the risk of overwhelming you, I have worked hard to round up a boatload of Advent ideas–ideas for kids, adults, our homes and our families.  Advent comes but once a year–so let's not skip over it this year!  The radio might already be playing Christmas music, but we know better.  It's Advent.  Let's do this!
Ideas for Kids
Next week the kids and I will definitely be doing this Printable Advent Wreath from Look to Him and Be Radiant.  It is such a fun, meaningful project.  Head over and grab the free printable.
I also love this Advent Window Craft from Kinder Kraze.  Simple, and yet so cute with those hand cut-outs, right?!?
We have a special spot in the kids room for their Nativity Set.  But, since we broke/lost most of the pieces of your set from last year, we will be printing and making this one that I designed.  It's a lot of fun to make and once you buy the $5 printable, you can use and print it as many times as you like–at home or school.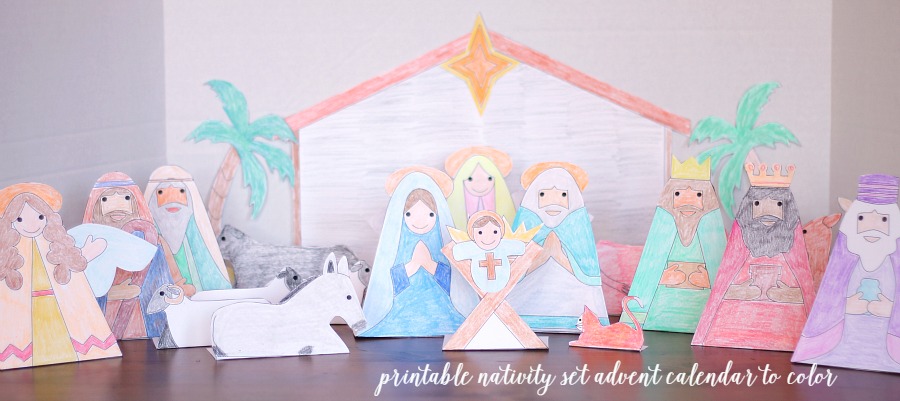 I already own these amazing Printable Advent Saints from Catholic Icing and look forward to using them again.  The kids squeal when I assemble them.  It's kinda like magic!
We have already made our Advent Prayer Booklets and plan to use them all through Advent.  It is a simple, free printable, but so far it has made a big impact on our family prayer.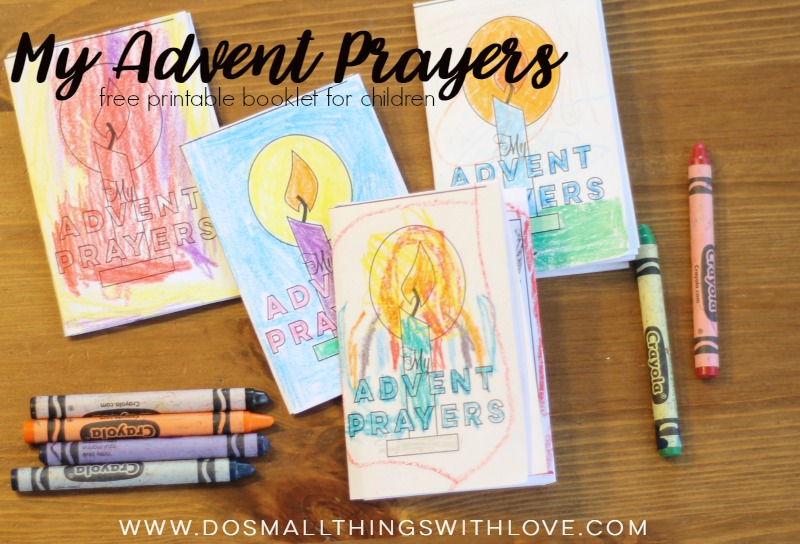 And finally, the coolest find of all, here are directions for making your own Nativity Set out of Legos!  WHAT?!?  It's true.  We will definitely be doing this–and probably designing some spaceships and monster trucks for the Holy Family as well.
Ideas for Families
Next up, ideas for the whole family this advent.
We are all set up to do this Names of Jesus Advent Countdown chain this Advent.  It's a free printable, packed with scripture.  Find it right here if you are interested.  I love doing countdown chains anyway–but this way it is a whole lot more meaningful.
We also have loved doing the Jesse Tree a few years in a row now.  Another great way to get into scripture.  We use felt ornaments that I made using this pattern, but I also offer the ornaments to be printed, colored and hung right here.  They are $5 and once again, after you purchase them you can use and print them for years to come.
And finally, here is another awesome printable option.  Red Bird Blue offers this beautiful Christmas Story for Advent.
Ideas for Adults
I benefit a lot from doing these activities with my kids and as a family, but I need something serious and quiet and even a little demanding to really make an impact on my heart.  This Advent I plan on reworking a study I did last year, hoping to go deeper than I did last year.  I also plan to be 100% offline this Advent (it's going to be a big change!).  The study I will be redoing is one I wrote with two of my friends last year, Waiting in the Word, A Mother's Advent Journey.
We won't be doing the study in our Facebook this time around, but it is still a beautiful, virtue based study written specifically for Catholic wives and mothers.  It is laid out to fill up the entire Advent season and comes with a printable journal.
One of my fellow writers from the Waiting in the Word study is also offering a beautiful opportunity this Advent.  Laura, who writes the blog Mothering Spirit, is a gifted writer and published author.  Her book, Everyday Sacrament, the Messy Grace of Parenting, will the basis for an Advent Book Club.  Check out all the details right HERE.
And finally, if you have yet to join the Blessed Is She community, Advent would be a perfect time to do so.  The daily reflections on the readings, delivered directly to your email, are a tremendous blessing.  Take advantage of it, and head to their shop to see the beautiful products they are offering for Advent.
And there you have it!  More ideas than anyone could get to this Advent, but I sincerely hope that, in one way or another, this Advent season, is a beautiful time for reflection, growth and joy in your home.
Your sister in Christ,