Consecration means to be "set aside for a specific purpose". Mary's life was completely "set aside" to serve the Lord, and through this she was the perfect disciple. As our mother in heaven, she desires that we share in her joy and join her in this total consecration. With Mary's help, we can give ourselves totally to Jesus.
On the Catholic Sprouts Podcast we will be using the summer of 2022 to make this consecration together. Starting at the end of June, you will hear all 33 days of preparation for consecration shared daily on the podcast. Listen and pray along with us and join us on the feast of the Assumption, August 15th, as we consecrate our families to Jesus through Mary. At that time we will also be consecrating this podcast to Jesus to Mary.

Because the quickest and the easiest way to Jesus is through Mary.
Join us!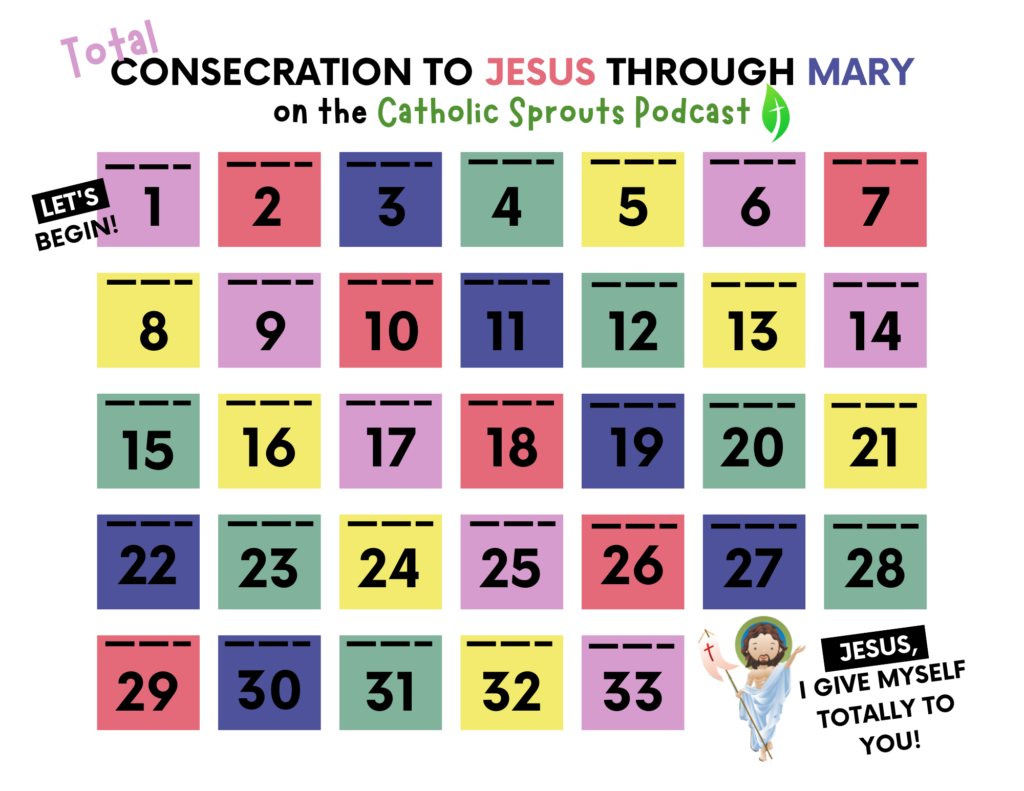 To make following along easier, we have made this simple map. Download and print. Then, cut out the image of Mary leading the group of children to Jesus. Cut along the dotted line at the top of each square on the map, and place the image of Mary leading your family on top of a craft stick. Then, each day as you complete that day's content, move your craft stick characters along, until you reach Jesus after day 33.
---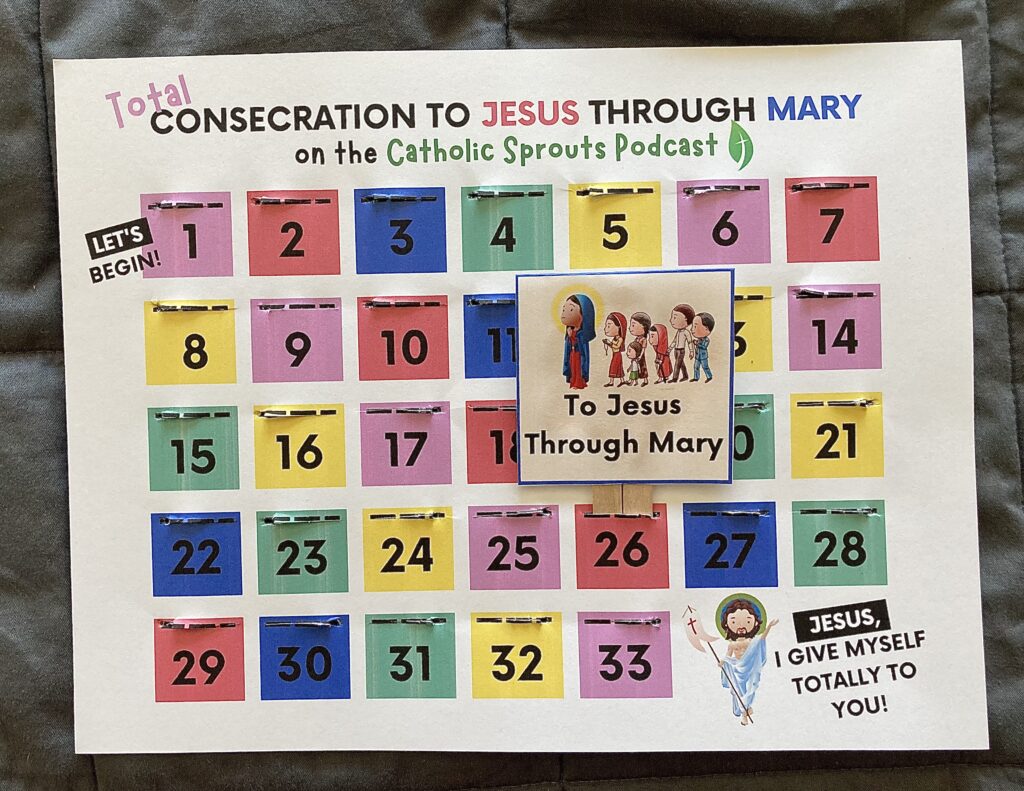 On August 15th we will have a special episode of the Catholic Sprouts Podcast where you will be invited to make your act of consecration with us!
If you would like to make your consecration at a different time, we will be adding all 33 days of preparation here as they are created. Scroll down to the bottom of this page to access those audio files.
And don't forget! Make your consecration as a family! Unite yourselves around Mary and come to Jesus together!
Here is a simple overview of the content covered in the 33 days of preparation. We based this consecration on the one developed by St.Louis-Marie de Montfort.
Days 1-12: Detachment from the World
Pride
Humility
Greed
Generosity
Anger
Mercy
Envy
Gratitude
Gluttony
Self Denial
Sloth
Zeal for God's Mission
Days 13-19: Who am I? Exploration of the human person
Made in God's Image
Part of God's Family
Made to Seek God
A Sinner
Confident in God
Forgiven and Sent
Destined for Heaven
Days 20-26: Who is Mary?
New Eve
Mother of God
Immaculate Heart
Mother of the Church
Mother of Sorrows
Star of the Sea
Queen of Heaven
Days 27-33: Who is Jesus?
Emmanuel
Carpenter's Son
Teacher
Bread of Life
Savior
The Resurrection and the Life
Friend
Finally, we will be using this prayer, written by St. Louis de Montfort at the end as our Act of Consecration.
I, ________________, a faithless sinner, renew and ratify today in thy hands the vows of my Baptism; I renounce forever Satan, his pomps and works; and I give myself entirely to Jesus Christ, the Incarnate Wisdom, to carry my cross after Him all the days of my life, and to be more faithful to Him than I have ever been before.
In the presence of all the heavenly court I choose thee this day for my Mother and Mistress. I deliver and consecrate to thee, as thy slave, my body and soul, my goods, both interior and exterior, and even the value of all my good actions, past, present and future; leaving to thee the entire and full right of disposing of me, and all that belongs to me, without exception, according to thy good pleasure, for the greater glory of God in time and in eternity.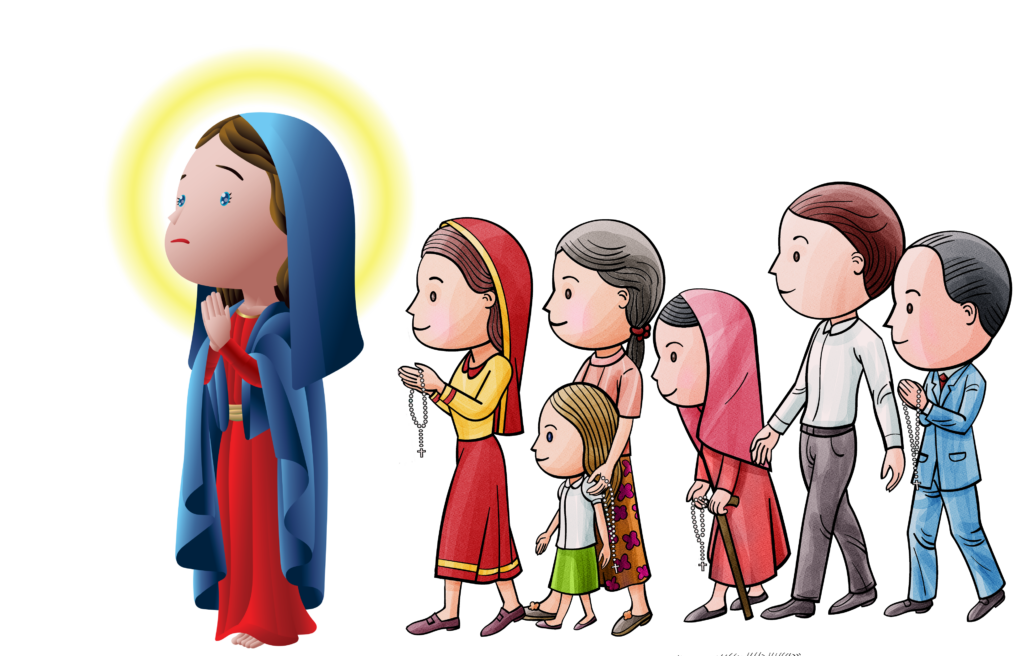 33 Days of Preparation Audio Content:
Day 1
Day 2
Day 3
Day 4
Day 5
Day 6
Day 7
Day 8
Day 9
Day 10
Day 11
Day 12
Day 13
Day 14
Day 15
Day 16
Day 17
Day 18
Day 19
Day 20
Day 21
Day 22
Day 23
Day 24
Day 25
Day 26
Day 27
Day 28
Day 29
Day 30
Day 31
Day 32
Day 33
Thank you, as ever for your support!
May we truly give ourselves to Mary so that she might carry us to her Son!
In Christ Jesus,
Nancy