Hello and happy Tuesday!
I have a fun little project to share with you today that is 100% reader-inspired: A Free First Holy Communion Cross Stitch Pattern.
It's simple, it's small and, in my opinion, quite cute.
So, if you have a little one in your life making their First Holy Communion this year, use this pattern to stitch up a little cross stitch character of them.
And use it to create a special gift–a Bible Bookmark, framed embroidery, or something totally unique!
These characters take very little time and just a few supplies to create.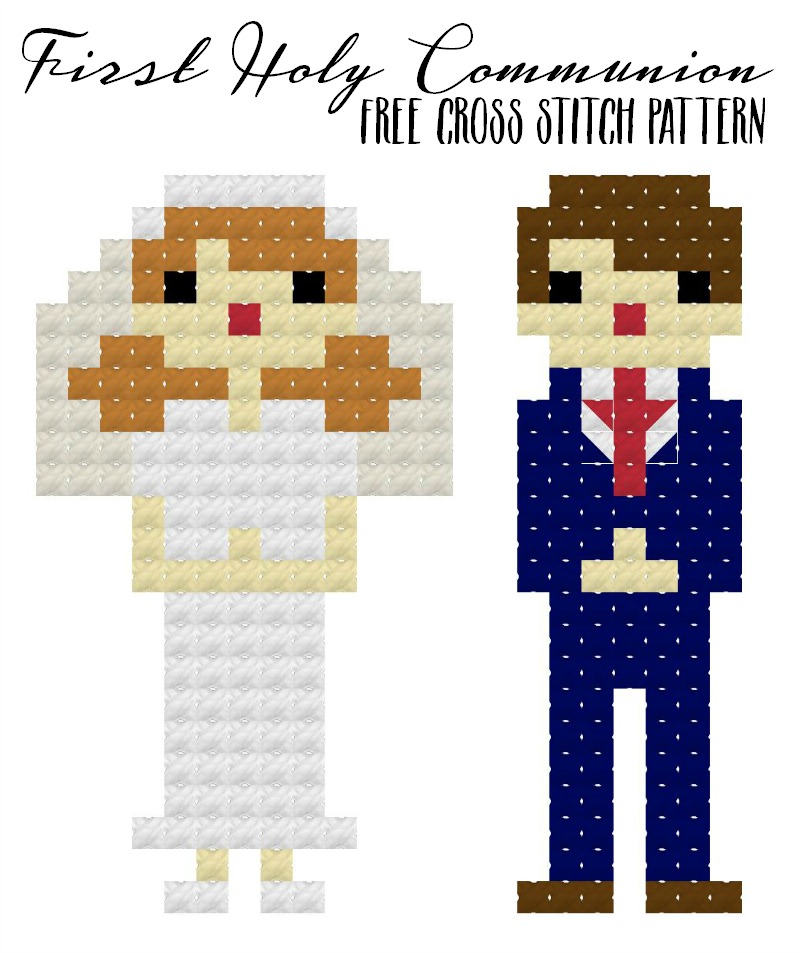 As you can probably tell, these little First Holy Communion characters are similar to the characters I created for my Catholic Saints in Cross Stitch bundles (see here and here).
In fact, this is how I was prompted to make this pattern.
A sweet reader left a comment asking if I had ever considered making a pattern for First Holy Communion.
The honest answer is that no, I hadn't thought of it.
But now that the idea had been pitched I just had to make some.
So here they are!
As you can see, the pattern is quite simple, and hopefully, you will find it is easy to customize.
Have fun playing around with the length of the girl's hair, the style of her dress.
If you'd like me to create a special pattern just for you, contact me and we will come up with something.
The PDF of the pattern includes a little girl in a white dress and veil and a little boy in a blue suit, as pictured above.
Both stand like perfect little cherubs with their hands neatly folded.
It would be my joy to send this pattern directly to your inbox. Just add your information to the form below:
You can find the materials for this project, and MANY other Catholic projects in the Catholic Family Digital Resource Library. To get instant access, and join a thriving community of over 10,000 Catholic Parents, just enter your email address.
Here is another PDF with the simple lettering I included in my project. Get it HERE.
I think it would also be nice to add a little bit more personalization with the name of the child receiving First Holy Communion, as well as the date.
To add more lettering and numbers, use THIS FREE FONT that I created and shared a while ago.
It is my go-to for all kinds of lettering.
And there you have it. Easy, fun, and a great way to mark such an important event.
All the best–and I hope your Lent is going along wonderfully.
Nancy